2010 Lower Section National Finals - Third Section retrospective
30-Sep-2010
Delph took the late night honours at Harrogate - just in time to catch last orders for a celebratory meal at the local Bamboo Garden take away..
---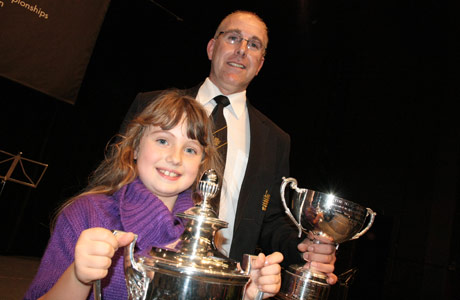 Well done Dad! Mike Brook and daughter can't wait to get home to celebrate
Picture: Steve Jack

It was depressingly fitting that the only place in town left open for members of Delph Band to celebrate their late night Third Section National victory was the local Chinese take-away.

And the even greater pity was that there were so few of them left in Harrogate by the time they were announced as winners on the stroke of 11.00pm that the celebration banquet could have been a number 86: 'Meal for Four'.

Squeals of delight

National victories should be celebrated with squeals of delight and beery kisses of congratulations amid the popping flashbulbs and tearful interviews with the banding press - not a quick mobile telephone call back to the band club and the promise of a half pint of shandy because the band representative left to pick up the trophy has a two hour drive back home.

The greatest moment in Delph's banding history was accompanied by a call from the Conference Centre staff to vacate the premises because it was gone 11.30pm. They deserved so much better.

The bus, (who's driver hung on until as long as he could before committing an imprisonable tachometer offence) had long since departed to the famous Delph Band Club in Saddleworth, where the party had begun the moment the news came through from soprano player Mike Brook's mobile phone. It should still have been at Harrogate though.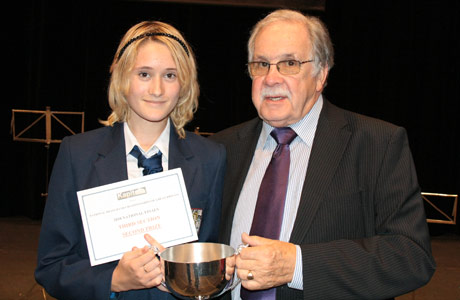 Smiles for Goodwick in second place
Picture: Steve Jack

Celebrations

And what celebrations they would have enjoyed after producing a wonderfully controlled and highly stylised performance of Philip Harper's 'Willow Pattern' off the number 4 draw.

MD Phil Goodwin allowed the story of youthful love to emerge with strong characterisation and sense of impending doom, whilst ensuring that his band had something left in reserve to round the tale off with a glorious final climax.

Phil knew the piece very well indeed having performed its world premiere with Black Dyke, and he cleverly employed a few neat camouflage tricks to supplement the admirably solid solo lines and balanced ensemble.

The only odd thing about a very worthy winning performance under a Black Dyke stalwart of 30 years service was that his band wore a uniform of a very Brighouse & Rastrick purple and gold!

With the draw taking place at 1.30pm, the contest didn't start until around 5.00pm, and as a result a number of later performances sounded understandably fatigued. Not many top section outfits can cope well with an eight hour wait on a Sunday before they play a note in anger, let alone Third Section bands.

Varied contents

The result was a contest that was as varied in content as one of those plastic containers full of special fried rice and a couple of pancake rolls.

Philip Harper's cleverly realised characterisation of the score meant that the bands had to bring musical theatre, as well a solid technical application to their performances if they were to succeed in making an impression on Kevin Wadsworth and David Lancaster in the box.

As always, both men were clear and precise about their opinions about each performance (although they apologised that their writing may have started to look like Chinese hieroglyphics for the last few bands due to their own increasing exhaustion at being entombed in solitary confinement for the past 10 hours or so).

No complaints

Not one band should have cause for complaint at where they eventually came – even if some were perhaps unluckier than others.

Those able to set the opening scene with a degree of sadness in Knoon-se's theme, following it with an appreciation of the delicate fragrance of gathering blossom (although Chang's theme sounded suspiciously like he was a runaway from Eric Ball's 'Indian Summer' reservation), the pomposity of the arriving Duke and the subsequent imposing banquet were on course to feature in the prizes.

Those who could then induce a nimble footed flight for freedom over the bridge and still have enough breath to enjoy a bit of sensuous love making were really in the hunt, whilst the very best who still had enough left in the tank to emerge from the arsonist's flames to float heavenly upwards ended right in the final mix.

Every band gave it their best shot; many coming close to allying strongly defined musical characterisation (there was some wonderful fat old tuba mandarins on display – musically not physically, and some equally manic pyromaniacs with a box of Swan Vestas in their hands too) to impressive technical security and some cracking chopstick wielding choreography from the great percussion teams.

None though did it better than Delph.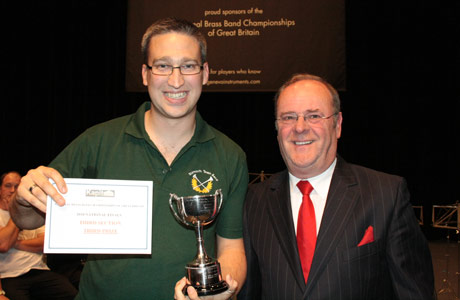 Third place for Sidmouth Town
Picture: Steve Jack

Chinese stronghold

In the opinion of the judges (and quite a few seasoned observers in the hall it must be added) it was the youthful Goodwick Band from that well known Chinese stronghold of Pembrokeshire that came closest to beating the NorthWest champion.

Matthew Jenkins brought a clever appreciation of style and balance to his reading, that despite the odd nasty clip and blip was rewarded with the runner up prize, thanks in no small part to the wonderfully flugel contribution of 'Best Instrumentalist' winner, Ffion Williams.

The final podium place went to Sidmouth Town, who also produced an authentic sense of the Orient under MD Adrian Harvey. This was also strongly characterised and benefited from some fine soloists – especially flugel player Esther Harbour.

That sense of varied musical ingredients rather explained why there were many listeners who had all sorts of combinations of their own about the final composition of the top six placings.

In the end though another strongly defined account from Llwydcoed under Gary Davies claimed fourth spot, although they must have surely known that some tired errors (they were drawn 14 out of the 17 bands) may have cost them the chance of returning to Wales with a top three finish to their name.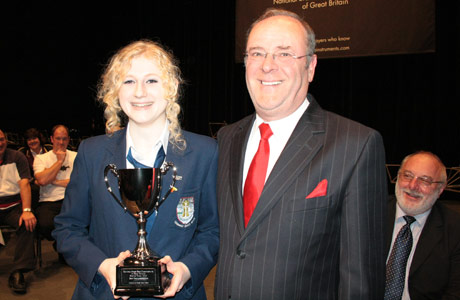 Best Soloist: Ffion Williams of Goodwick
Picture: Steve Jack

Cracking

Behind them came a cracking performance from York Railway Institute that was full of youthful endeavour and quick witted musicality, and Bolton (Hoover) who impressed many with their more robust approach and sense of drama.

After that things became much more varied, with Betteshanger's deliberately paced account under David Cutting making an impression in the box right at the fag end of the contest to come 7th, and Fulham's more breathless account under the wonderfully attired Simon Jones, just falling short of a top six finish due to some early nerves tarnishing a stylish musical picture.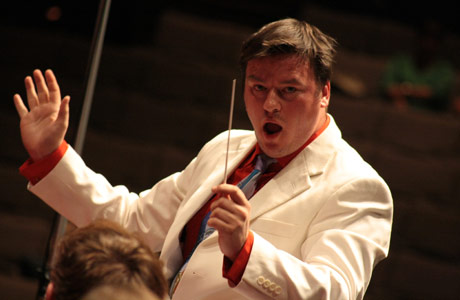 Suits you Sir! Simon Jones of Fulham is all style...
Picture: Steve Jack

Behind these bands, the usual tale of consistency or the lack of it, growing fatigue (with the top cornets and soprano in particular having to screw it onto the chops in the final section) and nervousness in leading solo lines – especially in the love scene, which at times was a bit of youthful grab and grope under the bamboo bed linen.

It would have been a very difficult task therefore for Kevin and David to quantify the pros and cons of the likes of Porthywaen in 9th (although we liked their bravura approach) and say Clifton and Lightcliffe and Bream in 13th and 14th respectively (although we again liked the colourful drama they evoked more than the men in the box).

Bottiom three

The bottom three bands of Ferryhill, Kilmarnock and Irvine all gave it their best, but just found both the technical and musical challenges taxing them a bit too much to have come any higher.

Cheshire Constabulary, Shirebrook Miners Welfare and Chapeltown (who overcame a bit of nervousness after their young percussion team found difficulty in setting up their equipment) all had their moments, good, indifferent and slightly peetong.

For Delph though, a very special Chinese celebration – the only pity was that due to no fault of their own they were unable to enjoy it, as they deserved.

Iwan Fox