2010 Lower Section National Finals - Fourth Section retrospective
30-Sep-2010
There is only one way to play a winning hand in banding as in poker - even off the number 1 draw as Hazel Grove under Nigel Beasley showed on the weekend.
---

The happiest of winning smiles for Hazel Grove
Picture: Steve Jack

In recent times, the Fourth Section has been a real joy to listen to and savour with bundles of youthful commitment and enthusiasm allied to excellent band musicianship and direction.

St Breward's victory in 2009 was a case in point – as was Hazel Grove's win this year, although Sunday's seven-hour marathon did test the enthusiasm and commitment of the best bands and the most ardent supporter though to the limit.

Benefit?

Alan Fernie's 'A Royal Mile Suite' is a fine composition, but it was miscast as a test for the Fourth Section – it really is a set work more suited to Third or even Second Section level.

As a result nobody (including three very good podium placed performances) got away unscathed, and in all honesty, anyone who heard all 21 performances found themselves wondering if the piece really benefited all the competing bands.

The four movement suite is a typically neat and cleverly realised Alan Fernie composition – full of accessible tuneful musicality and challenging technicalities. It is long though – too long for a contest of 21 bands.

Cutting a movement out for time considerations would have been a disservice to the music, but someone somewhere must have known that it would take up to 20 minutes to get a band on and off stage. It was an exhausting contest for everyone involved.

Those band who managed to produce a sense of dignity and control in the opening 'At the Palace Gates', a lyrical warmth in 'Holyrood Park', playful fun and games of the 'reel' and a growing sense of glory of the final march, were rewarded by the adjudicators Ian Brownbill and Jim Davies – none more so than eventual winners Hazel Grove – and off the number 1 draw.

Straight talking

If the bands could do the basics well at this level, play what was on the score and hold their nerve, the judges gave them their due – but a combination of nervousness and poorly judged tempos undermined too many promising efforts.

Ian Brownbill and Jim Davies gave an honest assessment before the announcement of the results – and didn't hold back with either their praise or admonishment either. It was good to hear such straight talking instead of the usual platitudes. They were disappointed with the overall standard they said – and no one could argue against them, although the piece didn't help either.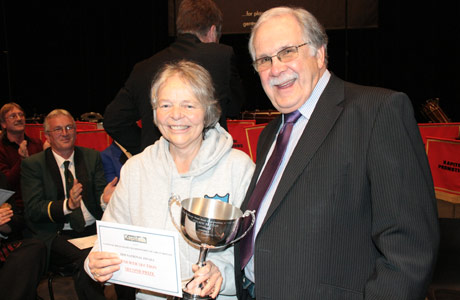 Second place for Besses Boys and their lady band rep!
Picture: Steve Jack

Kelly's eye

Hazel Grove was the pre-contest favourite to take the title and despite being drawn first, they turned the early opportunity to make an immediate impression.

Stylish, lyrical, playful and driven – all the four movements had the essential characteristics required – and in spades (much to poker player Nigel Beasley's obvious delight one suspects).

It did have the odd little moment here and there, but it was a tremendous marker and it was not until the very last band of the day that the judges felt it was seriously under threat of losing its grasp on the National Trophy.

Besses Boys (and girls) under James Holt delivered a super account as the final band to inject a real jolt of excellence into what had become a rather under whelming second half of the contest.

All the basic requirements of solid ensemble, good soloists, tuneful musicality and well chosen tempos were in place, and whilst it just got a bit robust to close in the final march to glory, it was a well deserved runner up, with principal cornet Claire Mumford leading by example to claim the 'Best Instrumentalist' prize.

They couldn't have done anything more.

North West top three

The strength in depth in North West banding was reinforced with a fine musical account by Farnworth & Walkden to claim third place.

Peter Ashley drew a performance to admire from his band with colourful balances, precise ensemble work and solid solo lines. It was an intelligently controlled rendition that although just lacking that extra sheen of quality, fully deserved its podium finish.

Rushden fancied

A few seasoned observers in the hall fancied Rushden after a confident performance that pushed the dynamic at times. Despite a few uncomfortable moments mainly in the middle sections it had more than enough about it to take a deserved fourth place.

Downton meanwhile produced a well crafted account late in the day to push themselves into the top six, whilst Upper Rhondda's youthful exuberance allied to a crafty old head in MD Nigel Seaman, made the most of their opportunity to shine to claim sixth.



A handful of prizes for Farnworth & Walkden in third
Picture: Steve Jack

Nearly but not quite

Meanwhile, Battle Town produced a performance that although never quite having enough about it to really challenge certainly had its extended sections of polished playing, whilst it was s similar story for 8th placed LGB Brass, who set out in good form but couldn't maintain the standard throughout – just ending their march towards Edinburgh Castle with a few too many weary lips.

Dinnington Colliery in their colourful jackets produced an equally colourful account of highs and lows to come 9th, whilst the final top ten place went to Trentham from Staffordshire, who deserve credit for a valiant and determined effort that overcame a poor opening section.

It wasn't a great day for the Scots, with Dumfries producing a safety first account that could have just done with a bit more nip and brio to have pushed for a higher placing, whilst Stape Silver with Tabby Clegg at the helm also opted for caution in canny bit of intelligent direction that brought out the most out of her band to finish 12th.

Striking a chord

Worsbrough Brass produced a performance that struck a chord with 4BR but not in the box to come 13th (we liked the approach by the MD John Hopkinson that really painted a vivid picture) whilst Test Valley, packed to the rafters with enthusiastic young talent, produced a robust account that just lost its focus in the last two movements to come 14th.

Nothing but congratulations go to NUSUWT Riverside Concert, after John Bell led his young charges with a smile and a wink of appreciation for every right note played from start to finish that he must have had RSI of the eyelids by the time they finished.

What an experience for the youngsters though –and despite the obvious shortfalls on this occasion, they will be back, older, wiser and a band to fear.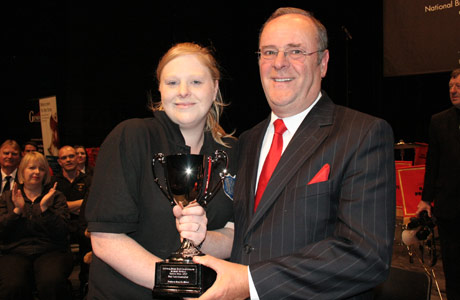 A fine best soloist in Claire Mumford
Picture: Steve Jack

Forsyth Saga

If there was an award on offer for the best dressed MD of the entire weekend it would surely have gone to Alan Needham of Market Rasen RPC, who walked on stage as if he had just come out of an episode of the 'Forsyth Saga'

He left with a broad smile too, after his band produced what for us (and others too) was a cracker, full of vitality, colour and character. However on this particular day, he was to endure that age old contesting conundrum – only the judges opinion counts – and you have to take it on the chin. Alan's took a whack of Mike Tyson proportions.

Bottom five

At the bottom end of the table, Shipston struggled, and after a harsh sounding opening, took time to settle and find their form, whilst Hatherleigh was another that never quite settled their early nerves and despite an intelligent bit of direction from MD, Dave Hayward, couldn't make up lost ground.

Langholm certainly caught our ear with Alan Fernie himself at the helm (the perfect interpretation perhaps but not the execution) and may think themselves a little unlucky they didn't come any higher, whilst Amersham and Crwbin gave it their all and more, to try and overcome the technical difficulties they were faced with.

For Hazel Grove though, a day that had started with a number 1 ended with a number 1 – and the title of Fourth Section Champion Band of Great Britain.

Malcolm Wood