2010 Lower Section National Finals - The longest day of the year
30-Sep-2010
Banding dad, Iestyn Davies reflects on the drawn-out finale to the lower section banding year. He finds discontent but also possible solutions amongst the punters and players.

---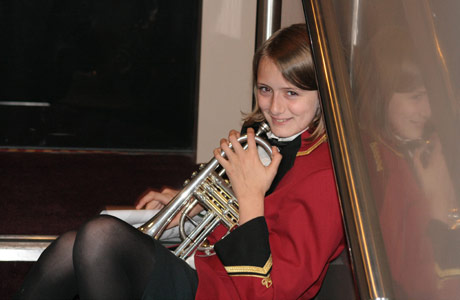 Waiting, waiting, waiting...
Picture: Steve Jack

For many of us the Nationals are the highlight of the banding year.

In my, relatively short competitive banding career I've been privileged to play in three so far. Especially in the lower sections they are a time to celebrate the highs and lows of competition and the shared endeavour that makes competing, and in some cases surviving another year remotely possible.

Like many others, the competition weekend is a time to share with the family, a bus trip, a stay in a 'fancy' hotel and the chance to play on the big stage.

Not disappointed

When you're a kid, late nights are a rarity and with many of the Third and Fourth Section bands containing, thankfully, more than the average share of children and teenagers, they weren't disappointed by this year's event.

Sadly many of us as parents, will think long and hard about encouraging our families to participate in future events.

Already, as a committee member, I have had to persuade parents that banding is a viable and positive hobby for their children.

However, after arriving home at 6:00 am in the morning many of my adult colleagues are asking the same question, and implicitly are wondering if in all honesty, last weekend was really the best way to run a contest.

The problem

It seems to me that little consideration was paid to the 'user experience', something that other cultural industries has had to learn to do in the last decade.

In fairness to the organisers, and in particular to the stewards getting bands on stage at 10:00pm is not easy especially when the score reads like a percussionists Christmas wish list.

When Kilmarnock Concert Brass kicked off the Third Section, players and supporters knew that it was going to be a long day. Frantic calls were made to bus companies to organise relief drivers, and to parents at home explaining that things weren't going to plan.

Thankfully in support of the aim of killing time it took Weatherspoons over an hour to produce a Sunday lunch for the crowds taking up residence in the Winter Gardens.

It was just as well because when the bands returned to the Conference Centre, food and drink was also in short supply.

Bar closing

Many, either intent on celebrating or drowning their sorrows, were surprised to see the bar close during the results. Not a big deal for those of us of a more temperate disposition, but equally problematic if you wanted a cup of tea instead of a pint of Tetleys.

Still, we did have the prospect of a late night journey and inflated service station prices to look forward to.

Likewise the trade stands, with the exception of Geneva Instruments, had already packed up long before the half-way point of the final contest. Bands might have expected to find that the photographers had left a post-it note with instruction on how to use a disposable camera when they returned from playing.

Thankfully, there will be documentary evidence to record the hard work and effort, not to mention the tiredness, they all felt making their way back to the dressing rooms.



Closed until next year at Harrogate
Picture: Steve Jack

The opinions of others

When I spoke to others, particularly those who came either to support their children or to experience the cup final of banding, the user experience was clearly tainted by the way in which the event had been structured.

"Surely", one parent making their first visit to a national contest asked, "Isn't it common sense to realise that lower section bands have more children in them" The fact that both Third and Fourth Section contests were on the same day didn't make sense.

One group was guaranteed to have younger members hanging around for an inordinate amount of time. One experienced player confessed to me: "This is not the worst yet, but I thought we had learned from Torquay. I really couldn't give it my all – I was knackered."
Test piece

Other comments questioned the length of the test-pieces.

Contest science

The science of contest day has proved that turning around four bands an hour, even when a test piece lasts well under 15 minutes is almost impossible. If the number of bands competing is 17 or even 18 it is clear that you are looking at a six-hour contest.

One south walian band supporter expressed their sympathy for the lads 'n' lasses from Ayrshire and the banks of the Fourth of Clyde. The prospect of a 213 mile trip north of the boarder was surely daunting. I didn't have the heart to tell her that her own trip home would be about an hour longer.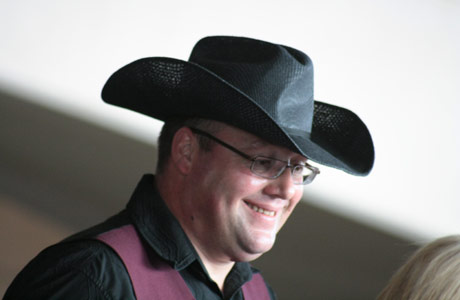 If the hat fits? Good humour still prevailed at Harrogate
Picture: Steve Jack

The solution?

Let's be clear about one thing: I personally don't have a problem with sponsors, organisers and traders making money out of the weekend. At the end of the day, money makes the brass band world go round.

Of course I would rather prefer that the money stays within banding, but if the contractors don't deliver for banding then it is time to reconsider. Hopefully the business imperative of a well-run, thought-out and profit making event will be an incentive to change.

Earlier this year bands competed at the Welsh National Eisteddfod. Many competitors commented on how well run and humane the experience was. There was ample changing room, a contestants' coffee bar and a live feed to view the opposition on stage.

Perhaps the fact that it is set out by someone who actually competes in the event goes a long way to explain why this was the case.

People need to be able to express their opinions constructively on the conduct of the weekend. It would be interesting to see the feedback and questionnaire sheet responses from the days.

I guess that they must have asked someone else for their thoughts. No players or spectators I know were asked. But I'm sure that someone took the time...didn't they?

Change

Like a number of large cultural and sporting events, the Eisteddfod has experienced hard times. In order to survive it has had to change its emphasis and consider the whole experience.

Rather than focusing solely on the competitions it has introduced fringe entertainment and supports a wide range of activities as well as the sale of food and drink. It has learned to put the user experience first. The same can be said of other events. The Hay Festival now utilises a single campus instead of the quaint village to focus its attentions in one place.

These festivals and others have learned the hard way, and have adapted due to financial pressure. But the end product is, I would argue, a much better experience for the visitor.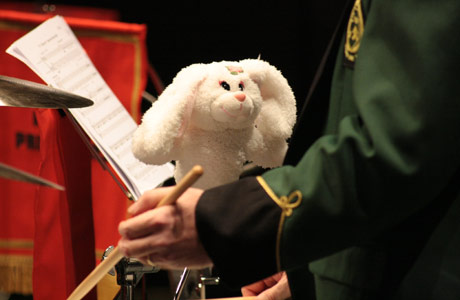 Looking for the right support for the bands
Picture: Steve Jack

Somethings can't change

Neither the organisers nor the music committee can change the geography of the UK. But together they can choose music that is aimed at hitting the target of four bands playing in an hour.

That way a six hour plus contest becomes closer to four hours. Start an hour earlier as one contestant pointed out and together you make a real impact on the viability of the day for families and younger contestants.

One solution offered in the hall was to commission new works with the expressed intention of coming in at nine minutes or under. Alternatively, composers could be asked to rework existing compositions with this in mind.

Composers such as Phillip Harper are strong supporters of lower section banding. If he and others can make allowances for player ability, I am sure that they would be happy make similar adjustments in terms of length.

Forewarned is forearmed

Finally fore warned is fore armed? Committee members need to be able to inform parents and supporters about the days' events. In this respect a pre-draw is not only sensible and viable, it is also in keeping with the principles of child protection that all effectively run bands are now adopting.

If the draw on the day is sacrosanct and an integral part of the contest experience why not keep it only for the Second and First Section events, with these scheduled to take place in the afternoon.

Other opinions reflected on having simultaneous contests in different parts of the venue. Some suggested charging people to enter the building at a much-reduced rate rather than paying for entrance to the contest alone. One innovative idea was a 'pay to hear' proposal. Say £2 a band.

Novel and different I know, but worth considering. Some suggested introducing fringe events to take place by offering students free performance space. And even, wait for it, someone even suggested a crèche!

Well, if it works for Ikea?

Evolution or revolution

Change either comes about by evolution or revolution. I can't see bands refusing to sign up for next year's Nationals or turning down the chance to play having secured a place at their Areas. After all it's what banding is about!

So evolution it is. The trouble is the pace of evolutionary change within banding has to exceed the rate of extinction that is currently occurring.

Is it too much to ask that for once the economic interests of organisers, promoters and banding business meet the leisure and cultural interests of supporters and players?

At the end of the day many parents with children in tow and youngsters taking part, will think long and hard about returning.

That's bad for business and its also bad for banding.

Iestyn Davies
---
Iestyn Davies is a political analyst and father of two young children who played with the Llwydcoed Band at the Third Section Finals on the weekend.