2010 Lower Section National Finals - Second Section - Preview & Prediction
21-Sep-2010
One band will be singing celebratory 'Alleluias' on Saturday at Harrogate...
---
Saturday 25th September
Start: 9.30am
Test Piece: Psalms & Alleluias (Philip Wilby)
Adjudicators: Lynda Nicholson & C. Brian Buckley

The 2010 Lower Section Finals kick off on Saturday morning with 17 bands hoping to make an immediate mark on adjudicators Lynda Nicholson and C. Brian Buckley, by producing a title winning performance on Philip Wilby's 'Psalms & Alleluias'.

To do so all 17 will have to get to grips with a wonderfully descriptive work, which despite its rather mature title, is in fact inspired by the youthful exuberance of the National Children's Brass Band of Great Britain.

This final version is something of an amalgam of original interwoven ideas including a humorous take on the National Children's Band MD, Dr Nicholas Childs successful attempt to shed some unwanted poundage.

No childish test

This is no childish test however – far from it. This very transparent and mature Wilby (below right) writing - deliberately so.

The multiple layers of complex and densely written detail that feature in many of his major test pieces works are generally absent here, and in its place is a series of contrasting elements – beautifully lyrical 'Psalms' counter pointed by the vibrant momentum created by the 'Alleluias'.

Bands and MDs may have been disappointed at first when initially approaching the work, but within minutes they will have soon realised that this is expertly crafted musicianship (any student with an eye to composing should study the mechanics of the work) that asks demanding questions of basic good brass band ensemble playing.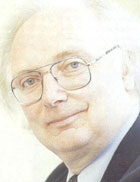 Quality should win out

With the more elaborate ornate filigree work missing from the score, the MDs will know that there is no room to use well worn 'camouflage' techniques to try and misdirect the experienced ears of the judges.

Everything is laid out in such a wonderfully concise manner and style, that quality – true quality, should win the day.

So who will win out then?

Bands from Wales and the West of England have dominated this contest over the past five years, with the marauding Celts looking to make it an unprecedented four wins in a row, after the successes of Newbridge (Celynen), Point of Ayr and City of Cardiff (Melingriffth) in the past three years.

Prior to that it was the Saints of Keverne and Dennis who left with the trophy tucked under their arm, so can bands from any other areas lay claim to the title this year?

Starting with the Welsh then…
---
Wales

Two very strong contenders fly the flag for the Principality, with champions Tylorstown looking to carry on the solid progress they have made under the direction Gary Davies.

A solid start to the year at Butlins was followed by success at Swansea and a good return at the National Eisteddfod, so they should be confident of being in the mix.

So too Dieniolen directed by Gavin Saynor, who have really upped their form since finishing in the midfield places here last year in the Third Section. Not quite as impressive as Tylorstown at the National Eisteddfod though, but a band to watch out for.

West of England

The West of England also sends a brace of strong contenders in Filton Concert and Shrewton Silver.

The bands have experienced men at the helm, and although both have been quiet on the contesting front of late they will be confident of more than making their mark if they show the form that got them here from Torquay in such style and purpose.

North West

The other powerhouse at this level over the last few years has been the North West, and once again they send two bands that will have attracted a fair amount of dosh at the local Harrogate branch of William Hill.

Diggle and Rainford are two quality outfits, packed with experience both in front and behind the stands.

James Shepherd will lead a confident and successful Diggle this year, whilst Neil Samuel has developed Rainford into a highly competitive outfit (playing at Championship level at many contests).

Look out for both come the results.

London & Southern Counties

London & the Southern Counties hasn't got the greatest of records at this contest over the past few years, but that could be about to change if one of the trio of East London Brass, Becontree and Alder Valley hit form.

All three were good value for their qualification places, with Jayne Murrill's band a classy champion at Stevenage. 5th last year, they could be a short priced favourite to lift the title if they perform as they did in winning at Butlins earlier in the season.

Becontree was also in good form at Skegness where they came 4th, so should be confident of making a mark, whilst Alder Valley wasn't too far behind in 8th, so they too could pose a real threat under the experienced Roger Burke.

North of England

Another region with a record to improve upon is the North of England, who can boast just the one podium finish at this contest since the Millennium.

That could well change this year if both area champion Cockerton Prize Silver and the newly formed Catterick, play to the form that saw them qualify in some comfort at Darlington.

Catterick will have been boosted by their victory at the Buxton contest, whilst Cockerton has been making excellent progress under the direction of George Nicklin.

Scotland

Scottish hopes of a long overdue victory at this level (you have to go back to 1997) rests on the shoulders of champion Dalkeith & Monktonhall and Coalburn Silver.

Hopes are high north of the border for both bands, with James Chamberlain's local Yorkshire knowledge perhaps a hidden bonus.

Gareth Bowman is also considered one of Scotland's rising conducting stars, although his band will want to put behind their recent poor showing at the Land O' Burns contest.

Midlands

Strangely, the Midlands hasn't got the greatest of records here either in recent times, so a lot rests on Area champion Tintwistle and Blidworth upping their form to claim a first National title since 2004.

Both have shown decent form over the last couple of seasons and are headed by experienced MDs, whilst Blidworth in particular has been busy in the transfer market of late, so who knows?

Yorkshire

Finally the home region challenge and two bands that should pose a serious threat to their rivals if they hit tip top form.

Knottingley took victory at Bradford with a mature performance under Dr Owen Wedgewood and went on to gain invaluable experience at the Senior Trophy, whilst Leigh Baker has been nurturing his lads and lasses from Yorkshire Police very impressively – as was shown in claiming a podium finish at Butlins.
---
10 year form guide (How qualifying bands have done: 2000 - 2009)

| | | | | | | | | | | |
| --- | --- | --- | --- | --- | --- | --- | --- | --- | --- | --- |
| Region | 2000 | 2001 | 2002 | 2003 | 2004 | 2005 | 2006 | 2007 | 2008 | 2009 |
| London & SC | 8/16 | 10/14 | 11/13 | 9/10/13 | 5/15 | 5/10 | 8/13 | 11/14 | 11/16 | 5/12/16 |
| Midlands | 3/6 | 3/6/9 | 2/3/7 | 16/17/18 | 1/17 | 11/13 | 5/16 | 3/15 | 6/14 | 13/17 |
| North of England | 11/15 | 11/17 | 5/12 | 4/6 | 8/9 | 7/8 | 10/11 | 8/16 | 3/15 | 7/15 |
| North West | 1/5 | 7/13 | 4/6 | 2/8 | 6/12 | 2/4 | 2/9 | 6/9 | 2/7 | 2/8 |
| Scotland | 4/9 | 8/15 | 8/16 | 5/11 | 3/10 | 6/15 | 4/6 | 12/13 | 10/12 | 10/11 |
| Wales | 13/14 | 1/16 | 10/17 | 12/14 | 4/16 | 12/16 | 3/12 | 1/2 | 1/5 | 1/14 |
| West of England | 7/11 | 2/12 | 9/15 | 3/15 | 13/14 | 1/3 | 1/14 | 7/10 | 8/13 | 3/9 |
| Yorkshire | 2/9 | 4/5 | 1/14 | 1/13 | 2/7 | 9/14 | 7/15 | 4/5 | 4/9 | 4/6 |

4BR Prediction:

Another hard one to call, despite a few bands having the form book results to back up their claims for possible Harrogate success.

Interestingly, no less than six of these bands battled it out at Butlins earlier in season, so will know where they stand in relation to their rivals.

For us though it looks like a three way battle the title, with the highly impressive East London Brass our tip to take the honours.

They will be much harder pushed than they were in Stevenage though and look out for Rainford and South Yorkshire Police close behind.

Diggle, Coalburn and Tylorstown make up our top six tips, with a dark horse in Filton Concert.

1. East London Brass
2. Rainford
3. South Yorkshire Police
4. Diggle
5. Coalburn
6. Tylorstown

Dark Horse: Filton Concert