4BR Dinner Guests - James Stretton
21-Sep-2010
Multi talented, multi instrumentalist James Stretton gives us the lowdown on his top 10 invited dinner guests...
---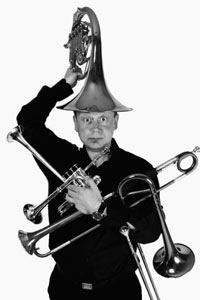 Given the opportunity, the wish list, the ability to mess about with the Space-Time Continuam like Doctor Who, and the skill to cook like Heston Blumenthal, who would you like to invite around to your place to enjoy a meal and chin wag with?

4BR started it all off a few days before Christmas 2007 with our 10 dinner guests, so we thought we had better ask a few more brass band personalities who would be on their all time dinner list too..

Multi talented

This time it's the multi talented James Stretton, a performer of the rarest (and some would say, oddest) gifts.

James was born in Warwickshire and studied at Trinity College of Music, London. After completing his degree he went to Houston, Texas to study with James Austin.

James is musical chameleon performing in bizarrely diverse mix of styles from authentic early music concerts with the 18th Century Chamber Orchestra to straight concerts with bands like the RLPO, Manchester Camerata as well as Black Dyke.

Never afraid to experiment with new challenges he is a multi instrumentalist – and we do mean multi!

His website can be found at: www.orichalcum-worldofbrass.com/

Foodie

He told 4BR: I'm quite a 'foodie' sort of guy and when time allows I really enjoy cooking and having friends round. There's nothing quite like the simple pleasure of combining great company with excellent food & drink, and conversation that changes subject quickly and is never far from the surreal.

Location? Now that gave me some considerable difficulty, my initial reaction was to cook the meal myself but really I can only fit sixround our farmhouse kitchen table and it would seem rude to expect the Dalai Lama, Chairman Mao, Doctor Crippen and Mary Whitehouse to stand in the hall. (Sadly they never made it onto the short list).

Like me Mary Whitehouse (who? apologies to younger readers) was born in Nuneaton and was a fan of brass bands – I still am.

Curry

James added: "So if I'm not to cook my signature dish of kumquat & avocado surprise, the surprise being it's Beef Wellington it would have to be the food of the Gods – CURRY!

Not just any old ruby will do, I suggest we all 'lally down' to the jolly old MemSaab in Nottingham. This award-winning restaurant is on Maid Marion Way and is well worth a visit if only to sample the Ostrich Tikka starter – I kid you not (although do not try the Ostrich Tarka – which is a little 'otter)

For pre-meal starters – 'Real Ale' at any of Nottingham's fine proper public houses

Down to business…. My who's who of dinner guests….

There's a private dining room at the back at the MemSaab. I think that would be best, it's likely to be a noisy do.
---
1. Leonard Bernstein

Despite being monstrously self centered, arrogant, effete and constantly rude, Berstein's huge contribution to 20th century music both as a composer and conductor would make him number one on my list of dinner guests.

He was simply a genius who strove his whole life to write the ultimate American musical. He just hadn't realized he'd already done it in his 30s when he composed 'West Side Story'.

Despite his many faults he could be charming and suave, he also liked to party till dawn.


2. Matthew Ford

Is one of the country's leading Big Band singers. Formerly with the Syd Lawrence Orchestra he is now a colleague of mine in the Nick Ross Orchestra.

As such we spend many hours together travelling the length and breadth of this fine nation (either in his turbo Saab or my diesel tractor) on the way to NRO gigs. Matt is a great guy because despite his impressive CV, he regular performs with the BBC Big Band and the countries leading orchestras he remains modest and a thoroughly decent bloke.

Partial to a small gin, he has a wicked sense of humour, and with his great "pipes" as they Americans say, he could sing us a song.


3. Iain Jackson

Is probably not that famous as the bass trombonist of the city of Birmingham Brass Band - although his major contribution to Western Art is that he is 50% of the duo 'ORICHALCUM – WORLD OF BRASS'.

Iain and I started working together in 2006, and we were 2 bars into the first piece we ever played together when we knew we had a special telepathy. He's a great guy and a fantastic musician.

He once told me I never play anything the same twice. I thought he meant it as a criticism.

However, he pointed out he meant it as a compliment. We perform music – it's art NOT science, and whatever I do, Iain's with me every step of the way. In fact he usually knows what I'm going to do before I do…


4. Stephen Fry

Is a gentlemen, scholar, bon viveur and general good egg. I have enjoyed his diverse work over the years and consider him to be one of the only true talents on TV today, though not having a telly does put at a slight disadvantage in this regard.

His charm, erudition and wit would grace any gathering. I'm only sad that on one of my many trips to Norwich I've never bumped into him.


5. Bill Bailey

Is a bonkers wizard…. Not only an extremely funny man, he's an extremely accomplished musician. Claire and I went to see his remarkable guide to the orchestra and laughed till we were moist, (tears).


6. Stuart Garside

Is a jazz trombonist from Doncaster. He is also a keeper of poultry and a fine experimental chef.

However, my admiration for 'Stugger' is that he has the most highly developed surreal sense of humour I've ever encountered. Basically mad as a bag of frogs. He is also a brilliant photographer, and is the guy that takes our zany promo photos like the brass car and tuba Harley.


7. Jonathan Stretton

Is my brother and 4 years my senior. Though now retired from blowing, he was a very fine cornet and trumpet player in his day.

We both started to play in Amington Brass Band before moving on to Coleshill Concert Band. He went on to study music at the Royal Welsh College of Music and Drama before joining the Blues & Royals Band in the Household Cavalry Division.

He worked extensively as a gold coated Royal Trumpeter, opening many parliamentary sessions and Royal occasions, I was always very proud to see him play for the Queen. I do hope he will take it up again soon.

I've already used the word 'bonkers' twice - therefore I'd best describe my brother as eccentric.


8. Roger Rae is sadly no longer with us.

A fine musician, he was a true gentleman, and is sadly missed by all those lucky enough to have known him.

He had led a full and varied life, firstly as Principal Trombone of the BBC Scottish Radio Orchestra and then as a member of the Syd Lawrence Orchestra.

He left Syd's band to become MD at the Night Out Theatre Restaurant in Birmingham, at that time Europe's largest cabaret venue. During his tenure he was proud to have the honour of being MD for a Royal Command Performance.

He was proud of being a Scot and was very much a Nationalist, but would never be argumentative or bullish about politics. He had also found time to be a stunt rider in the movies, appearing in Prince Valiant and had served with the French Army in Algeria.

Fluent in several languages he could talk eloquently about any subject. I consider it an honour to have known him.


9. John 'Jonno' Colton

Is an Australian trumpeter, though I often joke with Jonno that he must have been expelled from the land of his birth for being too nice.

He is a great musician and 'bloody good bloke'. We both enjoy cricket and have been delighted that recently matches between our great nations have been closer affairs. He is great company and would bring some auzzie sophistication to the event.

In the summer as one of Australia's leading trumpeters he was invited to perform at the International Trumpet Guild conference alongside James Morrison, he's a very proud Australian – and also a lager expert (useful with curry), though I'm trying to convert him to real ale.


10. Claire Taylor

Is solo trombone of the Newstead Welfare Band, but more than that she is the love of my life.

I realize she is the only lady in my party of ten, but she is more than a match for any fella, and would rather discuss where to get a really good pint of Theakston's Old Peculiar (her favourite tipple, sadly not available at the MemSaab) rather than shoes and handbags combos anyday.

She is beautiful, witty and intelligent and would be a perfect social catalyst.

She could play piano duets with Bernstein, arm wrestle Stephen Fry, whom she adores, and play poddadom-a-winks (similar to tiddly winks) with Bill Bailey.
---
Previous dinner guest lists:
Previous guests have included the 4BR selection; Chris Wormald; David Read; Pete Meechan; Alan Jenkins; Derek Broadbent; Philip Harper; Peter Roberts; Frank Renton; James Shepherd; Dr Roy Newsome; Paul Lovatt-Cooper; Bramwell Tovey; Kevin Crockford; Morvern Gilchrist and Lesley Howie; Richard Evans; Simone Rebello; Ian Porthouse; David Daws; Alan Morrison; Alan Wycherley, Mark Bousie, Steven Haynes, Simon Dobson, Ian Buckley , John Roberts and Cai Isfryn.