Recording Roadtest - 4BR tries out 3 top bits of portable recording equipment
20-Sep-2010
4BR has teamed up with Normans Musical Instruments, and the newly crowned 2010 British Open champion Tredegar, to find out more on how to make the best use of three of the most popular pieces of portable recording equipment on the market.

---
There was no better time to record one of the top bands in the country, so 4BR and Normans top recording guru Chris Nicol, made the trip to the newly crowned British Open champions and set up our equipment to record the band playing an up beat march, a reflective item and a solo feature.
---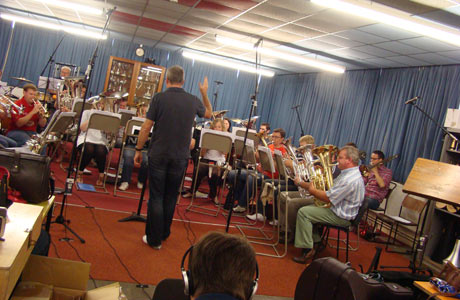 The acoustic:

Tredegar's rehearsal room (above) is a modern, low ceiling rectangular hall, with draped curtains on the walls surrounding three sides of the band and carpeted floor. It's a pretty dead acoustic – ideal for detailed rehearsal.

Would it prove to be equally ideal as a viable recording studio though?

To ensure you can hear the best results - please note that you should use decent speakers on your PC.
---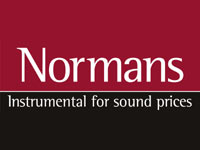 The equipment:

The three pieces of portable recording equipment tested were as follows (plus one British Open winning band):

1. Zoom H2: Handheld field recorder (Price: £149 inc. VAT)

2. Zoom H4N: Handheld digital 4 track recorder (Price: £279 inc. VAT)

3. Zoom R16: Multi track SD recorder/audio//interface/mixer (Price: £299 inc. VAT)

There are of course many reasons why modern portable recording equipment can benefit bands at all levels and in any recording ambience.

All three portable recorders can be bought from Normans Musical Instruments at: www.normans.co.uk/c-285-studio-and-recording.aspx
---
The benefits:

Chris outlined some of the benefits:

1. If you record your band once a week, for half the year, you can hear how you are improving – or getting worse!

2. Rehearsal progress can be monitored by a conductor, players or even supporters.

3. If you come up with a good rehearsal idea for a concert or contest, you can try it out there and then. The feedback is there at a push of a button.

4. It's an ideal way of familiarising yourself with repertoire – especially new works.

5. If you need to practice your individual part then use a recording of your band in action and play along!

6. If you are trying to learn a complex piece of music, these pieces of equipment are so clever that you can slow down the recording without adjusting the pitch and then play along.

7. You may want to record your band, burn the recordings to CD's and sell it – although please make sure you check all the commercial and legal implications before you even think about it!
---
Questions answered:

Can I edit my recording using my computer?

Yes! Many of the portable recorders (like the Zoom H4N and R16) come with sequencing software used in professional studios.

Simply drag and drop the audio into the software and then there are no limits to what you can do!

Chop bits out that you don't like, loop a part that you do like and apply reverb and other effects to it to make it sound really professional.


How did I get the recordings from device to CD?

Very simple. The audio is stored on a standard SD memory card that you would find in your camera.

You can either plug that straight into your computer or plug the whole device into your computer using a USB cable (supplied).

It is stored as a standard WAV file, so burn it to a CD like you would with any other song.


Now what to do with my recordings?

The possibilities are endless of course, but make sure you find out what you can and cannot do commercially or legally.
---
The equipment in action: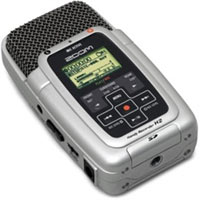 Zoom H2: Portable digital recorder
Price: £149.00 inc VAT

The first piece of high tech equipment we used was the Zoom H2.

It's a very small device and is very easy to use. It is the cheapest of all three we used, at only £149.00 + VAT.

Everything you need is in the box, including headphones and even a stand.

It has 4 built in microphones and can record in either stereo or 4 channel surround. Your recordings can be saved as MP3, WAV or broadcast WAV and it comes with 512MB SD card and USB connection.

Set up

This was a very simple set up. It was just a case of finding a suitable place to put the device (in this case about 15 feet back from the centre of the band and hitting record! It couldn't be any more straightforward!

What to do whilst recording

Pretty much nothing really! That makes this device ideal for bands that would rather spend their time playing music instead of trying to get the recorder to work!

Just stand still (see below - the recorder is on the seat behind Ian Porthouse) and keep the recorder in the same position. There is no need to fiddle with anything else.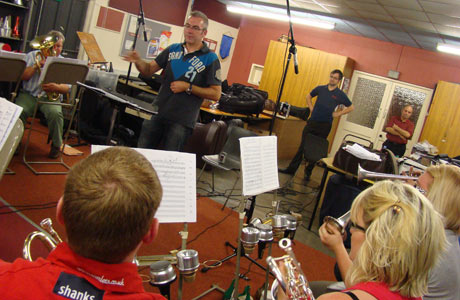 Troubleshooting?

The only trouble Chris found when we set up was where to place the unit.

Put it too close to a band and you're in danger of distorting the sound, but put it too far away and you may not pick up the band properly.

The gain control on the recorder was set to the lowest level but still distorted a few times when Tredegar turned the volume up, but after a few goes the ideal spot can be found in just about any bandroom.

Feedback

Talking to the members of the band they felt the H2 did a great job, although they wondered whether or not it could really pick up all the required balances for more detailed analysis.

For general recording purposes to see how a band is progressing with a test piece from the start to the end of a long night's rehearsal, they thought it would be a useful tool to help the MD and the band improve.

Pros & Cons

Does the job it was designed to do very well, although it is the basic version and may not be the right choice to use if you want to record your band on a regular basis.
The H2 recordings

Hymn Tune


March


Trumpet solo

---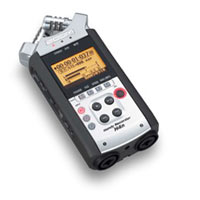 Zoom H4N: Handheld digital 4 track recorder
Price: £279.00 inc VAT

The second unit used was the Zoom H4N. This is Zoom's flagship handheld recorder and in Chris's opinion this is the best value for money around.

It's a 4-track recorder with built in microphones with two XLR/Jack inputs with phantom power.

Recordings can be saved as MP3, WAV or broadcast WAV files and a 1GB SD card is included. It also comes with a protective case and microphone clip adaptor and can double as an audio interface too.

Set up

Using the device was a very straightforward matter, with a helpful easy to read accompanying booklet. Again, the device took not time at all to get up and running, and for the recording we enhanced its capabilities by adding two external Rode M3 pencil microphones to get an even better overall sound both in a pretty central position, one facing left and one facing right.

This gave Chris a nice stereo image of the band and allowed him to capture a lot more than just a single microphone in a central position or just using the recorder on its own.

What to do whilst recording

Again, Chris didn't have to do much once the device was set up.

The only thing he had to keep my eye on was the audio distorting as it came in, but with easy recording control buttons on the side of the recorder it wasn't a problem to find the ideal level.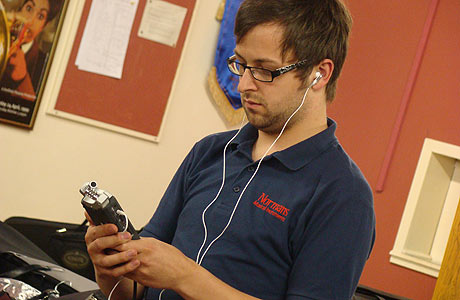 Troubleshooting?

We had no issues with this device what so ever. It was extremely easy to use (see above) and produced a high quality recording sound, especially with the enhancement of the two Rode M3 microphones, which come in around £71.00 + VAT each and need a stand that costs around £18.00 +VAT. Cables are around £10.00 + VAT.

Feedback

The band members were really impressed with the H4N and were amazed at the quality of the reproduction. The MD was also a convert and was also impressed by just how easy it was to set up and then download for analysis of the performance.

The addition of the extra mics was noted though and it was felt that this really brought an extra dimension to the recordings.

Pros & Cons

An ideal set up for the vast majority of bands. More expensive than the H2, but you get what you pay for, and it a much more versatile device when you get to know it well.

Perfect to use on its own, but the enhancement of the two microphones made things sounds very professional indeed.

No real downside for us – its rewards the extra investment and care you can take in the recording process.
The H4N recordings

Hymn Tune


March


Trumpet solo

---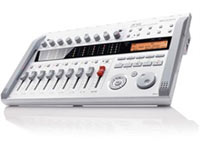 Zoom R16: Multi track SD recorder/audio//interface/mixer
Price: £299.00 incVAT

The third piece of equipment we used was Zoom's multi-track recorder, the R16 – a much more serious, but affordable bit of recording equipment.

Connected up to it were 4 Rode M3 pencil microphones and 4 AKG C1000 microphones to give Chris the opportunity to 'mic up' different sections of the band, very much as would be the case in a professional recording studio.

The R16 is in fact 3 products in one with a 16 track digital recorder, 8 channel audio interface and USB control surface.

This means you can record up to 8 tracks at once, whilst the machine comes with 8 XLR mic inputs (2 with phantom power) and a 1 GB SD card. It has a USB port, 135 built in effects and is battery powered for location recording if you haven't got a long enough power lead!

The audio interface has 8 mic line inputs, 2 outputs and headphone output. The control surface controls DAW software using faders and transport controls and is compatible with Cubase, Logic and Sonar software.

It is USB powered and includes Cubase LE4.

Set up

As you would expect, the set up here took some time (about 1 hour) and was quite a bit more complex than the other Zoom devices.

The positioning of the microphones was the key, although an experienced MD will know exactly just where the mics should and shouldn't go!

Chris split the band up into 8 sections and gave each section a microphone for this recording, allowing for greater control over the post production process if he wished.

When recording the solo item we gave the performer his own microphone so that when it came to mixing down the track Chris could process it separately.

What to do whilst recording

As there was 8 signals being recorded at once Chris had to make sure none of them clipped, although this was not difficult to do as the R16 has indicator lights for each channel. Take a bit of time to understand what is going on and the R16 is a very versatile but easy to use device.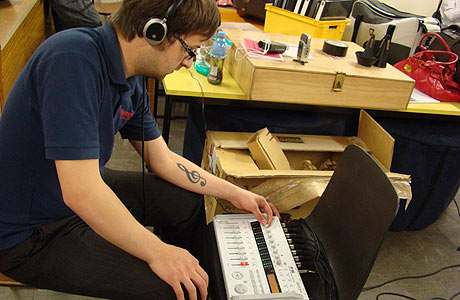 Troubleshooting?

The whole process was fairly straightforward once you gain experience in knowing what you need to do.

Setting up (see above) does take a bit of time, but it is worth doing it properly. Using the machine is also easy too, but don't think you need to twiddle every button to get things right – small adjustments can make one heck of a difference.

Zoom make it very easy to use their devices so you can be up to speed on how to work it within an hour.

Feedback

The one that really did the business for the band – pinpointing all the sections individually was a bonus for the MD too.

Get to know how to use this device in detail and the benefits they felt to any band were enormous. Well worth the trouble of reading the manual from back to front and the extra investment, if like Tredegar, they were serious about using modern technology to aid contest preparation and recordings.

Pros & Cons

For a band that wishes to record on a regular basis and is serious about how its wants to scrutinize its on going performances, this is an ideal tool to use.

It rewards the user with a bit of insight and patience to get things right and could become an essential tool in any band's rehearsal armoury.

To get the best out of it though you also have to invest in some good quality microphones, stands and cables, so the initial investment may approach closer to £1,000 or more.
The R16 recordings

Hymn Tune


March


Trumpet solo

---
Chris Nicol:
Normans Music Tech Specialist, Chris Nicol has come from a very studio based background, mostly doing productions and song-writing for pop acts over the years.

Chris explains: "The days of going into a million pound recording studio to cut a CD are over. More and more people are buying the equipment and doing the recording themselves."

Chris is a living example of this, making his own music with home recording equipment for years and then selling it on iTunes and other online shops. Chris has been educated to degree level in sound engineering but confesses; "You don't need a university education to be able to work this equipment, with most things I have taught myself how to use it!".