2010 British Open Championships - The Adjudicator's remarks
10-Sep-2010
This is what the William Relton, Nigel Boddice ME and Ronald Holz thought of the top four bands at Symphony Hall.
---
This is what the adjudicator's thought of the top four performances.

Unfortunately 4BR has misplaced the adjudication notes of William Relton on Black Dyke. We will try to get them as soon as possible.
---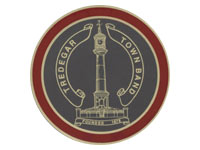 1. Tredegar

Opening fine ensemble, just a touch of overblowing 2 before B in cornets.

Lovely change of mood. Vivace – brilliant start, great xylo. I enjoyed the poco rit and the way the side drum continued with the last three quavers into the new tempo.

Some splendid moments at the end.

Elegy:

Great start.

A – Fine soloists, so well shaped – the music sounds so easy when you have these fine players under a sensitive musician.

H – Rep and beautifully toned baritone blend so well. Tiny slip in euph after I.

Fantasie:

Brilliant start. H – Great horns. E – Splendid effect, such a fine solo horn.

N – What a splendid dynamic.

Great music making.

William Relton



Some thrilling sounds and intent to start. Cornets especially good on first fanfare (some brash disturbances detected too on second fanfare)

Exciting vivace mostly convincing. Just odd moments slightly 'overcooked' but a fine committed band filling the hall with sound.

Terrific atmosphere. Horn commendable (1 breath). Long singing lines excel.

Melodius solo lines – wonderful cornet – all singing beautifully.

Nice vibe contributions.

Great flugel – stylish. Sublime trombone too.

A joy to hear this musicianship – Bravo.

Fine sop – fine euph

Fine mood – delicious

Fine direction

Fine standard in III movement. L – not quite gelling ideally.

Fine solo horn – brilliant

Music making at M wonderfully controlled – so clear.

Music making of the highest order, little to criticise, but much to commend especially the direction. (very few flaws to note)

Nigel Boddice


Mvt 1:

Super opening – confident – careful not to over play it! (triplets in perc – careful)

Lovely maestoso into C. Great verve, style in Allegro. Excellent trom trio. Careful timps. Excellent at 118-119. Beautiful playing at 129-134. Great balance at I – ever so slight tendency to push! High F great on euph.

Balance in cornets at 178-179 off a bit. Transition at L – OK – Well done

Mvt 2:

Pyramid – Thank you!! Excellent!!

Duet at 8-12 lovely. Fine duets throughout. B – A joy!

Solo cornets great into C. Great dialogue flugel and vibes. Letter E – Trombone excellent style duet with flugel truley elegant. Cannon at G support well – only a slight slip. Rep does well and Bari.

I – truely elegiac. Slight flaw on euph at 80-81 otherwise beautiful. Excellent final chord. Fabulous movement!! Soloists superb throughout concerto though euphonium had a few flaws.

Mvt 3:

So well controlled and dynamic subtleties! All contributions so clean. Guisto good fell. Excellent tenor!! Great ensemble into I. Solos at L excellent – all of them. Great solo at O and euph at P.

Toccata has real energy and percussion excellent – ffp superb. W – a true peak. Wonderful. Ending has all the right 'gravitas' and sudden shift – true Giant Steps.

This was a thrilling performance, musically engaging, technically secure. BRAVO – A great movement again! BRAVO AGAIN!!

Ronald Holz
---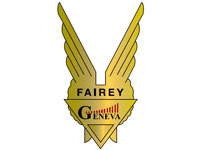 2. Fairey (Geneva)

Opening great cresc: attack first rate, balance very good

B – Let Trombone 1 lead, the bass is a bit heavy. Excellent mood changes. Vivace fine control.

E – Less trombone 2 to balance the trio

K – LET THE TROMBONE LEAD NOT the basses. A very fine ending.

Elegy:

A fine start, basses delicate, duet is well shaped and phrased. B – Bar 6 a touch dicky in intonation. Fine flugel and later trombone. G – Great blend. J – a fine ending.

Fantasie:

Great technique and so well observed dynamics.

B – Fine horn ensemble. E – Atmospheric. G – Such a musical interpretation. N- Great dynamics.

O – and later euph very fine. A smooth transition into W and final chords great.

William Relton


Excellent standard from the outset of the timp. Well balanced low brass with the dignity of sound. Beautifully confident.

Wonderfully cohesive sounds on display. Vivace exciting and very controlled. Commendable overall. Fine standard, fine musicianship (an odd blip)

II Mvt:

Opening attentive

Fine solo lines if not fully relaxed as yet. Very fine flugel (with style, confidence and sound). Silky trombone too (odd moment)

Euph excels while some singing lines sense a little tightness.

III Mvt:

Wonderful band skills, fully cohesive, controlled and convincing in vivace. Horn excels.

G – Beautifully singing and balanced. Euph continues to excel.

Controlled build up – perc effective and controlled.

Bravo all. Thank You.

Nigel Boddice


Mv1:

Great opening on all levels! Letter B plods just a bit, but forwarding at 41 and very good at transition. Excellent attention to detail in Allegro. Trio nicely balanced in Bones. E – to lovely transition into bold return (careful high Eb before J) Problem trombone 1 and balance in low bass at K .

This bothers cornets 177-179 balance. Lovely dynamics in 185. Pause well done.

MvII:

Pyramid – OK. Elegy at A fine in basses. Initail duet OK but not as precise. Solos OK at B, but some pitch problems (trom at 18 – 19 for instance). Good duet of flugel with vibes especially at D (Don't push it). Good trom Doresy and then duets are OK. Lovely seamless support at G. Nice cannon rep and baritone.

Sop and euph good except note at 81.

Some fine individual playing and accomp. Chord lovely at 91.

III:

Great ensemble in Allegro. Accents could sparkle a bit more ie. At D etc. Great shimmer into E. Solid tenor at E. Good restatement at G. Good euph solo solid at K.

Quite good and distinct. Cornet fine 0 and for Toccata – would prefer more difference f-ff- but texture is clean.

W – is impressive – good pull back at 234. Fine control in coda.

A fine performance by both ensemble and individuals with especially fine playing in most of movement 1 and especially movement III. Some inconsistencies as noted but congratulations for a wonderful performance. THANK YOU!

Ronald Holz
---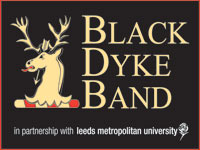 3. Black Dyke

Fine determined opening statement, mostly cohesive and well executed

Vivace exciting and well prepared and executed. Much clarity – sop commendable. Double check L – some intonation detraction.


Fine opening to Mvt II – a stately approach a couple of intonation uncentered sounds noted. Solo lines – well shaped (always)

Sop commendable

Very stylish flugel and fine intentions supporting

G – Well organised sound to start. Solo lines singing well. Fine atmosphere to close.

Mv III:

Mostly brilliant in all aspects (The odd moments happens!) but overall musicianship of the highest order. Very exciting music making.

Thank you

Nigel Boddice


Mv1:

Solid opening but difference in the > ^ (accents) and clarity of some semi quavers. Trom 1 not leading always low bass. Sparkling Allegro. Careful f is not too ebullient. Some fine ensemble playing. Return of Bruckner is excellent. Again at K – Trom 1 needs to lead just a bit more.

Pitch at L though intonation is good (Nice tam-tam)

MvII:

Pyramid – wonderful, not overdone. Thanks. Adagio is slow, but does have elegiac atmosphere. Nice duet 8-12 and solo cornet. Rep & Sop fine as is next duet, trom etc. A bit rough solo cornet C at 21. Good relaxed feel at C&D (Vibes just melt) Lovely!

At E a good Dorsey but one flaw. Duet that follows good. Elegant into G. G – quite good. Rep 7 Bari excellent. Sop good at 75 but a bit loud and forced? This is a problem (Watch those Basses at J) Great final chord!!

MvIII:

Very fine ensemble and detail. Careful at 33 only mf. Guisto is that. Tenor just a forced a bit. Some fine control from full band. Good balance in solos. K-L-M. Letter O cornet solo excellent as is euphonium. Toccata – tight and percussion OK – liked trom glisses!

Fine move into climax at W. Great control at 238 and a stunning finale – great Giant Steps.

Wonderful band performance and individual efforts, with only minor flaws as indicated.

THANK YOU!!

Ronald Holz
---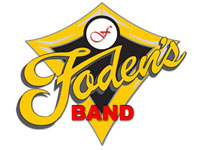 4. Fodens

Opening – Bold but the balance needs addressing – the 1st trom should lead - not the basses (however good). Vivace very good technique – intonation in the trombone trio needs attention 6 before J not good. Mood changes well done. Split notes around L.

Elegy:

A rather loud start, but all the soloists acquit themselves well, duet playing in the main very good, and the ending was well thought through.

Fantasie:

A rumbustiuos start. B – horns fine. E – most effective. G – so very well balanced, careful dynamics too. Such good control by the conductor. O – Excellent cornet and later euph playing such a good lead into W – a very spread and effective ending.

William Relton


Very fine opening indeed – committed and shape and direction.

Some flaws appearing but overall fully integrated fine sound concepts noted throughout.

MvII:

Fine opening once again, fine melodious sounds. The odd breath moment to reflect. Stylish flugel and trombone both creating good moods and atmosphere.

Well crafted movement, much control from soloists and direction.

Mvt III:

In the same manner, beautifully prepared, executed and always stylish and controlled if not absolutely convincing by comparison to earlier work.

A performance which crescendoed in stature.

Thank you

Nigel Boddice


Mv1:

Excellent opening! (clipped Bb trom 1 at B) – Lovely transition into C. Allegro effervescent – great detail ensemble. Trom mistake and pitch into E. Brilliant at E – lovely into return of Bruckner which is fine (some overblowing?) Triplets nicely balanced. K – is better and majestic. 185 slips and again at L. Too many misses unfortunately.

Mv II:

Excellent pyramid! Thank you! Duet 8-12 very good. Solo cornet OK. Rep & Sop and following duets. Trom 1 a bit tight 18-19. Fine solo cornets into C. Good understated flugel with excellent vibes in support. Nicely paced trom at E – Bravo!

Duet with flugel also (and euph also) elegant at 55 and especially G. Lovely conducting here allowing freedom. Rep & Bari wonderful. Very musical!!

Sop & Euph not quite locked together at 80-81. 82 to end truely beautiful moving performance.

THANK YOU!

MvIII:

Such clean textures, articulation – a clinic!

Tenor horn great at E and euph at F. Nicely underlated and balanced at G. Quite exciting!

Guisto fine. All solos at K-L-M – wonderful.

Toccata – has the right menace!! Great control and impressive 218 – to W. Climax at W is rich. 234 – 238 nicely measured!! Ending is good, if a bit drawn for me/but takes nothing from you!) Conductor is to be commended for a finely shaped performance by a fine band – but there were problems, especially Mvt 1.

Ronald Holz