2010 British Open Championships - A matter of style & substance
10-Sep-2010
There was plenty of very individual style as well a substance on show with Peter Graham's set work oon Saturday.
---

Sitting at the Shoulders of Giants? Peter Graham or David Read?
Picture: Ian Clowes

Peter Graham's 'On the Shoulders of Giants' proved to be an almost ideal test piece for the competing bands and their conductors to get to grips with on the weekend.

And as a result, the audience were given a veritable smorgasbord of delights in terms of musical interpretations.

Bruckner and Bliss

From Bruckner and Bliss to Davis and Dorsey, via a musical trail of exploration that took in such performers as Herbert Clarke and Arthur Pryor to the combined skills of the legendary 'killers' of the brass section of the Chicago Symphony Orchestra.

Everyone – especially the MDs, had their own very individual take on what they thought this piece should sound like – much to the enjoyment of the audience throughout the day.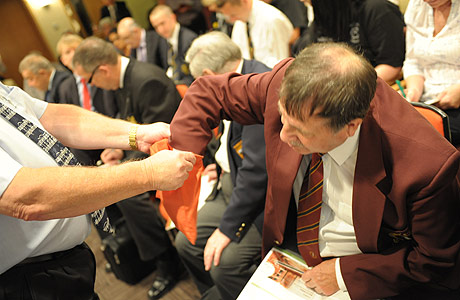 The draw of destiny? Tredegar's Alwyn Powell picks out the lucky number 8
Pictrture: Ian Clowes

Consistent

In the end though it was the three men in the box (Messers Relton, Boddice and Holz) whose opinion counted the most, and a look at the final prize list confirmed that they were totally consistent with their opinions on what they heard.

Take for instance the central jazz interlude of the immensely difficult 'Elegy'.

Marked Adagio minim = c. 44, the initial pyramid opening flowed into an excerpt of sparse reflection, where the main soloists were given the chance to shine.

No real problems here for the best bands and MD's (although one or two did rather over indulge themselves), but it was what followed that raised the eyebrows on more than a few occasions.

Both Miles Davis and Tommy Dorsey were interesting characters away from the stage (neither as cool or sentimental as their images suggested), but their performing styles were very clearly defined.

Bizarre

Why then some conductors opted to add a full kit accompaniment to the opening flugel solo was bizarre - the score marked 'Brushes (in style)'.

It led to a very odd feel to the music at times that did neither Davis or Dorsey interpreters any favours at all.

The percussion players who just added a few little moments of interest with the brushes sounded classy and refined, whilst others who opted to try and make themselves the centre of attention, sounded more like a one legged man dragging his stump through a cat litter tray.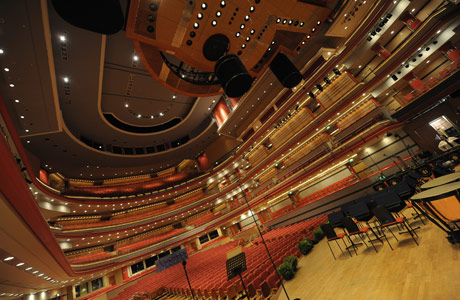 Iconic venue: Symphony Hall is quiet before the action starts
Picture: Ian Clowes

Style

Arguments may rage over just how the sessions with Davis and Gil Evans actually sounded (and some flugel players will need to be reminded of just how uncool it is to try add flicks, glisses and half vale smears to just about every entry) but the addition of intrusive kit (or over emphasised snare drum) seemed a very liberal interpretation of the stylistic request from the composer.

As for standing up and facing the audience as Grimey opted for?

Perhaps great in the intimate surroundings of a smoky jazz club in Harlem, but not quite the effective thing to do in Symphony Hall.

Outstanding

That said, there were some pretty outstanding individual performances throughout this section, with Stephen Sykes a deserved winner of the 'Best Instrumentalist' award for his Tommy Dorsey homage.

Meanwhile, notable efforts on flugel came with a more plaintive approach – with Hayley Edmond of Whitburn and David James of Tongwynlais making lasting impressions amongst others.

Nearly all the trombonists had good days, whilst the standard of xylophone and vibraphone playing was exceptional – not a single player opting for the old trick of emptying a frozen bag of peas over the keys to get away with it.

Usual problems

The usual problems with the modern approach to soprano playing emerged once more though: all of them can whack it out but only the best can play very sweetly and very quietly, whilst there were some notable efforts in the solo horn department.

Peter Graham though should be congratulated for the way in which he allowed just enough rope for the MDs either to lasso the audience in or hang themselves on high.

Some will be dangling by the neck for a while to come, with some of the approaches to the opening Bruckner fanfares, 'Apocalyptic' for all the wrong reasons - leaving a litany of unforced errors and splits to ruin any further chances some bands had of making a more lasting impression in the box.

Impress

Right to the very end (which included some pretty drawn out final quavers from the percussion sections in places), the chances of showing subtlety and refinement were sometimes lost in a desire to impress by speed and volume alone.

Those who kept control kept their chances alive, those who didn't saw the judges penalise them.

On a day when style and substance really did come together - although not always as you would have expected, you couldn't have asked for fairer than that.


Iwan Fox