2010 British Open Championships - Retrospective
10-Sep-2010
Tredegar created their own piece of British Open history at Symphony Hall, but there were more than a few surprises for the other competing bands on the weekend.
---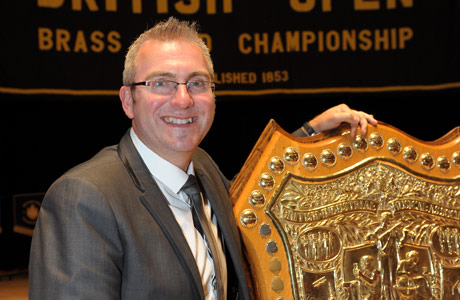 Plenty to smile about: Ian Porthouse and the British Open Shield
Picture: Ian Clowes

As surprises go it was a bit of a shock; but as shocks go, it wasn't that much of a surprise: Tredegar is the 2010 British Open Champion.

In creating their own unique piece of British Open history in becoming the first band to win both the Grand Shield and Open in the same year, Tredegar confirmed that they are on a run of form last seen when Shergar was at his peak.

Whiff in the nostrils

Six wins from seven contests this season, they head to London with the scent of a National victory no longer a distant whiff in the nostrils – they are a band to fear by all their rivals. They are a class act, worthy of the most famous title in the banding world.

Perhaps the real surprise was that after they had played off the number 8 draw, the remaining fancied runners of Rothwell, Fairey (Geneva), Black Dyke, Grimethorpe and Foden's couldn't construct an overall performance to catch them. And neither had Cory, Brighouse, Leyland or Desford before them.

All had extended moments of sheer brilliance, but none, with perhaps the exception of Fairey, came close to the sublime playing Tredegar produced in the central 'Elegy' that so rapt the attention of the those in the hall that at its conclusion there was perfect silence for nearly 10 seconds – not a cough, a shuffle, or a turned study score page.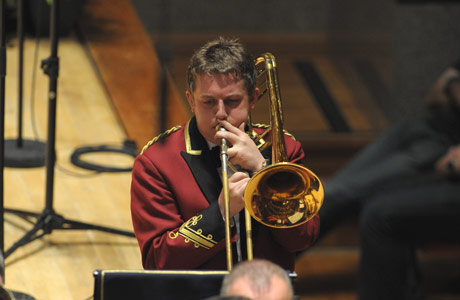 Splendid isolation: Stephen Sykes on winning form with Tredegar
Picture: Ian Clowes

Suspended animation

In that moment of suspended animation Tredegar grasped the iconic golden shield and never let it out of their grasp. In contrast, a few hours later, the scenes of celebration on the stage of Symphony Hall spoke volumes about their achievement.

The 'Elegy' of Peter Graham's 'On the Shoulders of Giants', was the key.

On a day when so many of the very best bands couldn't quite deliver in terms of the execution or musicality that was wanted in the box, Tredegar's soloist's were nigh on perfect – especially 'Best Instrumentalist' winner Stephen Sykes on trombone and flugel Zoe Hancock.

The rest of the band were their equals though, with the ensemble playing from the cornet section in particular almost flawless.

Ian Porthouse gave the movement time and space to flow, and crucially didn't over exaggerate the various homage's to jazz style, so that subtlety and finesse, the hallmarks of his approach to the score, shone through.

Despite an uneven start and a few excitable moments in the closing 'Fantasie Brillante', by the time they stamped out the final 'Giant Steps' as adjudicator Ronald Holz so admired, they had produced the performance that by no means unbeatable, would take something special to top it in the box.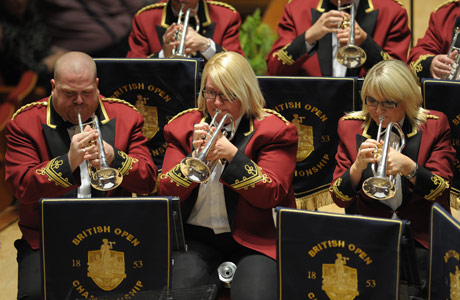 Top trio: Tredegar's top end deliver the giant steps to victory
Picture: Ian Clowes

Tip for victory

The applause that rang out from the hall at it's conclusion was of recognition and admiration, and many an experienced observer took the time before the announcement of the results to tell 4BR that the Welsh band was their tip for victory.

That's why for so many people the win was not so much a major shock, as perhaps a minor surprise (although 4BR had them around a strong top six finisher more than a winner).

As horse racing analogies go, the race to the finish was up there with Grundy's win over Bustino in the King George at Ascot in 1975 – the narrowly defeated runner up on this occasion being Fairey (Geneva).

Form horses

The form horses of the year ended up neck and neck by the time the line came into view, and although Fairey (Geneva) had displayed admirable form over the full length of the course.

From a bold opening, a lyrical 'Elegy' (with Gary Curtain's contribution giving him the inaugural Geoff Whitham Memorial Award as 'Best Euphonium') and tumultuous 'Fantasie Brillante' finale, they just fell short by a short head.

Russell Gray once again inspired his band to produce another performance of the highest quality, but just the occasional lapse in balance and the odd moment of unease in the 'Elegy' cost them the chance of adding the Open to their English National title.

They too will head for London with the scent of a victory in the air.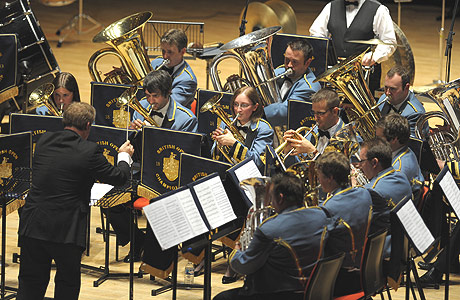 Close to glory: Fairey (Geneva) head for a neck and neck finish...
Picture: Ian Clowes

Can't buy a win

Black Dyke on the other hand can't buy a win at the moment, and despite another highly polished performance that seem to tick all the right boxes for many in the hall, it didn't quite have enough about it in the box and they had to be content with third place.

The little clips and few nasty errors just took the highly polished veneer off in places, but luck is not with them either it seems, despite Paul Duffy's fine contribution earning him the Brian Evans Memorial Award as 'Best Soprano Cornet'.

They will be avoiding black cats, broken mirrors and oddly placed decorators ladders in their London hotel next month for certain.

Usual suspects

The final top six places went to the 'usual suspects' at the majors nowadays, although Rothwell Temperance once again showed just how good a band they are with yet another detailed and purposeful account intelligently directed by Dave Roberts.

Taking the edge off their power it was just a rather uneven 'Elegy' that perhaps cost them a possible podium finish instead of sixth.

Cory meanwhile will rue the fate of the draw, and whilst their performance did contain an above average number of noticeable clips and unforced errors, it was still deserving of its fifth place.

The psychological impact of a number 1 draw is a huge one to overcome even for band such as this, and as a result their performance lacked that trademark extra jolt of brilliant technical electricity.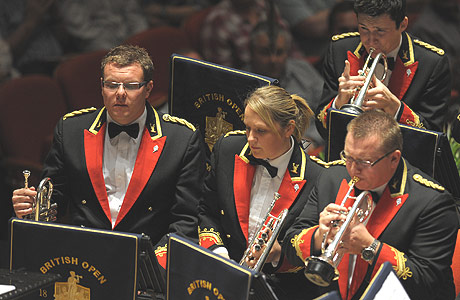 Ticking the right boxes? Not quite again for Black Dyke
Picture: Ian Clowes

Emotive

The contest was rounded off with an emotive performance by Foden's under Howard Snell, who brought the audience a broadly hued and executed approach that relied very much on his players individual musicality as much as their traditional ensemble strengths.

As a result it was a performance of rich musical satisfaction, but one that also had a few too many unforced errors and balance issues to have won. It was another near miss at the contest for the 73-year-old master.

We can only hope we see him again here, but his emotional response to his players and the audience may have suggested this was the final adieu as he departed to his home in France once more.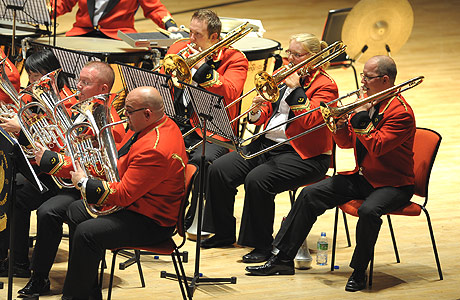 Emotive stuff from Foden's in fourth place
Picture: Ian Clowes

Threat of the drop

With such a close battle at the top end of the prize list, it was easy to forget that a number of the contenders were also battling against the threat of the drop to the Grand Shield.

In the end it was Kirkintilloch and Whitburn that will make the long trip to Blackpool next May on what was a rather depressing day for top line Scottish banding.

Whitburn knew they were up against with an early draw, but still gave it their best shot with a bravura account under Frank Renton.

The risky strategy of playing in a wide 'V' formation with trombones pointing right down the centre of the hall, and taking the option of using a kit accompaniment to the jazz interlude in the 'Elegy', was just that.

And despite some fine individual contributions from the flugel and solo trombone, it didn't find favour in the box and came 16th.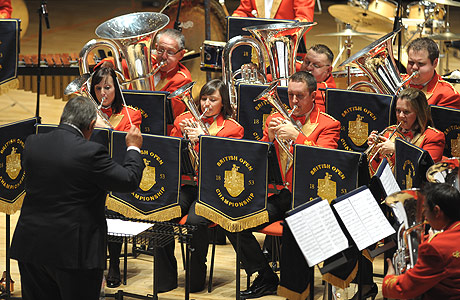 No number 1 for Cory
Picture: Ian Clowes

Sympathy

There was sympathy however for Kirkintilloch, who rather unluckily join their compatriots despite coming last.

A combination of a very uneven 'Elegy', that took the gloss off two well worked outer movements, and a harsh two year aggregate relegation system will see them battle it out on the Golden Mile next year.

Nobody it seems is safe from the drop, and a host of bands from Grimethorpe in 9th to Hepworth in 15th will know that they will have to play well and enjoy a little bit of luck if they are not to join them there next year too.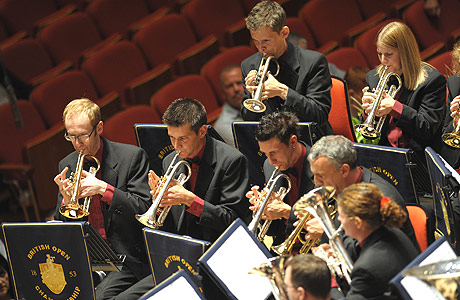 Heading for the top six: Rothwell deliver yet again
Picture: Ian Clowes

Inconsistent

The bands that eventually filled the midfield placings from 11th – 15th were the ones that were far too inconsistent in terms of interpretation well as execution.

Co-operative Funeralcare may not enjoy the same slice of good fortune they received this year if they perform with such unevenness again in twelve months time, whilst Leyland will know that a combination of nerves and unforced errors saw them fail to build on their early promise.

Virtuosi GUS's players delivered a real old curate's egg that could and possibly should, have rewarded John Berryman's musical interpretation better than 13th, whilst Tongwynlais Temperance will have been delighted by their debut appearance at the contest, despite ending in 14th place.

Theirs was a performance that despite the odd nasty moment revealed a band that had worked their socks off and delivered almost to the best of their ability under the direction of Nigel Seaman.

Hepworth (Cookson Homes) meanwhile will know that they will have to up their form considerably if they are not to find their tenure at this contest coming to an end next year after a very uneven rendition to finish 15th.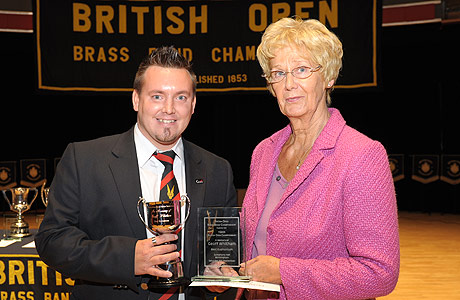 Curtain Call: Gary Curtain of Fairey (Geneva) wins the Geoff Whitham Memorial Trophy
Picture: Ian Clowes

Interpretation

In terms of interpretation, Desford, Carlton Main, Grimethorpe and Brighouse & Rastrick all tried something different under their MDs. Whilst all their performances held plenty of interest to the listener, the difference in approaches wasn't helped by some nasty individual and ensemble fragilities in each.

Martin Winter's coolly controlled approach saw Desford produce a quite sublime 'Elegy', including an enhanced 'shimmer' ending, but the looseness in the outer movements saw them just miss out on a top six place, whilst Philip McCann's stylish approach nearly brought a cracker from Carlton Main – just let down by too many annoying errors.

Grimethorpe started with such purpose that you felt it was going to be an absolute humdinger under Allan Withington, only for it to lose focus in the 'Elegy' before its storming finish, whilst Brighouse & Rastrick and Professor David King produced a very individual interpretation, especially in the 'Elegy' that was either going to knock the socks off the judges, Ronald Holz, Nigel Boddice and William Relton in the box, or not.

It was the latter.

Unique history

After the short, well organised presentation ceremony, came the results and a unique piece of British Open history was made.

A new name now appears for posterity on a small golden medallion at the bottom of the most iconic trophy in the banding world.

It simply reads: 2010 - Tredegar.

In the years to come it may not be a surprise to see it there at all.


Iwan Fox