4BR Scouting Report - Lewis Bettles - Stannington Band
31-Aug-2010
4BR meets up with a very talented 15 year old trombonist, who is already making a name for himself at the top level of banding.
---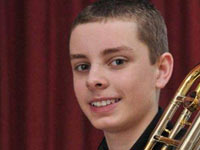 Lewis Bettles
Age: 15
Instrument: Trombone, Percussion, Piano
Band: Stannington; Junior RNCM Brass Band

4BR first came across the talented Lewis Bettles a little while ago now, and has been closely monitoring his progress ever since.

Lewis started playing euphonium aged 8, but quickly moved on to the trombone a year later. With his growing appetite for music he also took up the piano and percussion by the age of 11, and has since gone on to pass Associated Board exams with distinction in all four instruments.

RNCM study

In addition, he has notched up a number of solo competition successes and is currently enjoying his place at the Royal Northern College of Music Junior School.

He is studying Music, Chemistry, Biology and Physics at Bradfield School in Sheffield and although he enjoys the sciences, he hopes one day to become a professional musician.

It's quite a feat that the personable young man even has time to indulge in his other passion for basketball!

"I'm really enjoying myself at the moment," he told 4BR. "Playing with Stannington means that I am gaining so much banding experience, and having the chance to go to the RNCM on a regular basis means my playing is improving all the time."

Guidance

Lewis has come under the trombone guidance of ex Grimethorpe star Jonathan Beatty and professional musician Roz Davies, whilst Andrea Vogler keeps an eye on his percussion development.

"I really like playing both trombone and percussion and I'm learning so much about theory and composition too," Lewis said. "I think trombone is probably going to be my main instrument, but I won't be giving up my percussion studies - I enjoy it too much. The most difficult thing about playing several instruments is fitting in all the practice!"

After four years with the Thurlstone Band, where he picked up the Stocksbridge Band Club 'Soloist of the Year' award when he was just 11, Lewis was thrust into the contesting spotlight in 2010, when he joined Stannington in time to play solo trombone at the Yorkshire Area Championships in Bradford.

Championship debut

However, it wasn't his first time playing at Championship level as at the very tender age of 12 he played with Stocksbridge as 2nd percussionist.

The Area contest at Bradford against Black Dyke, Grimethorpe and Brighouse was something different all together though.

"It was brilliant being able to play against Black Dyke, Brighouse and Grimethorpe," he recalled. "The test piece ('English Heritage') had quite a difficult trombone part, so I had to work really hard to make sure I could play it well on the day."

He certainly did that, and his contribution certainly caught the ear of quite a few seasoned listeners in the knowledgeable St George's Hall audience.

"I don't remember much about the performance, but I thought I played OK," he said modestly. "I remember that I was relieved to get through my solo part without any mistakes though!"

Blossomed

Since that baptism of fire the young trombonist's playing has blossomed and he is now regularly featured as a soloist. He recently won the Under 17 Section at the hard fought Brighouse Youth Solo Championships, where his performance of Weber's 'Romance' brought rich praise from adjudicator Thijs Oud.

His hard work at the RNCM in Manchester also saw him chosen to perform at the end of term concert, where he performed 'Sang Till Lotta' with piano accompaniment.

The future?

So what does the future hold for this young man with talent to burn?

"I need to carry on working hard at my playing," he said without hesitation. "I think I have quite a good sound and my technique is getting better, but I have to work on my projection and generally improving my dynamic range."

He hopes to do that by working on some classic Arthur Pryor solos – "I'm currently working on 'Fantastic Polka' and 'Thoughts of Love'. They may be old, but they are such musical pieces and very difficult to play well," he said. He also hopes to gain more experience playing top section test pieces too.

Opportunities

With his undoubted talent, those opportunities are likely to come sooner rather than later – especially as he has plenty of support from his family. "Mum used to play cornet and my brother plays tuba, so I come from a musical family," he said proudly. "Although Dad's not musical, he's a great support – transporting my xylophone and drum kit wherever I need it, and driving me to Manchester on Saturdays."

With 11 GCSE's to study for, a bit of basketball to fit in around band practices and with more solo competitions and performances with Stannington and the Junior RNCM to look forward to, this impressive young player will certainly be kept busy.

You suspect he's loving every minute of it though.