2010 British Open Championships - The Composer
31-Aug-2010
Peter Graham is one of the brass band movements finest composers - and with a record to prove it too.
---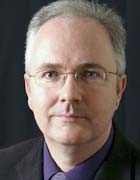 Peter Graham was born in Lanarkshire, Scotland, where his introduction to music came through brass and piano lessons from his parents. He read music at Edinburgh University, graduating in 1980.

During this period he came into contact with Ray Steadman-Allen and Edward Gregson, both of whom encouraged his early efforts at composition.

He later undertook postgraduate compositional studies with Edward Gregson at Goldsmiths` College, University of London and holds a PhD in Composition.

USA

From 1983 until 1986 he was resident in New York City, USA, where he worked as a freelance composer /arranger and as a publications editor with the S.A. Music Bureau.

Since his return to the U.K. he has worked regularly as an arranger for BBC Television and Radio and has specialised in composition for the British style brass band.

Since the publication of Dimensions (1983), he has carved out a niche as an outstanding arranger for brass bands, and a leading figure amongst contemporary band composers.

Original compositions

His original compositions, which include 'The Essence of Time', 'Montage' and 'On Alderley Edge', are performed worldwide and have been selected as test-pieces for National Championships in Australia, New Zealand, North America and across Europe.

His music for wind and concert band has been recorded and performed by many of the world's leading ensembles, including the Tokyo Kosei Wind Orchestra and the Royal Norwegian Navy Band.

'Harrison's Dream', commissioned by the United States Air Force Band, Washington D.C., won the 2002 ABA/Ostwald Award for composition. Commissioned by BMG/RCA Red Label to arrange and compose an album of xylophone music for virtuoso Evelyn Glennie, the resulting recording was nominated as Best Classical Crossover Album at the 1999 Grammy Awards held in Los Angeles.

Publisher

He is published principally by Rosehill Music and Boosey & Hawkes, and since 1994 by his Gramercy Music, a company he formed together with his wife, Janey, which specialises in the publication of brass, wind and vocal music.

Peter Graham is Professor of Composition at the University of Salford, Greater Manchester, and has held various posts with some of the UK's finest bands including Music Associate/Conductor with the famous Black Dyke Band (1997-2004) and the first civilian composer-in-residence with Her Majesty's Coldstream Guards Band (2003-2005).

Peter Graham lives in Cheshire, England with his wife Janey, son Ryan and daughter Megan.
For further information on the composer and his music go to: www.gramercymusic.com/