2010 British Open Championships - Introduction to the 158th contest
31-Aug-2010
4BR looks at some of the issues surrounding the 158th British Open Championships this weekend at Symphony Hall.
---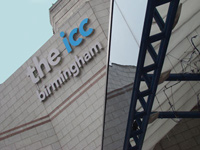 158th British Open Championship
Saturday 4th September
Symphony Hall
Birmingham
Commencing: 10.30am

There will be an air of expectancy, as well as uncertainty, hanging over the 158th British Open Championships in Birmingham this weekend.

The expectancy comes with the thought of hearing 17 top class bands battle it out on a challenging set work for what is still regarded as the premier brass band contesting prize in the world.

The uncertainty comes with the thought that the great old contest may be at something of a crossroads in terms of its very future.

Look forward

Surely you have to look forward to hearing defending champion Cory up against a smarting Black Dyke and resurgent Fairey? And just savour the thought of a contest that sees the mercurial talents of David King locking horns against the returning master MD, Howard Snell.

There is Grimethorpe with a point to prove, Tredegar on a hot streak of form, Co-operative Funeralcare buoyed by a Masters victory, the intrigue surrounding Desford led by Martin Winter, Whitburn, Carlton Main, Rothwell Temperance and Virtuosi GUS determined to avoid the threat of relegation back to the waste lands of Blackpool.

And what about Hepworth, Kirkintilloch and Leyland under new direction and the fairy story of Tongwynlais making their debuts?

Weigh it up

Now weigh that up against the decision to allow the supposed best bands in the world to officially 'borrow' players, not just ship them in from abroad like illegal farm hands for a one off 'cash in hand' job, and a test piece that was written specifically for the defending champions albeit well over a year ago.

Then there are the brass band traders wondering what on earth is going on about displaying their wares at Symphony Hall, moans over adjudication and rumours of covetous eyes being cast over the possibility of making a bid to take the contest over itself.

No wonder the organisers want to see a packed hall, full of brass band lovers – from start to finish. The British Open could well do with the contest being a cracker in more ways than one.

Previous uncertainty

However, the British Open has faced periods of uncertainty before.

Way back in 1859 the contest was cancelled, whilst there was the decline of Belle Vue in the 1970's and the postponement of 1997 due to the death of Lady Diana.

Test pieces have had their controversial moments too – from the multiple-choice years of the 1940's and again in 2004 to the furore over 'Spectrum' and 'Fireworks' and the substitute choice of 'Les Preludes' in 2001.

This one has been chosen rather quickly after its debut last year at the Europeans, but then again, what were the alternatives?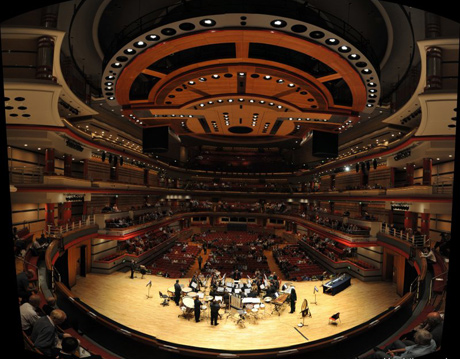 No other place quite like it - Symphony Hall in full view...
Picture: Ian Clowes

Policy

With no real long term policy over test piece selection, cost implications, as well as musical ones were always going to play a part in what piece was to be used.

However, is this selection any different from say 'St Magnus', which was used at the Europeans as the set work in 2004 and then again at Symphony Hall a few months later?

Perhaps. But a band still has to play it, and play it well to win here against arguably much stronger opposition. Cory will not be complaining of course, but after giving it a good work out, nor will a number of other real top notch contenders either.

Rules

Meanwhile, rows over the borrowing of players have always been mired in sketchy interpretations of the registration rules (remember the Scots furore just a couple of years ago).

As for the judges? If anyone can name a year when everyone went home happy then Bob's your uncle – and not just the conductor of Cory Band.

The traders have complained before – notably at Bridgewater Hall a few years back, whilst there have always been those with deep pockets, high minded views and low minded scruples wanting to take over the world's most prestigious banding contest.

Stately as a galleon

All this and still the grand old dame has navigated its way through the choppiest of waters, as stately as a galleon as Joyce Grenfeld used to say.

Come to think of it, these problems are usually the ones the British Open has had to put up with for the past 150 years or more.

With all that in mind then – nothing much has changed…

4BR will be Symphony Hall to bring you all our usual coverage.

We have also teamed up with Steven Mead to bring a new angle to the matter of testing informed opinion about performances on the day, and with Ian Clowes from Goldy Solutions in tow, we hope to bring you plenty of pre and post contest video coverage, and hopefully a Saturday evening podcast too!