Jim'll Fix It! - Ask Normans top boffin to sort out your instrument problems...
15-Aug-2010
In a new feature to 4BR, we ask Jim Prior, Normans top technician and all round repair boffin, to come up with the solutions to the usual set of troublesome questions that seem to effect brass players and their beloved instruments

---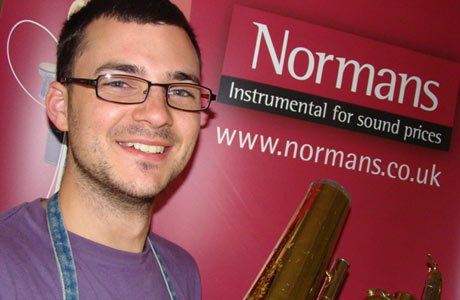 Jim'll Fix It! Ask Normans Jim Prior for tips on your instruments.

If you have a question or a problem you want Jim to try and sort out, drop 4BR a line at: news@4barsrest.com
I have just purchased a brand new cornet and want to play it straight away. I've been told that it needs to be cleaned before I should do that though.

What's the right thing to do?

Jim's Fix It:

There should be no need to cosmetically clean your instrument as the manufacturer and retailer will have already made sure that your brand new instrument is in tip top condition, but we all do!

It is important however, that you remove and gently clean/dry the valves/slides, and then apply a good quality oil/lubricant for optimum results from your new purchase.

I would advise the same for a trombone.

This will remove any grease the manufacturer may have applied to the instrument for safety in transportation.
---
What's the best way to get a jammed mouthpiece out of the end of my instrument?

Jim's Fix It:

Jammed mouthpieces can be a complete nuisance - especially as it often happens at the most inconvenient of times.

Beware though! Do not try and get it out yourself at home or before you go on stage an important contest or concert!

Leave it alone and take it to a repairer. If you try and do this yourself, you are in danger of breaking the solder joints and then what would have been a simple extraction becomes a big repair bill!
---
My instrument is now well over 10 year of age and is starting to look and feel in need of an overhaul.

What can be done to brighten it up (it's silver plated) and replace some of the things on it that have started to show their age?

Jim's Fix It:

A reliable technician will be able to make your instrument look like new, and in the workshops here we have transformed some tired looking 'old classics' back to their former glory.

It is always worth consulting with your chosen technician on a few questions though.

Two of which I would always recommend you ask are:

a) Is it economically viable

b) Will it affect the playability/tonal quality

It is always worth making sure that you have the utmost confidence and trust as if you are like me, your instrument will be a very important member of the family!
---
How to I stop the lacquer coming off my instrument?

Jim's Fix It:

In general make sure you keep up general everyday care and maintenance.

Always wipe the instrument after use, and making sure it is clean from grease marks will keep the lacquer at its best. When performing a more extensive cleaning such as bathing your instrument, always use warm water, not hot, just as if it was a baby.

Dip you elbow in first to test the temperature. Ask your mother if you don't know how to do this though – she may have done it a thousand times on you in the past!!!
---
My valves fell sluggish and slow moving on my baritone – any ideas on how to make them go faster?

Jim's Fix It:

Wash out the instrument with warm soapy water, cleaning the valves and the valve casings with a good valve cleaning brush.

Then when thoroughly dry, re-apply a good quality lubricant in the same way as I suggested with a new purchase, make sure to check the quality of your springs and felts and in particular the position and condition of the actual valve guide.

In most cases, perhaps with some new spares, this will show 'as good as new' results, but if the problem persists, it's best to go to a qualified technician where the valves can be polished/lapped and re-introduced to the instrument in the way they would have been in the factory.

As part of our restoration service we have been known to go to the lengths of even having new pistons made!!