4BR Interview - Peter Meechan
15-Aug-2010
4BR talks amongst other things to one of the UK's most talented composers about music, Black Dyke, Pink Floyd, football and even the Wizard of Oz and waccy baccy...
---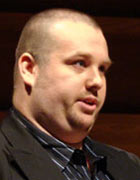 At thirty years of age, Peter Meechan is already firmly established as one of the most talented, progressive and occasionally outspoken composers on the brass band scene.

Major works such as 'Macbeth', 'Purcell Variants', the Trumpet Concerto 'Apophenia' and the Tuba Concerto 'Episodes and Echoes', have all made their mark in recent years alongside a growing catalogue of concert works.

The 2011 Festival of Brass will see him as the featured young composer at Paul Hindmarsh's dynamic annual celebration of the very best of music for brass.

As the latest in a series of interviews with the cream of the band scene's current crop of young, forward thinking composers, 4BR's Chris Thomas chatted to the Nuneaton born composer, lifelong Liverpool supporter and Facebook enthusiast about his music and his thoughts on the brass band scene in general.
---
Chris Thomas: Firstly, could you tell us a little about your earliest musical experiences?

Peter Meechan: My earliest musical experiences probably came before I can really remember!

Both of my parents are folk musicians and I know from a very early age, when I was only a few months old, that I went to folk festivals.

I don't really remember them but no doubt they made some sort of impact on me, even at that age.

The first musical memory I have is listening to the Dire Straits album 'Brothers in Arms'. I must have been around the age of 5 or 6 at that time.

I started learning various instruments including the violin and Classic FM was always on in the car or the house, although I think I preferred Dire Straits, as I still do now!!!
---
Chris Thomas: When did you first encounter brass bands?

Peter Meechan: I was always aware that they existed but had never heard one until I studied at the Royal Northern College of Music.

A good friend of mine, Jon Pippen, played me a CD recording of Philip Wilby's 'Revelation' one night in Hartley Hall (the old halls of residence for the college) and I loved it!

It wasn't long before I started writing some small pieces for brass players at the college and this lead naturally to writing for brass bands.
---
Chris Thomas: When did you begin to compose and what initially inspired you?

Peter Meechan: I'm not 100% sure when I started to compose – I have always done it in one form or another for as long as I can remember so I can't answer what initially inspired me either!

But there are some key moments that certainly shaped me musically; listening to 'A Kind of Blue' and 'Bitches Brew' by Miles Davis for the first time blew my mind away, as did hearing Pink Floyd's 'Wish You Were Here?' album.

In a similar way, hearing 'The Rite of Spring' and Mark-Anthony Turnage's 'Blood on the Floor' for the first time were also landmarks for me.

Inspiration is a funny thing.

It comes in many different forms and you don't always know that it is there. It can be a title of a piece, a chord, a melody…..and sometimes even a deadline!
---
Chris Thomas: Whilst still only 22 you were appointed 'Young Composer in Association' with Black Dyke, ultimately becoming the band's 'Composer in Residence' a few years later. What did you learn from that early valuable appointment with Dyke?

Peter Meechan: The chance to work with Black Dyke was an amazing opportunity and one I will always be grateful to Nick and the band for offering to me.

Being a young composer is a lot different to being a young performer.

Much of the initial training of a composer happens at music college or university whereas a talented trombone player for instance, may have been receiving lessons for many years before attending college and by the time they hit twenty two and leave music college, they can make a career out of a little bit of teaching, some professional orchestral work, etc.

But it isn't like that for a composer, not really.

Composers mature a lot later and often it takes a long time to build up a reliable technique.

Combining that technique with your musical, and extra musical, ideas is where you then start to become a composer and you can't do that without being able to hear your music – and once you have left music college, performance and workshop opportunities are few and far between. You also need to pay the bills – and there isn't much freelance work going for composers!

So when I had the chance to work with Nick and the Black Dyke I obviously jumped at it! Here was an opportunity to work with a band (who in my opinion, are as professional and talented as many professional ensembles) and get to hear the notes played!

I made many friends whilst I was there and in terms of music and composition, it allowed me time to develop.

I am a pretty single minded guy so I think that I would still be writing music now without my time at Dyke, but there is no doubt that it gave me a huge opportunity in terms of exposure, learning how to work with players and conductors and developing pieces.
---
Chris Thomas: How does a piece tend to start for you? Do you usually have an overall structure and shape in mind before you start on the notes themselves?

Peter Meechan: In many, many different ways!

Sometimes I have a large structure, sometimes a riff. There have been titles that have directly influenced a piece and then there are pieces that are more academic and have no extra-musical ideas before I start.

It also often depends on what and who I am writing for.
---
Chris Thomas: Presumably works such as your Trumpet Concerto 'Apophenia' and Tuba Concerto 'Episodes and Echoes', were written very much with the projected soloists in mind? When you are writing to commission for specific performers, to what degree do you tailor a work to a particular band or soloist?

Peter Meechan: They were both written for particular soloists - Rex Richardson and Les Neish. With those two works I knew both of the soloists well as people as well as players and really wanted to break them!!!

I didn't quite manage that but I know what those guys are like – their personalities, their musical skills, etc.

They are showmen, players at the very top of their game – they want to be challenged and they want to be pushed....and I enjoy pushing them!

Writing for players like Rex and Les is a lot easier than writing "easier" pieces – you can write anything you want and if they can't play it, they will learn a way to play it....and I like that.

Not every commission is like that though. In fact very few are and I am glad about that as at times it can almost be a bit too comfortable and that doesn't lead to a challenge for the composer.

I'd really like the chance to write a few brass band pieces for the lower sections – musically they are treated as the poor relation and often end up with poor music by "specialist" lower section composers.

The truth is that it is really, really hard to write good but less technically demanding music.

I haven't really answered the question properly here have I? The simple answer is that as the composer, you negotiate at the start of the commissioning process with the band or soloist as to what they want.

Sometimes these are restrictions (which are often quite liberating!) as to the standard of certain players, requests to feature some players more than others etc.
---
Chris Thomas: Apophenia, "...the experience of seeing patterns or connections in random or meaningless data" is one of those words gets everyone scrabbling for the dictionary! How did you set about uniting the concept and the music?

Peter Meechan: Well, this was a title that came to me in the middle of writing the work.

I'd spent one of those afternoons on the internet following link after link and came across the word – and after a little more research I thought that the title not only suited the music I had written, but the ideas I had for the rest of the piece.

It isn't anything too literal.
---
Chris Thomas: Have you actually tried listening to Pink Floyd's 'Dark Side of the Moon' whilst watching 'The Wizard of Oz' and if so, did you find any truth in the theory of a link?

Peter Meechan: Yes – and I decided that whilst there were many connections between the two, that the idea would probably work for many albums and films and was most probably thought up by someone living in San Francisco, complete with flowers in their hair, who had been smoking a bit too much of the wacky baccy!
---
Chris Thomas: With elements of jazz, rock and funk to be found in your music, your range of stylistic influences suggests a man of eclectic musical taste. Do you listen to music across a wide range of genres and in what way if any have you tried to absorb these influences within in your work?

Peter Meechan: I don't try to absorb but it does happen. It is inevitable that it will happen.

I do listen to a lot of different music and as you say, it is from a wide range of genres.

What I like about music is its ability to surprise you. I was listening to a Prom a couple of weeks ago, the RLPO performing Rachmaninov's '2nd Piano Concerto', a work I usually detest!

But that day, for some reason the soloist, the orchestra the conductor – they did it for me! It was magic – an amazing performance.
---
Chris Thomas: Looking back to 'Macbeth', which you wrote for the Scottish Open Championships in 2007 - did you set about the piece any differently, knowing that it had to fulfil its objectives as a test piece?

Peter Meechan: Not really. I don't think I have ever started two pieces in the same way but there are some constants that remain the same for most works.

You have to come up with suitable material for the piece (which in this case had to be difficult in order to fulfil the commission and there also had to be opportunities for solo lines) you live with it, breathe it, sketch with it and then one day you simply start!

As with every piece I learned from writing it as well as from people's (mainly positive) comments and remarks about the piece.

But there are things I did differently the next time I came to writing a major test piece.
---
Chris Thomas: The Scottish connection is clearly something that you wanted to bring to the fore in that work, but do you feel the music itself to be inextricably linked to the work's programmatic inspiration and structure?

Peter Meechan: A piece of music has to first and foremost stand up as a musical work and I think 'Macbeth' does that.

Too often, especially in brass band music, composers get bogged down in the story they are trying to tell which is never a good thing.

So I guess the answer to your question is no. I think that someone could enjoy the piece without knowing its title or its programme.

That said, the structure and inspiration came from the play and the story so I guess it is a little chicken and egg.
---
Chris Thomas: Aside from your major works however, it would appear that your shorter concert pieces play an equally important part in your creative output?

Peter Meechan: Well, I like to hear what I write and if you spend your life writing concertos and large scale works you don't receive many performances...especially in the brass band world.

I find it very strange that brass bands choose to ignore the very best of their music in their concerts but it seems to be an alien concept to include a test piece in a program!

So consequently, you are commissioned to write more concert music too.
---
Chris Thomas: What is it that maintains your interest in writing for brass and wind and have you considered branching out into orchestral music for instance?

Peter Meechan: I have written for orchestra but the opportunities are few and far between. It is certainly something I enjoy though.

I hadn't actually written for brass band for 3 years until completing a new test piece earlier in the year and I am just putting the finishing touches to a new work for the National Youth Championships next year.

But I love the sound of a band. I love the (many) challenges that a brass band gives you.

To me though it is more about composing, rather than what you compose for. I have the chance to say what I want in a piece of music and I have many things to say.

I can't do that if the commissions aren't there.

Most of the commissions come from wind or brass (bands or chamber) and so writing for bands works for me on many levels.
---
Chris Thomas: There has been a great deal of discussion about new brass band repertoire of late. With specific regards to repertoire, do you see the movement having to change if it is to be taken seriously and survive in the 21st century and if so, how?

Peter Meechan: I'm not really sure that it wants to be taken seriously. It should be – the standard of playing is exceptional at the very top and some of the repertoire is amazing.

The Elgar Howarth's, Paul Hindmarsh's and Howard Snell's of the brass band world are all too far and few between but we owe them a great debt. Unfortunately, by and large, the brass band world just ignores the work they have done.

There is too much bad music out there. I don't care if someone likes or dislikes a piece of music for the way it sounds – that is the surface level – but surely they care about some of the dreadful creations currently being thrust onto the market?

History has a habit of flushing the s**t down the proverbial toilet.

Once time has finished flushing the last 5 years of brass band music we will have only a few pieces left representing it.

For the record, I have no problems with arrangements. Some of them are incredibly well crafted, but many of them are very cheap and produced by arrangers lacking talent, imagination or both.

Too many composers seem to be intent on copying those who have gone before rather than looking somewhere into the future.

Philip Sparke, Peter Graham, Philip Wilby – these are all composers who are great at their job, incredibly successful and should rightly be looked up to. But what is the point of producing third rate (and I think that is a generous figure) attempts at copying them?

Surely the challenge for a composer comes in looking for a new way, a new path?

All too often the composers who make it into the "half decent and above" bracket are marginalised by commissioners wanting a new piece that is like "x" piece they wrote 20 years earlier.

What are you supposed to do at that stage? Not take the fee and search around for another commission? Upset the commissioner?

It is tough, it really is.

Sooner or later the standard of writing will hit bands hard – then there will be no chance of being taken seriously. And it is important to make it clear that it is the standard of writing that is the problem, not how a piece sounds.

People often think I dislike film music-esque brass band scores. This isn't true, but the truth is that most of them are so poorly crafted that it is hard to take pleasure out of them.

But I will say this..…

It is something that is a plague in this country more than any other brass band orientated country.

There is a much bigger, wider, more open mind abroad. Talk to some of the conductors of the best bands in Belgium, Norway, Switzerland and others.

They used to look up to the British brass band scene but these days they tend to look at it as a guide of what NOT to do.

They are interested in quality, musically driven concerts featuring the best of music from around the world. Even in their contests they have a similar approach; they don't mind taking a risk.

The trouble with risks is that sometimes you lose and here in Britain, we prefer the steady approach.
---
Chris Thomas: Although born in Nuneaton, you are now firmly settled in Manchester having studied at both the Royal Northern College and latterly Salford for your PhD. For a composer closely linked with brass and wind bands, do you find the musical scene in Manchester an inspiring one?

Peter Meechan: My friends are here and most of them are musicians, so to that extent yes.

I love living in Manchester (apart from their football teams – you need to head west for a bit of class in the footy department – ask Fernando Torres!!) but that is more to do with the life I have here rather than the musical scene.
---
Chris Thomas: And finally given the opportunity, are there other major pieces within you bursting to get out that we can look forward to and what are you plans for the near future ?

Peter Meechan: Well, I can't give details yet but I have written a new piece (which had actually been bursting to get out) for a contest.

I had been waiting for the chance to write it since I wrote 'Macbeth' and am glad I had the opportunity.

As soon as there is more I can say I will make sure 4BR know about it!

As for the future in general, I have a busy diary of commissions ahead but will no doubt find time to fit in a few trips to Anfield!