4BR Time Team - Was Gracie the first contest Cole miner at Grimethorpe?
4-Aug-2010
Was the remarkable Gracie Cole the first female to play with Grimethorpe in a contest - some 68 years before Sheona White? 4BR looks at the intriguing story of the great female pioneer.
---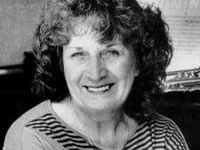 The recent news that Sheona White has been signed by Grimethorpe to play at the British Open, therefore becoming the first woman to play with the Yorkshire band at a contest in their 93 year history, may not be quite as ground breaking as it seems.

The family of the late Gracie Cole, contacted 4BR, following the release of the news, as they believe the trailblazing cornet and trumpet player may have played with the band in a contest some 68 years before Sheona steps onto the stage at Symphony Hall – in 1942.

Amazing musician

Gracie Cole was a truly amazing musician, and came to national brass banding prominence after winning the prestigious Alexander Owen Memorial Scholarship that year – the first female winner of the award.

She was however already well known in northern banding circles, winning numerous solo contests (one of her first mentions in the banding press coming in 1938 after winning a slow melody competition in Dinnington)

Scholorship

As a cornet player with the Firbeck Colliery Band, she played at the 1938 British Open (only one of four women to do so) and on winning the scholarship chose to undertake the prize of two years of free studies with the great George Thompson, at the time, the conductor of Grimethorpe Colliery Band.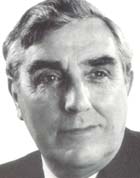 She was soon being featured as a regular guest soloist with the band (as well as Besses, Fairey and Foden's), as well as playing in the Grimethorpe ranks in concerts – something confirmed by James Scott (right), who knew her well at the time.

"Gracie certainly played with the band," James recalled. "She played regular solos with us (James Scott was 17 at the time and playing bumper up) and would sit in and play on repiano. She was a wonderful player, although she had to travel to concerts with her father on a separate bus."

David Read also has fond memories of the player – right back to when he was a very young man. "I once had my photograph taken with her as a little boy with a band hat placed on my head, well before I started playing the cornet, so I always knew of her and how good a player she was."

Well reported

Her numerous concert appearances with the likes of Grimethorpe were certainly well reported in the banding press, although intriguingly in her obituary in the Guardian newspaper in 2007, it was also stated that she played at contests too.

The obituary itself clearly states: "At Grimethorpe colliery the conductor thought Cole would make a useful band member. The musicians agreed, but on condition that she travel to contests separately. She did so, chaperoned by her father."

However, it has proven difficult to substantiate that she in fact played in a contest with the band at the time.

Regular contests during the War were rare, even though marching contests held at Belle Vue and the British Open itself were still popular.

1942 British Open

It would appear that the 1942 British Open, held at Belle Vue in Manchester on 5th September was perhaps the only occasion Gracie Cole may have played with Grimethorpe in a contest.

Unfortunately, the programme for the event sheds little light.

The usual list of players names for each band were not included during the War years, although the programme does include the announcement of Gracie playing a solo item with Grimethorpe at the end of the contest:

The programme reads: 'At the conclusion of the Contest immediately following the last band, Miss Gracie Cole (Recent Winner of the Alexander Owen Memorial Scholarship) will play a cornet solo accompanied by the Grimethorpe Colliery Band.'

The first?

So Gracie was certainly there on the day – but did she play at the contest itself?

There is a possibility that she either played with Grimethorpe, drawn 10 in the 17-band field, who chose to play their own choice selection of 'Lorenzo', or with her old band at Firbeck Colliery who were drawn 4, and also played the Thomas Keighley work?

James Scott, who was playing with Grimethorpe on bumper up on the day, cannot be sure – although he doesn't rule it out.

"I can remember Gracie being with the band on numerous occasions, but the 1942 contest doesn't readily come to mind," he told 4BR. "I know that she didn't play solo cornet with us, as I remember the three other men with me on the day, although I can't be 100% sure that she didn't play repiano cornet."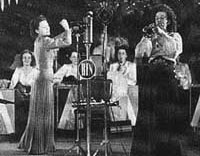 Big news

Women playing in contests was big news at the time, with the report of 15 year old Patricia Parkinson from Shipley in Yorkshire becoming the first ever female to play at the National Championships in London in 1938, with Canal Ironworks Band, reported in 'The Times' newspaper.

Unfortunately, in an article written in British Bandsman in December 1986 by Alf Hailstone, in which Gracie talks about her early cornet playing career, no mention is made of her playing with Grimethorpe at contests, although her quite amazing concert appearances, both before, during, and after the Second World War are documented.

Blank

The same blank is drawn in Rodney Newton's excellent tribute a few weeks after her death, aged 82, in December 2006 – listing her appearance at the massed band concert at the Royal Albert Hall in 1942, but no mention of that elusive contest appearance.

Numerous books written on the banding movement recall Gracie Cole as a true pioneer of female brass playing – but there is no mention of a contest appearance in publications by Roy Newsome, Alf Hailstone, Cyril Bainbridge, Arthur Taylor or Geoffrey Brand.

Meanwhile, the Brass Band Archive also offers no definitive answer either, with curator Walter Ainscough searching through his extensive records to back up his assertion that he believes Gracie didn't play in a contest with the band.

Walter first went to the British Open in 1938, and hasn't missed one since, and he is certain that despite her brilliant playing, Gracie Cole wasn't a member of the Grimethorpe on the contest stage that day.

"I've looked back through all the records we have here," he said, "and there is no mention of her taking part in any contest during 1942 or the British Open. We know she certainly played in the concert before the announcement of the results, but not the contest."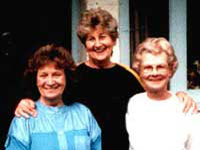 Denied

It seems then that one of the true trailblazing female brass musicians of the 20th century (right with the Ivy Benson Band and friends), may have been denied the opportunity to become the first woman to play with Grimethorpe at a contest – although the question hasn't definitely been 100% answered, as Walter Ainscough pointed out.

"As there were no registration rules as such in those days, she could well have played at a different contest with the band and it wasn't reported. Remember – the news reports of contests were nothing like as detailed as they are now. Gracie could well have played with the band on a contest stage somewhere – it can't be totally discounted."

Even if Gracie Cole was not the first female player to perform in a contest with Grimethorpe, her achievements nonetheless are still truly remarkable – especially at a time when true female emancipation in the banding world was a pipe dream.

Long may her memory stay fresh in the minds of all in the banding movement.

Iwan Fox
---
More information on Gracie Cole can be found at:

www.4barsrest.com/articles/2005/art464.asp

The Guardian newspaper obituary on Gracie Cole can be found at:

www.guardian.co.uk/news/2007/jan/20/guardianobituaries.jazz