4BR Band under the Spotlight - Groves Brass
12-Jul-2010
It's not just traditional bands that wish to make a mark in the wider musical world - Groves Brass is a brass quintet with very specific aims and objectives.

4BR talks to the group to find out more about them...
---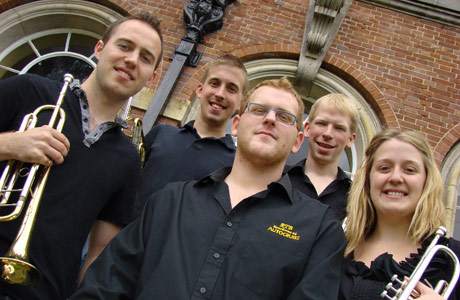 A future famous five? Groves Brass smile for the 4BR camera

Who is Groves Brass?

Groves Brass is a quintet of young players who've all recently completed their studies at the Royal Northern College of Music.

The name comes from the 'Sir Charles Groves Halls of Residence' where we all lived and met at the beginning of our time at the RNCM.
---
Who are the members and what musical backgrounds do you come from?

Trumpets: Cai Isfryn and Liz Fitzpatrick
French Horn: Oliver Hickie
Trombone: Simon Lodge
Tuba: James Hartley

Cai, Liz and James - the northerners of the group - have all come up through the thriving brass band scene.

Cai played for Beaumaris, Foden's and Black Dyke, Liz came up through the ranks of Rochdale Youth to play for numerous bands including Pennine Brass, Leyland and currently Faireys, whilst James has enjoyed spells at Rothwell Temperance and Grimethorpe.

Simon and Oliver, both coming from the London area have emerged through their respective county music services, and have enjoyed a baptism of fire into the brass banding scene through their involvement with Groves Brass over the past few years.
---
Who had the idea to form the group and when and where did you first come together?
The group was formed in 2006 a few weeks into our lives as students, as the five of us settled down for a beer at the infamous 'Scu Bar' in Manchester!

We each in turn complained about the chamber group we'd been placed in by the college, so we decided then that we'd meet up the next week to try a few pieces out ourselves, and we've been meeting up ever since!

There are host of small brass ensemble groups around, all trying to make a mark in a highly competitive market place. What do you thinks makes Groves Brass stand out?

We are dedicated to promoting new music for the brass quintet medium, and perform recitals and short concerts of totally original music whenever possible.

Arrangers Oliver and Cai ensure that the group's repertoire is as current as possible, with original arrangements varying from Malcolm Arnold's 'English Dances' to Queen's 'Bohemian Rhapsody'.

A big influence on the group was going to watch Mnozil Brass on their recent tour of the North West at Salford University, and we've attempted to adopt their approach of creating a 'show' rather than a concert whilst performing.
---
What achievements have the group enjoyed since its formation?

The group has been fortunate enough to be performing regularly for the past three years through the 'Live Music Now' scheme and the RNCM external engagements scheme.

We have performed world premieres of pieces by Lucy Pankhurst, Simon Dobson and Cai Isfryn during the RNCM Festival of Brass earlier this year and have also performed at Liverpool Town Hall and Royal Scottish Academy, and have commissioned pieces by RNCM composers Tom Harrold and soon to be, Ben Tubb.

The group have a residency with Lancaster University for their graduation ceremonies and also regularly play at the Eastlands Stadium for Manchester City FC's functions and conferences.

We are currently recording a demo CD that will be available on request and have recently been invited to play at the Montepulciano Festival in Italy this summer
---
At the recent Black Dyke Symposium the group performed two original works – one with David Thornton that included an acid dance backing track. Is this the type of repertoire you wish to explore more of?

That piece, 'In Memorium E.S.' by Simon Dobson typifies the group's attitude towards making brass quintet music more accessible and in many ways more enjoyable for young performers and listeners.

Upcoming concerts include an engagement at the Gmex Conference Centre in Manchester in which we will be performing with a rhythm section ad-libbing over arrangements of popular songs such as Carly Simon's 'Nobody does it Better', 'Green Hornet' from the 'Kill Bill' films, and 'I wanna be like you' from Disney's 'Jungle Book'.

Plans to collaborate with DJs are also ongoing, as we intend to release a demo CD with a difference and are constantly looking for performance opportunities to promote this new approach to brass quintets.
---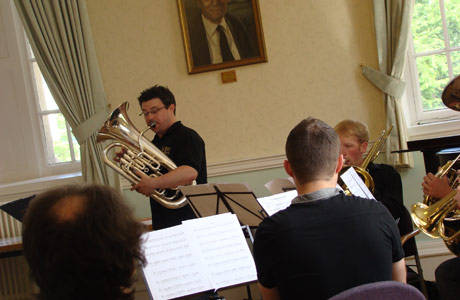 Thornton's originals: Groves recently performed with Black Dyke's David Thornton

In what ways has playing in a brass quintet helped you as performers?

Playing in a brass quintet has improved our ensemble playing tremendously, and has fine tuned some skills such as listening out for tuning, tightness and stylistic issues that had developed during our previous experience with brass bands.

Playing with a smaller ensemble encourages you to develop your own ideas musically rather than merely following a conductor, and also ensures that you have four other people to go for a drink with after the rehearsal.
---
What does the future hold for you all as individual performers and as a group?

Individually the group have differed slightly, with Oliver and Cai choosing to continue their studies at postgraduate level and Simon, James and Liz choosing to work as freelancers around the Manchester area.

However, the group are more active than ever with concerts arranged up until April 2011.

We hope to present, once again, a programme of original brass quintet music at the RNCM Festival of Brass next year, and are striving to push the boundaries of what's been heard by a traditional, classically trained brass quintet before.