2010 English National Championship - Retrospective
30-Jun-2010
After seven long years in hiding, the Fairey magic is rediscovered back in a garden in a northern town...
---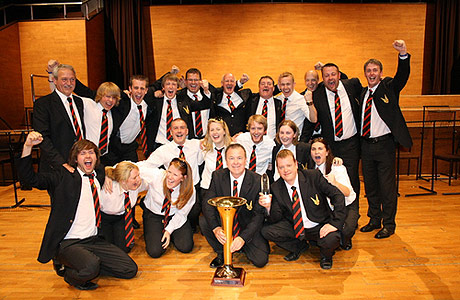 Fairey magic: The new English Champions celebrate
Pictue: Steve Jack

The last time 'Faireys' were found ruling the roost in a northern bucolic garden was way back in 1917, in Cottingley near Bradford.

Hoax

Even the great author Sir Arthur Conan Doyle was taken in by their magical reappearance, waxing lyrical in a book he later wrote. It was all a hoax of course, and the author's reputation plummeted quicker than Sherlock Holmes off the edge of the Reichenbach Falls.

Fast forward 93 years and Faireys are back in a northern town again – and even old Arthur may well be well served to put his reputation on the line once more.

For real

This time in a musical garden of 'Eden', the old Stockport band magic was restored: This was no 'fairey tale' though - at the Guild Hall in Preston, it was very much for real.

It's been a long time coming – not quite 93 years, but seven long and at times, painful contesting seasons, where a once proud reputation had taken a bit of a battering. They hung on to British Open status last year by the skin of their teeth.

All that has now changed and building on the excellent foundation work undertaken by Philip Chalk, Fairey finally returned to winning ways – albeit first at the Whit Friday contests a few weeks back.

Dark horse

Buoyed in confidence, and with the support of a new sponsor in Geneva Instruments, Fairey (Geneva) as they are now called, came to Preston as something of a dark horse.

Teaming up with Russell Gray was an inspired bit of providence too.

The nomadic Scotsman has always brought with him bucketfuls of musical talent, but his itinerant conducting career has always been best served by stability of tenure.

Here he was at his very best, on a score that he has made his own. He inspired Fairey to a level of performance not heard from them since the last hurrahs of Allan Withington's National winning interregnum.

Lyrical prose

His intuitive interpretation of John Pickard's work brought Milton's lyrical prose to mind – especially in the naive beauty he created in the opening section.

This was highlighted by the naked simplicity of the leading soprano, repiano and horn chords, through to the inquisitive, but ultimately doomed bit of scrumpy apple pinching from Eve, courtesy of the eye boggling snake oil salesman (a wonderful bit of musical character acting, with just the right hint of 'theatrics' by solo prize winner Les Webb) in the Tree of Knowledge and beyond.

From then on it was wonderfully colourful, descriptive stuff – full of the dark menace and rapacious greed of man's descent to the edge of the abyss and ultimate redemption.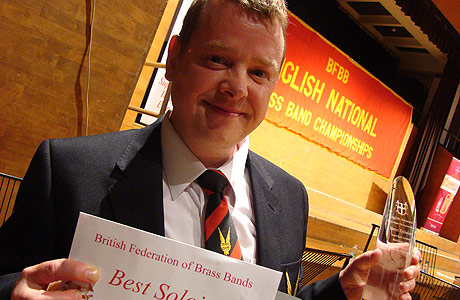 Top trom: Solo Prize winner Les Webb

Top drawer

All through the MD kept an exquisite balanced rein on tempi and dynamic – letting loose only when absolutely necessary (something others failed to control). By its close it was a performance out of the very top drawer – not technically perfect, but musically as close as the composer (who was in the sparse audience) could have wished for.

They are worthy champions, led by a conductor on the top of his considerable talent. They will be a band to fear at the Open and Nationals.

Quality rather than quantity

On what proved to be a day of quality rather than quantity, the English National started with in a very un-English like manner with a shortish concert from the Natural State Band from Arkansas, conducted by Rusty Morris.

As welcome as they were, the band must have been disappointed to play to an audience of less than 100 people to applaud their efforts. Proud Americans, they puffed out their chests and give it 110% for the honour of the star spangled banner.

Rerun

So too did Hammonds Saltaire off number 1 (although with the National Anthem being played after the 'Stars and Stripes Forever' it sounded as if we were having a rerun of the England versus USA World Cup football match)

Hammonds produced a worthy account on a set work that tested them to the full – although they surely would have been better served by not taking the easy option at the start of having the soprano and repiano muted.

JJB Sports

If Milton wanted Adam and Eve clad in cheap JJB Sports tracksuits as, '…Through Eden took their solitary way…', you would have thought he would have mentioned it. Even the Bible tells us they were proud to be in the buff : '…And they were both naked, the man and his wife, and were not ashamed.'

No mention of a fig leaf, protective clothing, bucket or cup mute there either.

Hammonds were not alone in opting for the Professor Dawkins 'non believer' cop out clause. It was a depressing sign of an inherent lack of self confidence by the soprano players and MDs alike.

Open door

For reigning champions Black Dyke, acute disappointment - although they knew that as adjudicators Derek Broadbent, Kevin Wadsworth and David Horsfield later said, they had left the door to the 'Eden' garden open just wide enough for a winning performance to be driven through.

Some uncharacteristic uncertainties in the solo lines just undermined the sense of naïve simplicity in the opening, and whilst it recovered with first, fearsome brilliance and finally glowing redemption, the damage had been done.

With luck not seemingly going their way this year on the contest stage, they may have to sell their soul to the Devil if they are to win at the Open later this year.

Health and safety

Foden's was another band that opted for the health & safety approach to start their performance.

James Gourlay inspired a luminous sense of atmosphere and drama thereafter (including a quite brilliant trip to the edge of abyss) but the judges felt that at times the tuning was wayward and the interpretation a little too over wrought in emotion.

It ended in 6th. They could count themselves a little unlucky.

Cup of tea

With the contest running without a break, there was little time for the traditional 'cup of tea' band, although given the sparse audience, you couldn't help but think that sales of the local brand of Lapsang Souchong in the shopping precinct below the hall may well have been doing a roaring trade all day anyway.

Brave

Skelmanthorpe delivered a brave, well managed account under the intelligent direction of John Roberts to show that with a concerted bit of rehearsal time some of the absentee bands may well have found that their 'other priorities' could well have been overcome.

It was a performance of some merit.

Guns blazing

Rothwell Temperance meanwhile came out all guns blazing (although not at the beginning, which took a little while to find its feet).

The Roberts brothers seem to be the brass band movement's own version of the Labour Party's Milibands – connected by common purpose and intellectual belief, but battling against each other from two sides of the same musical coin.

Here Rothwell flexed its muscles with thoughtfulness and purpose – especially in the middle section, which was wonderful X-rated stuff.

Hearts were still trembling a bit come the start of the redemptive section, and whilst the finale was a touch heart on sleeve, it was a performance of deep seated quality.

On big stages, and in big halls, Rothwell really is a band that makes an impression, and 3rd place was their reward.

Roller coaster ride

Leyland's attempt to repeat its historic 2005 National win was a bit of a roller coaster ride.

Their trip through and under the 'Eden' garden was at times brilliantly coloured and full of character, but prone to over excitement and red blooded emotion – especially from a percussion section that went as bonkers as Max Cady in 'Cape Fear' in places.

It had a touch of the musical Alton Towers about it – highly enjoyable, but not quite what you may have thought Milton or Pickard quite had in mind.

Bolt upright

With Fairey's then delivering the type of performance that for the neutrals made you sit bolt up right in the your seat with its intense musicality, the contest came to a close with two contrasting renditions from Pemberton Old Wigan and Reg Vardy.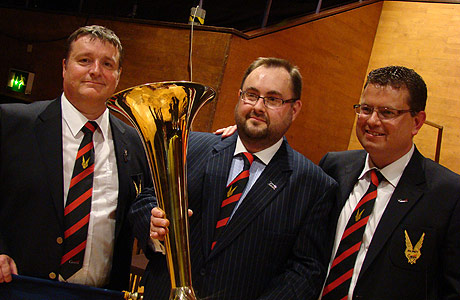 Something to build on for Fairey and their new sponsors

Musical interest

For Pemberton, a brave effort on a piece that stretched everyone to the limit (although Matthew White on euphonium was a glorious exception), and whilst it did struggle to overcome its technical hurdles it still held a considerable amount of musical interest.

Fire and brimstone?

Finally, Reg Vardy and a solid artisan performance that just needed a little bit more risk taking (not something you usually can say with Ray Farr at the helm).

Perhaps mindful that their more intuitive efforts at the Masters and Grand Shield hadn't brought them much luck, this was like hearing a politically correct version of the biblical story from happy clappy reverend rather than a fire and brimstone one from an old fashioned Welsh Methodist minister.

It got it's desired message across though in the box and ended up in 4th place.

Full value

With the contest over at an early hour, Black Dyke made sure the audience got it's full £15 worth of entry ticket value for money with a short and enjoyable concert spot.

Kevin Wadsworth then delivered an excellent in depth analysis of the piece and the reasons behind the adjudicator's decision - which was part Sunday School teacher, part history lecture, part music critic.

No one left the Guild Hall not being very well informed.

With a very nice touch of warmly received respect shown to the great James Scott with the presentation of an award for his services to the brass band movement, all that was left was for the prizes, and the announcement amid raucous celebration, of the rediscovery of long overdue Fairey magic.

Iwan Fox