Black Dyke Brass Symposium - Where there's Brass...
15-Jun-2010
4BR Editor Iwan Fox reflects on Black Dyke's impressive Brass Symposium - a modern take on traditional brass band values.
---
In purely measurable terms of entrepreneurial achievement in the brass band world, Dr Nicholas Childs is the equivalent of a cross between John Henry Iles and Mary Portas.

Nobody does it better

He has taken a well loved, but traditional brand name in Black Dyke and sold it for all its worth to a new and very appreciative customer base.

Nobody does it better – or as successfully.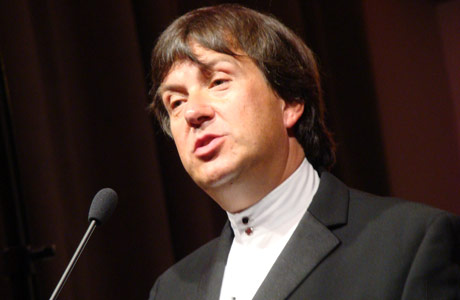 The entrepreneur behind the Black Dyke revolution - MD Dr Nicholas Childs

That was evident for all to see and hear throughout the weekend of the third Black Dyke Brass Symposium, held at the Gandhi Hall of Leeds Metropolitan University campus and the city's Town Hall.

Critics

The Music Director of Black Dyke has his critics.

After ten years at the helm however even his harshest foe would find themselves hard pressed to argue against the evidence of the success he has engineered in terms of the musical as well as commercial revolution he has overseen at the most famous brass band in the world.

Who else is coming anywhere near what Dyke is doing week in week out at the moment?

No one, that's who. They are in a league of their own.

Common sense

The partnership with Leeds Metropolitan University has enabled the band to reach out to a new audience base by utilising very modern marketing and production techniques (check out the youtube links at the bottom of the page), allied to a bit of old fashion common sense.

For instance: If you want to fill an auditorium the size of Leeds Town Hall on a wet Sunday afternoon, then why not broaden the appeal by asking 250 players, from eight other bands, to come along and enjoy the occasion with you too?

And while you're at it, those 250 players (young and old alike) may well like to bring along a few family members to see them in action.

The result? The old ornate Victorian pile filled to the brim with people still coming in to listen well after Black Dyke has played two of its opening items.

Clever part

And here comes the clever part:

Now that you've got a captive audience, give them something to enjoy, give them something to think about, and then give them something to buy.

That means plenty of good old fashioned easy listening music, a number of serious works of genuine quality from interesting composers (eight commissions over the weekend in fact), lots of CDs (and membership forms to become a paid up Dyke 'Friend') all provided with a degree of organisational professionalism that takes some beating (there was also a display from the Brass Band Archive).

Business end

It's not rocket science – but by heck, Black Dyke and their MD are light years ahead of anyone else when it comes to the business end of brass banding in the 21st century.

It also goes some way to explaining why on the Saturday, you had over 60 delegates taking part in an enjoyable day of lower brass performance under the leadership of David Thornton and Joseph Cook.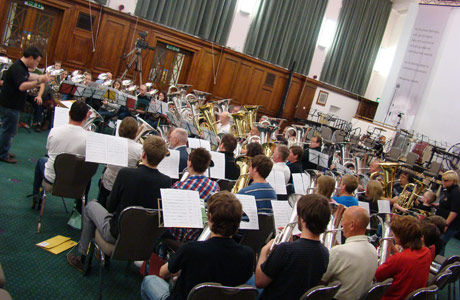 Massed ranks of musicians... and customers - led by David Thornton
Help was on hand from other members of the band too, so that the morning masterclasses culminated in an enjoyable 'Performance Platform'.

Legends

These featured four ensembles (neatly named after famous Dyke legends, John Slinger, Derek Jackson, John Clough and Geoff Whitham) led by Alex Kerwin, Gareth Brindle, David Thornton and John French that performed low brass arrangements of pretty challenging repertoire – from a neat 'French Medley' to excerpts from Leonard Bernstein's 'West Side Story'.

To round things off they then all got together for a demanding run out on 'Night on the Bare Mountain' (arranged by Maurice Bale, who also played in the band) and 'Deep Harmony'.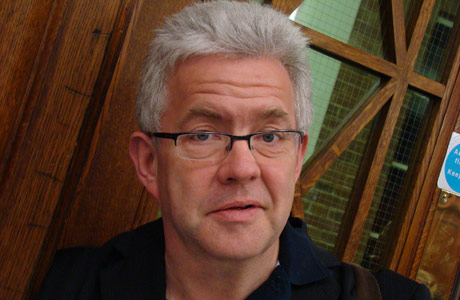 Poetic smile: Ian McMillan waits to deliver a bit of 'Brass'

Meanwhile, on the Sunday, well over 60 delegates took the opportunity to learn from Richard Marshall in what was a thoroughly enlightening 'Cornet Spotlight'.

Collective

That also saw the massed cornet and soprano ranks perform some great new pieces from the 'Composers Collective' of the Yorkshire Youth Band (and some crackers they were too - including a four part piece called 'Espana Cornetta' by young TJ Butt) who were working with Professor Philip Wilby and Emily Howard.

Then there was the chance to hear the tutors in action too.

On the Saturday David Thornton and Joseph Cook were joined by the talented quintet of 'Quintessential' to provide a fine lunchtime recital.

Ethos

Following the musical ethos of the weekend, it also featured a premiere - this time from Dan Price (the evocative 'Mists On the Wear' for tuba and piano) as well as a brilliantly inventive Acid Dance track backed work from Simon Dobson for euphonium, CD and quintet accompaniment.

In addition there was also a polished chamber piece called 'Blizzard' from the pen of Cai Isfryn (who was also a buzzing Green Hornet in his trumpet solo)

Add in the chance to meet and question some of Black Dyke's living legends in the form of a trio of bass end leviathans in Derek Jackson, Matt Routley and Phil Goodwin and the iconic cornet duo of Peter Roberts and James Shepherd and you had something for everyone to enjoy.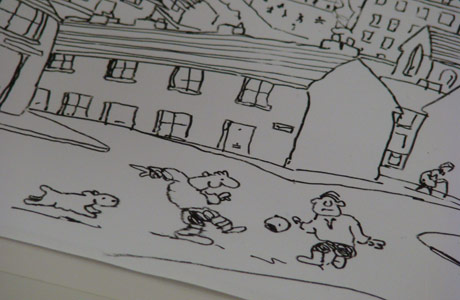 Images of the Millennium: One of Tony Husband's delightful cartoons

Collaboration

Whilst the Sunday afternoon concert was a delight (with two serious pieces from Emily Howard and Andrea Price adding a touch of well placed musical gravitas to the proceedings), it was the Saturday evening Gala Concert that will stay in the memory banks for a very long time.

The collaboration between the band, composer Philip Wilby, poet Ian McMillan and cartoonist Tony Husband (whose work is seen each day in 'The Times') in the tone poem 'Brass', was a wonderfully inventive piece of musical theatre that brought three very disparate strands of artistic culture and blended them together quite brilliantly.

Priceless

The pre concert talk from the composer, poet and cartoonist was well worth the entrance fee alone (the trio would make a great comedy act and Tony Husband's quick fire drawings were a delight) and which not only brought a warm humour to the proceedings but also, priceless insight too.

It all rather summed up the ethos of what was a quite remarkable weekend of priceless 'Brass'.

John Henry Iles and Mary Portas would have approved wholeheartedly.

Iwan Fox
---
Concert reviews of the 2010 Black Dyke Symposium can be seen at:

Black Dyke Brass Symposium Gala Concert
www.4barsrest.com/reviews/concerts/con656.asp
Black Dyke Massed Bands Sunday Concert
www.4barsrest.com/reviews/concerts/con657.asp
Highlights of the 2010 Black Dyke Brass Symposium can be seen at: