Letter from Oz - Part One - Dr Roy Newsome in Australia
15-Jun-2010
Dr Roy Newsome enjoys the sun, sea and surf in Australia.
---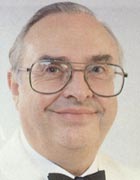 Dr Roy Newsome is currently touring Australia as part of his 80th birthday celebrations.

He writes back home as part of his postcard from Austraila:

Here's a brief report about the first leg of our Australian holiday organised by our dear friends David King and Rosie Pearce.

Gold Coast

We made a 12 thousand mile trip from Bury via Manchester, London and Singapore, touching down in the city of Brisbane on Thursday 10th June. We were met my David and Rosie who whisked us off to the home of Rick and Amanda Casagrade on Australia's spectacular Gold Coast.

We had a whistle stop tour of Sovereign Island, including a visit to the location of the fourth coming festival of FABB (Federation of Australian Brass Bands).

Rick and Amanda are both great band enthusiasts, with long standing associations with Brisbane Excelsior and other bands. Rick is also the founder and chairman of FABB.

After a convivial evening of eating, drinking and merrymaking, we had a welcome nights sleep before an early departure on Friday for Cairns.

The Tropics

The 12 hundred mile flight took us to this beautiful city in the Tropics and on the Great Barrier Reef. Here we were looked after by two very dear friends Maureen Cameron a former Salford Student and member of Fodens Brass Band and Bryan Hurdley, a former colleague and resident conductor at Sun Life.

Amongst other things, we had an exciting trip to an island on the edge of the coral reef and went in a semi submersible boat which enabled us to see some of the underwater marine life and vegetation. We also went by cable car over the top of the rain forest and up to the village of Kuranda.

The highlight however, was an enjoyable and (I hope) fruitful rehearsal with Cairns Brass of which Maureen is the conductor. This is a lovely 'old-fashioned' community band, most of the members home grown and with ages ranging from 11 year old Andrew Martin to 87 year old Fred Shipke, father of the band and still an excellent repiano player.

Next...Byron Bay

After 5 exciting, busy and enjoyable days we say farewell to our friends as we board a plane for the Gold Coast on an early Tuesday morning flight.

Stay tuned for part 2...