Black Dyke Brass Symposium - Poetic 'brass' inspiration for Dyke and McMillan
8-Jun-2010
4BR Editor Iwan Fox looks forward to an intriguing weekend of music making in Leeds, where Black Dyke joins forces with poet Ian McMillan for their annual Brass Symposium.
---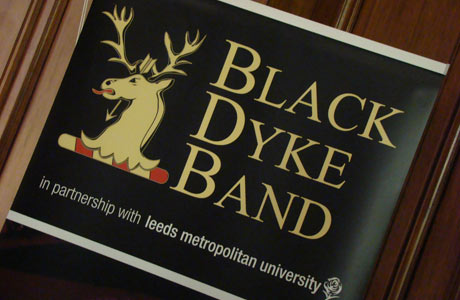 Growing in stature: The partnership between Black Dyke and Leeds Met

This weekend sees the reigning National Champion, Black Dyke undertake its annual 'Brass Symposium' based at Leeds Metropolitan University and Leeds Town Hall.

Over the past couple of years the event has grown increasingly in stature, attracting Heritage Lottery funding as the band's partnership with Leeds Metropolitan University, through Director of Music Dr Nicholas Childs (right) has grown.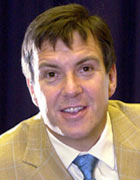 Brass centre piece
This year the centre piece will be provided by the Gala Concert world premiere of a performance of a new work, 'Brass', featuring internationally recognised poet Ian McMillan, which will take place in the imposing splendour of the University Gandhi Hall on Saturday evening.

And 'performance' is the right word to for the demanding 'concert poem' as McMillan describes it, with the band and featured soliosts David Thornton and Brett Baker, joined by award winning cartoonist Tony Husband who will provide live illustrations to accompany the intriguing work as it unfolds.

Written by Professor Philip Wilby, it will be narrated by the poet.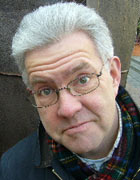 No stranger

Ian McMillan (right) is no stranger to the brass band medium. Having grown up in Barnsley, his work is wry and insightful, full of emotion and sharp wit, which has been used to inspire poerty lovers to appreciate everything from trains to football.

Described as, 'an inspiring, encouraging and democratic spirit, a strong and popular poet and one of the funniest people in Britain', his views on modern life are trenchant as well as very pertinent - you don't get asked to appear on the BBC 2 'Newsnight Review' for nothing.
Prior to the concert the poet will present a talk on the work with Professor Philip Wilby, which will provide a valuable insight for concert goers into its inspiration.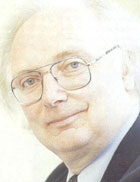 World premieres

In addition to 'Brass', Black Dyke will also perform further world premieres from two of its 'in house' compositional talents – Professor Philip Wilby (right) and Paul Lovatt-Cooper, as well as one from a composer with a long association with the band, Peter Graham.

PLC's remarkable ability to provide an adrenaline fuelled concert opener will see the Gala Concert brought to life with the first performance of 'The House of Legends', whilst Philip Wilby has written a new work for euphonium entitled, 'Concert Piece' which will feature the talents of David Thonrton.

The second half will also see Peter Graham's intriguing new work. 'The Remarkable Monsieur Rameau', as well as the chance to hear one of Dyke's rising solo talents in Paul Duffy, as he plays Paul Lovatt –Cooper's, 'Only for You'.

Red Priest

The evening is rounded off with the chance for Dyke fans to hear Philip Wilby's homage to Vivaldi, in the towering test piece composition, 'Red Priest'.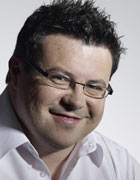 Lower Brass Spotlight

The Symposium opens on Saturday morning with a 'Lower Brass Spotlight' led by David Thornton and Joseph Cook.

Both players will provide their own 'spotlight' so to speak with short recital performances of new and fascinating repertoire for low brass, including David giving the first UK performance of Simon Dobson's amazing euphonium work, 'In Memorian ES' which features an acid dance track and quintet accompaniment.

Joe meanwhile will also provide a world premiere of his own, with the first performance of Dan Price's 'Mists on the Wear' for tuba and piano.

Entertaining

In what promises to be an entertaining, as well as informative morning of hard work and play, the delegates will be led through a series of ensemble workshops and chamber music sessions, culminating in a massed performance that will feature performances of a special arrangement of 'Deep Harmony' as well as 'Night on a Bare Mountain' and the finale to the 'William Tell' overture.

There are just a few places left to be filled on the 'Lower Brass Spotlight' sessions, so if you are interested, please contact David Thornton direct at thorntoneuph@googlemail.com or ring on 07702344468.

David (right) will be busy all weekend and told 4BR that he was looking forward to a demanding day: "Although it's a long day for me, it's also one that I look forward to each year. The Lower Brass Spotlight with Joe Cook is a real chance to try and inspire players to seek new challenges on their instruments, whilst the solos should hopefully show the delegates just what they can achieve!"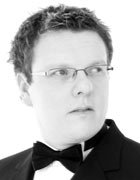 Cornet Spotlight

Sunday sees a deliberate shift in emphasis, with the festival taking the opportunity to once more utilise the magnificent surroundngs of Leeds Town Hall.

This year Richard Marshall (right) will lead the inaugural 'Cornet Spotlight', at 9.00am sharp, where he will lead delegates through masterclasses in highlighting techniques to improve warm ups, breathing, tone, lip flexibility and much, much more.

There will also be the chance to meet up and question two of Black Dyke's greatest players – James Shepherd and Peter Roberts before the final massed blow.

There are still a few places up for grabs here too, so if you wish to come along, please contact Richard on Richard.B.Marshall@btinternet.com or 07989871502.

Massed Bands Gala Concert

The afternoon will also give delegates the opportunity to work with two of the leading compositional talents associated with the band – Professor Philip Wilby and Emily Howard, as well as music from members of the Yorkshire Youth Band, in a 'Composer's Collective'.

A little later Black Dyke takes to the stage with musical friends from the Yorkshire Youth Brass Band, Delph, Diggle, Hebden Bridge, Lions Youth, Kirton and Newstead Brass.

Raising the roof

The massed ranks of over 250 musicians will hope to raise the roof of the great hall, with performances of 'March Slav', 'Within Blue Empires' and 'Laudate Dominum', well as performing two world premieres themselves in the shape of Andrea Price's, 'Aurora' and Emily Howard's 'Obsidian', which is intriguingly subtitled, 'A volcanic ash lullaby'.

It promises to be a weekend of great music making as well as great musical entertainment, hard work and enjoyment too.

As Dr Nicholas Childs told 4BR: "The Symposium sees Black Dyke encouraging future generations to enjoy brass band music making. It is a totally inclusive weekend which Black Dyke is proud to provide."
---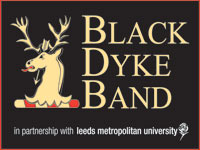 Programme of events:

Lower Brass Spotlight:
www.4barsrest.com/news/detail.asp

Cornet Spotlight:
www.4barsrest.com/news/detail.asp


Black Dyke Gala Concert
Gandhi Hall
Leeds Metropolitan University
7.00pm

Tickets £10 - available from Leeds Town Hall
Box Office Tel: 0113 2243801


Massed Bands Gala Concert
Leeds Town Hall
3.00pm

Tickets £12, £10, £8 - available from Leeds Town Hall
Box Office Tel: 0113 2243801

Further information:

Any further information can be obtained from Festival Administrator Alsion Childs on 01457 820138 or alison@doyenmobile.com
For further information also visit: www.blackdykeband.co.uk/