2010 All England Masters International Championship - retrospective
5-Jun-2010
Never mind the name - Co-operative Funeralcare is in a pretty good state of contesting health...
---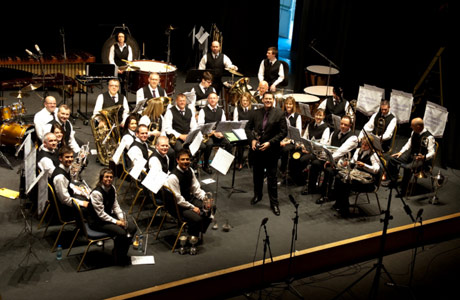 The winners on display: Co-operative Funeralcare take centre stage

More pictures from Ian Clowes at the Masters can be found at:
www.pbase.com/troonly/2010_masters

Despite the incongruity of the name, Co-operative Funeralcare Band is alive and well and in pretty damn good contesting health.

However, a bit like those Scottish body snatchers Burke and Hare, they haven't lost the ability to pinch the still warm remains of a recently interred old Master from under the noses of their rivals for a handsome sum of money.

Cloak and dagger

Although they didn't have to creep into a Kettering churchyard at the dead of night to do the job on Percy Eastman Fletcher (Born 1879, but who unfortunately endured a gruesome death at the hands of some conductors at the Lighthouse Theatre on Sunday), they still managed to carry off the body with £4,000 stuffed into the coffin lining with a fair degree of cloak and dagger expertise.

Dr Knox would have been delighted.

Most neutrals may well have thought the final resting place was either to be in Wales or Belgium (courtesy of two classy, but not error free performances from Tredegar and Willebroek), but the three men, alive and well in that other type of box, had other ideas.

Clear opinions

David Read MBE, Derek Broadbent and Dennis Wilby certainly had very clear opinions on what they wanted to hear from the 22 bands on the day: And they proved to be ones that surprised quite a few people.

That may well have been due to the fact that 'An Epic Symphony' should have been well within the scope of all the bands and conductors here. It wasn't.

Handful

Only a handful really managed to combine the need for technical clarity with the musical reflection that seeps through each of its three movements.

Brash ensemble sounds, sloppy execution (including a plethora of wrong notes that conductors failed to pick up in the new version of the score), over enhanced dynamics and tempi, tarnished numerous performances. The only thing 'epic' about some renditions was just how badly put together they were.

Although the standard of trombone playing was good (including some artistic efforts from the bass trombones), only a few cornet and soprano players managed to give the required degree of lyrical wistfulness to their solos in the 'Elegy' - although one who certainly did was Jimmy Hayes of Scottish Funeralcare who won the '4BR Best Instrumentalist' Award for his cultured playing.

Back row cornet players endured some nasty moments in the filigree work required of them in the 'Heroic March', (many solo cornets found the opening fanfares in the 'Recitare' just as difficult), whilst horn sections who could start the second movement together could be counted on the fingers of a T-Rex.

Self indulgence

Not many MDs emerged unscathed either, with a number displaying a degree of self indulgence over the flow of the 'Elegy' that bordered on the morbid, before setting off the 'Heroic March' at a tempo that had as much Elgarian nobility as a victory parade for the England topless mud wrestling team.

Perhaps a victory parade for Scottish Funeralcare Band would not be the most tasteful (or quickest given the mode of transport from their sponsors) way of celebrating their victory either, but you suspect it would still be as highly enjoyable.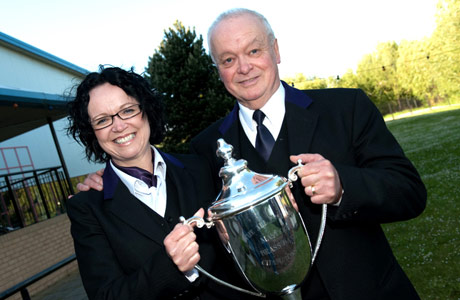 Father and Daughter: Rob McCorkgill enjoys a family moment with the Masters trophy

Impressive

Michael Fowles (who is an increasingly impressive, confident and musically articulate conductor) led them to victory with the type of performance that although never quite thrilling the senses, still left a hefty impression on the mind – and especially in the box.

The opening 'Recitare' was played with purpose and clarity, whilst the 'Elegy' was secure, flowing and contained excellent individual contributions.

The question marked came with the 'Heroic March' that started well, but seemed to lose its momentum, depriving it of the Elgarian sense of nobility in the process. It certainly recovered for a fine close, but the overall impression left to many a neutral observer (4BR included) was a worthy, possible top six performance, but perhaps not a winner.

How wrong we were.

Extreme class

Afterwards, the judges spoke warmly of the sense of style, and in the case of the 'Elegy', the 'extreme class' of the playing. When you register that type of appreciation in the box, it is little wonder they left Kettering as champions.

Close behind

Close behind came Tredegar – the form band of 2010.

As Ian Porthouse had indicated a forthright ago, that they had perhaps used up their quota of serendipity for the year at the Grand Shield. He was possibly right, because they must have felt they didn't quite enjoy any here.

Theirs was the classiest performance of the day (although not without small errors and slips), and whilst it impressed the majority of listeners in the hall with its balanced ensemble sound and musical nuance, for the judges it didn't quite have that extra touch of 'extreme class' they felt hallmarked their Scottish rivals.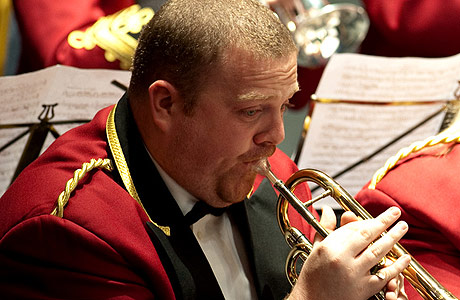 Dewi Griffiths leads Tredegar into second place

Furrowed brows

If the final placings raised the odd eyebrow, the announcement of the bands behind them produced more than a few furrowed brows.

Schoonhoven's performance under Erik Janssen in coming third late in the day was a real surprise, as they left their best playing until the final movement of the test piece.

The 'Heroic March' was very classy indeed, but it seemed to have come too late following two opening sections of varying quality – especially in terms of execution.

Meanwhile, Virtuosi GUS, will have been delighted to have ended up in fourth after an early performance that was finely constructed by John Berryman, but undermined by a noticeable degree of ensemble (but not solo) laxity.

The fine musical picture the MD created was like a glimpse from the past at times, but those more present tense errors did take the gloss off.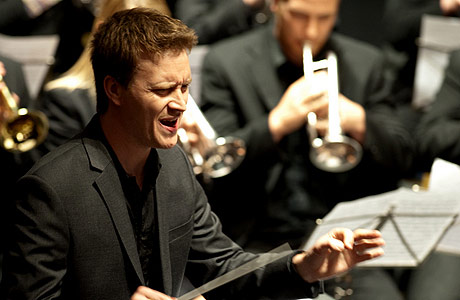 A picture of emotion for Richard Ward and Zone One Brass

Growing confidence

Zone One's growing confidence under the direction of Richard Ward was rewarded with fifth, after a performance that was much more than its impressive constituent parts.

Technically one of the most secure renditions of the entire day, its only question mark seemed a desire to wallow in the 'Elegy', which was taken at a somewhat funereal pace.

There was disappointment however for the much fancied Willebroek, after their classy rendition, full of emotion (although sometimes a little over wrought) was deemed only deserving of sixth.

Frans Violet really delved deep into his musical soul with this one, and whilst by its close there was little emotion left to wrung out, it did leave a deeply satisfying impression on the heart as well as the mind – although not so in the box.

Brick wall

If the announcement of the top six places had people a little puzzled, then the release of the full results had some banging their heads against the nearest brick wall.

Those possibly looking for the nearest A&E Department were supporters of Redbridge, Kirkintilloch and to a degree, Brass Band Aeolus.

If you are going to have a contesting day when you best efforts don't find any fancy with the judges, then you may as well go the whole hog and come a real cropper. Both Redbridge and Kirkintilloch did just that.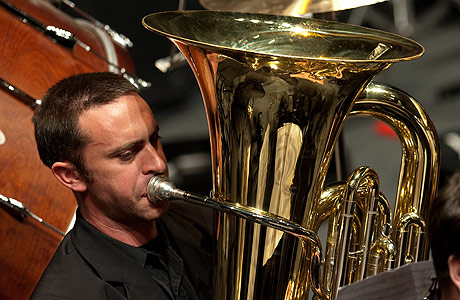 Not quite the right way for the French of Aeolus at the Masters on the weekend

Well constructed

Both delivered well constructed, musically adroit performances (although Kirkintilloch rather went off the rails in the final movement) that although never quite having the stamp of potential victors about them, seemed set for a top ten (or in Redbridge's case) a top six finish.

Jeremy Wise's lyrical (but not over sentimental) interpretation had that touch of cultured nobility about it – backed by some classy solo lines, even if it was a little uneven in the ensemble at times. It was clearly beatable – but by another 17 bands?

Every band has a contest to forget now and again – and this one won't live long in their memory banks, even if it will take some explaining just why they missed out so badly.

As for the French?

A very different approach, that was light in ensemble tonality (and lacked real internal detail) was played with a refined restraint, but you sensed that it was either going to be a big hit or a real miss in the box – it was a performance that could elicit no half measured opinions. It proved to be the latter.

Contrast

In contrast, both Sovereign Brass and Metropole will have left with sore heads, after celebrating coming 8th and 10th respectively.

Unlike the Scots and the Londoner's, their performances certainly made an impression with the judges, thanks to Peter Parkes very nearly rolling back the years with his interpretation of the score with Sovereign, despite the fragile nature of the execution throughout.

Metropole meanwhile never seemed to set the marker that would take some beating off the number 1 draw, but Guy Audenaert's approach at least provided a mid point reference marker for the adjudicators that rather surprisingly held its own.

No celebration

No celebration for Reg Vardy, who will look back on a performance that although certainly exciting, was far too raw in terms of dynamic and ensemble balance, whilst Jaguar (Coventry) will know that their musical minds were not focused on the job in hand (they were due to appear at the English Music Festival the following day).

Both got what they deserved in 19th and 22nd places.

Just reward

Four performances that very nearly got just reward came from Carlton Main Frickley in 7th, Lyngby Taarbaek in 9th, Pemberton Old in 11th and Stavanger in 12th, although all four may just have crept up a place or two if luck had gone their way.

Allan Withington's musical approach to the score very nearly overcame the noticeable fragilities that blighted his band's efforts, whilst Mark Bentham's pragmatic approach just needed a touch more artistic flair in what was a well organised performance.

Meanwhile, the Danes offered a persuasive piece of musicality that showed their lyrical capabilities to the full, before just losing focus in the final march. It was nearly a real contender.

Carlton Main and Philip McCann offerred glimpses of the potential perhaps yet to be unlocked from this combination. At times it was wonderful stufff, at others, a little oddly shaped and phrased and error prone. It was always interesting though.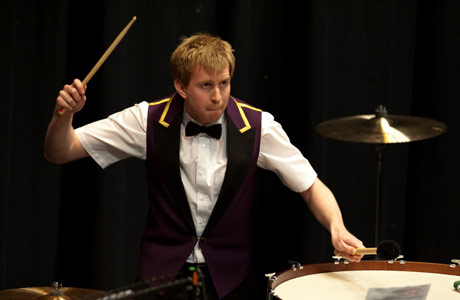 I'm going make sure they hear this... Pemberton's perc team wave the big stick

Mediocre

What must have been difficult for the three adjudicators on the day was being able to differentiate between the plethora of distinctly mediocre performances that came their way from 10.00am onwards.

What for instance would have separated the likes of Newstead Brass in 17th from Marsden Silver in 13th?

The subjective nature of adjudication is hard enough to explain at the best of times, but the performances of Marsden, 1st Old Boys Association, Wingates, Aveley & Newham and Newstead Brass were such a mixture of pedestrianism that they could have ended up in just about any order.

Each had their moments of quality without a doubt; each had their moments of bad luck; each had more than their fair share of real laxity and sloppiness too.

The overall execution was far too uneven to have had realistic hopes of coming higher than they eventually did, whilst the MDs will also look back and wonder whether some of their choices of tempi and dynamic were as wise in retrospect as they may have first thought.

No doubts

No doubts for Michael Fowles though, and no doubts that Co-operative Funeralcare Band is back to the type of form that could well see them challenge for honours at the major contests later in the season.

There are a few more well paid contesting bodies to be pinched by them before the year's end.

Iwan Fox