2010 All England Masters International Championship - Postcard from Kettering
4-Jun-2010
It may be a brand new venue, but the Masters still retains its ability for old fashioned debate...
---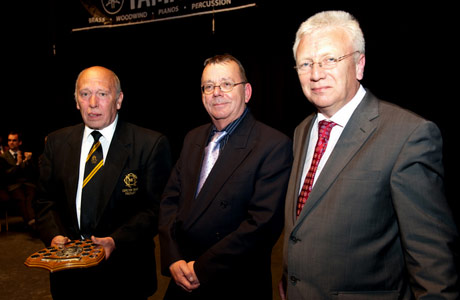 Line up of Masters: Biggs, Franklin and Sykes MBE

More pictures from Ian Clowes at the Masters can be found at:
www.pbase.com/troonly/2010_masters
On a warm Bank Holiday Sunday, the Lighthouse Theatre at the Kettering Conference Centre proved itself to be a welcome new addition to the historical list of brass band contest venues.

Non descript?

And whilst it may not have the grandeur of the Royal Albert Hall or the faded glory of the Winter Gardens, it did the job it was intended to do rather well, despite its non descript appearance on the edge of a non descript legoland housing estate on the outskirts of a non descript town in Northamptonshire.

Modern, compact affordable and comfortable; you can think of a host of worse places bands have had to endure over the years – including the two aforementioned venues.

However, you can't please everyone can you now, and whilst there were some reasonable grumbles that the nearest pub and fast food outlet was a 20 minute walk away, you did have to question why people would want to make the trek when the venue itself offered decent grub and booze all day, and even a lake to sit by and enjoy it all being thrown down the gullet whilst the contest went on inside.

Depressing norm

The answer lies in the depressing norm: Players no longer wish to listen to other bands play (or for that matter show proper appreciation for the fine Ray Sykes MBE, who received the Masters Dedicated Service Award - many players in the bars complaining about the venue were not fit to polish his bass)

It meant of course that the watering holes in the hall were full of the type of old fashioned, exasperated claims of miscarriages of musical justice after the contest ended – some having more credence than others.

However, nearly all of them would have held more weight if there had been evidence of more bandsmen actually taking the opportunity of sitting in the hall to listen to their rivals play, rather than choosing another Big Mac and pint of beer.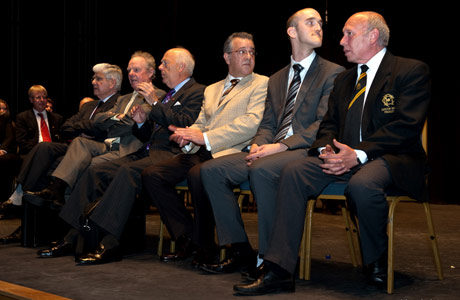 Line up of the usual suspects as we await the results...

Beery haze

Being told that the result was a travesty by two bandsmen who explained through a beery haze of moral outrage that they hadn't heard the winners or any other band in fact (except the one that was playing before them through closed doors), but knew without doubt that their own band had played well (although they didn't come anywhere), is now a familiar occurrence.

Debating contesting results is increasingly becoming a third person experience: "4BR said we played well, so how come they (insert band of your choice) beat us…"

However much you are thankful for their support of your journalistic efforts, it still leaves you depressed that some people are now incapable of taking time out of their busy drinking schedules to form an opinion of their own through first hand experience.

Old fashioned questions

A couple of old fashioned queries did come up throughout the day.

With 22 bands, why no comfort break for the three, (and let us be very respectful here) mature men in the box?

Spending seven hours in a confined space without proper toilet facilities, no real room to stretch the legs or enjoy a break for personal refreshment or proper nutrition is the type of scenario that gets the human rights brigade up in arms at Cell Block B in Guantanamo Bay, let along Kettering Conference Centre

Those who did take the opportunity to sit back in the comfy seats in the hall to listen to a number of the contenders would have enjoyed the experience.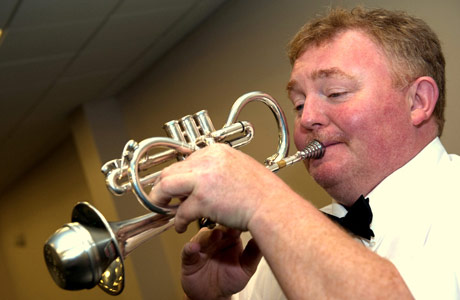 Ian Twiss of Marsden shows a slightly different soprano technique

Perceived injustices

However, we suspect that few would have said they would have been able to contemplate listening for a seven hour stretch without some sort of break to refresh the senses (and that included the hard bitten well toned fitness freaks in the press corps who sat through all the performances).

David Read MBE, Derek Broadbent and Dennis Wilby are made of sturdy stuff, but surely even they needed a break, if not for their needs, but perhaps for those of a somewhat cynical banding fraternity, who increasingly have an appetite for perceived injustices.

Given the musical inspiration behind Percy Fletcher's iconic test piece, you wondered whether a few of those disgruntled players really believed that on Sunday, 'Age shall not weary them, nor the years condemn.'

Tampered work

And as for the tampered version of the work, complete with Jean Balliset inspired tambourine, glock and tam tam additions?

Bin it. As Simone Weil observed: "In Switzerland they had brotherly love, five hundred years of democracy and peace, and what did they produce? The cuckoo clock."

Still, the bands themselves can't complain when they are still able to truck in up to three paid replacements (the term 'borrowed' does the practice a disservice) to help their causes.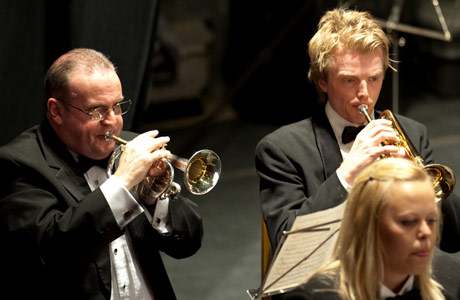 A top class ringer worth his weight in gold - Kevin Crockford plays for Stavanger

Ringers

Whatever happened to the old fashioned norm of a true championship band being able to field 26 of their own brass players?

There were more ringers on show on the weekend than could be found at the local branch of the Kettering Campanology Society.

The Masters may well have a new home, but in many ways its remains resolutely an old fashioned contest.

Iwan Fox