2010 Whit Friday - Preview of the greatest free show on earth
25-May-2010
Malcolm Wood looks forward to another great day of banding in Tameside and Saddleworth this Whit Friday - waeather permitting of course.
---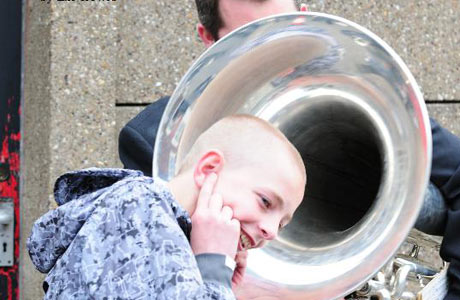 Making the right noises this year
Picture: Ian Clowes

The one thing that anyone involved in Whit Friday this year will hope for, is that it stays dry.

Halcyon days

The current mini heat wave promises a return to the halcyon days of yesteryear, when the sun always shined, beer was cheap and bands didn't play comedy marches as they weaved their ways through the throngs of sober crowds lining the streets of pretty northern villages.

The problem is, global warming has yet to become the norm north of the Watford Gap at the end of May, so most probably it will be belting it down.

Just like twelve months ago in fact, when it started to rain as soon as the first competitive notes were heard in anger - and it never relented throughout the entire evening.

Those old enough to remember when rain last fell in stair rods verified that the weather hadn't been that bad since the early 1970s.

No wonder the day got dubbed 'Wet Friday'. Not even drinking copious amounts of alcohol helps in those conditions.

True British spirit

However, the weather still failed to wreck the contests, as the bands persevered against the elements and turned up in almost record numbers at the various Tameside and Saddleworth venues. Whit Friday folk are hardy souls.

This year, Whit Friday falls on a Bank Holiday weekend, just 48 hours or so before the All England International Masters in Kettering. If you want your fill of banding this weekend, you can get certainly get it.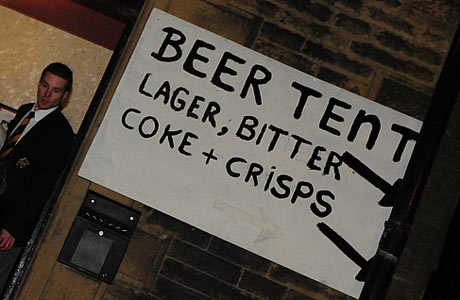 The usual Whit Friday attractions
Picture: Ian Clowes

Challenge

Organising an event such as Whit Friday is never without its challenges though, and things have not been straight forward in the Saddleworth and Oldham area in recent months.

To cut costs Greater Manchester Police took the decision to withdraw the manning of all road closures, so it is now under the watchful of eye of Oldham Council.

After discussions with the police, Uppermill's proposed move to a different venue to avert the rowdy behaviour of recent years didn't materialise (although band's will have better access to the contest area), and happily, other changes, such as that at Lydgate, that have been made on health and safety grounds, are minimal.

Council's back contests

The excellent support of both Oldham and Tameside Councils means that there is the usual big pot of prize money that will be available across all 23 contests.

In addition to the monies raised by each contest, Oldham has pledged £7,500 towards the central prize fund, whilst in Tameside, £6,000 has been donated.

The cut backs in the public sector are coming however, and bands may want to start lobbying their local representatives as soon as possible if the same level of funding is to be secured in future years. Mr Cameron and Mr Clegg don't exactly appear to be great brass band aficionados.

Four figures up for grabs

As always, there is a competitive financial edge to the contests themselves, with Delph, Greenfield and Uppermill confident of attracting a large entry of bands as they each pay out £1,000 to their winning band.

Can you help?

None of the contests can run without the dedication of so many volunteers, but that doesn't mean that they don't need any further help. If you are not involved during the night and can lend a hand at a contest, give them a ring and ask what you can do even if it only for an hour or so.



Nightlife: Contests go on long into the wee hours
Picture: Ian Clowes

Traditional start

The day will start with the traditional Processions of Witness in Saddleworth and Mossley from 9.00am. The religious aspect of the whole occasion is sometimes forgotten in the alcohol induced fog as the evening wears on, but it is the essential lifeblood of the entire day.

Champions

The reigning Saddleworth champion, Black Dyke won't be out this year, nor will Grimethorpe, but there will be plenty of other heavyweights vying for honours and their share of the prize fund.

Whether any of them can match (or beat) Black Dyke's 100% record of winning at every contest they competed in last year remains to be seen though.

Yorkshire Area champion, Brighouse & Rastrick will be out and about, as will Hammonds Saltaire, Hepworth and Rothwell. Meanwhile, Marsden and Pemberton Old DW will both take a night off from preparing for Kettering and compete across the venues.

Even despite their recent turmoil, Foden's will no doubt be favourites to take a ninth consecutive overall title in Tameside, and have recruited the vastly experienced Whit Friday wizard Alan Lawton to lead their challenge.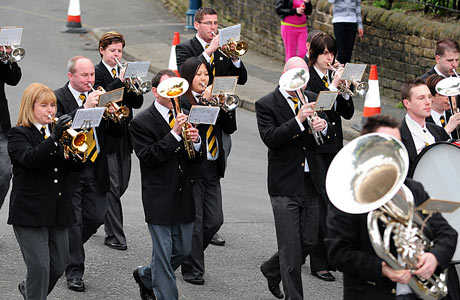 Fodens aim to make it nine in a row in Tameside
Picture: Ian Clowes

Legends direct

Meanwhile, to spice the rivalry up a tad, Garry Cutt has already been signed up by Foden's great rivals Fairey to lead their challenge, whilst Richard Evans will be out strutting his swagger march credentials as only he can.

Overseas challenge

Bands descend on the Whit Friday extravaganza from all over the banding world – with Stavanger and Alexander Bands from Norway, Lyngby Taarbaek from Denmark, Saanen from Switzerland, Detligen from Germany and Guernsey Concert Brass.

If you want to hear more of some of these bands then entrepreneur Phil Beck is hosting an evening of entertainment on Saturday night (29th) featuring some of the overseas visitors – details available from 07976 165815.

Also keep your eyes peeled for the usual mix and match scratch bands, including representatives from the RNCM in Manchester and Birmingham Conservatoire, who will be led by Professor Dave Purser, who will be experiencing Whit Friday for the first time.

The judges

A host of familiar names will be camped in caravans, bedrooms and tents for the duration of the night making the all important decisions. Derek Broadbent, Duncan Beckley, C. Brian Buckley, Alan Fernie, David Horsfield, Major Peter Parkes, Gareth Pritchard and Dr Roger Webster are amongst those charged with a long day of march listening.

Results

4BR will aim to publish the results as soon as we can on Saturday and the Saddleworth Champion should be known by Sunday. Whilst the mathematicians will have worked out who has won what in Tameside, no formal announcement will be made until after the Bank Holiday.
---
Tameside:

Area Champions: Area Open Champions: £2,500 2nd £1,000 3rd £750
Local Champions: £750, 2nd £600, 3rd £400

Audenshaw:
Contest: 4.00pm - 10.30pm
Aldwinians Rugby Club
Main Prize: £700 from a total prize fund of £2,525
Adjudicator: Mr P Holland
Contact: Sylvia Donley (0161 336 6814: 07947 018175)

Broadoak:
Contest: 5.00pm - 10.30pm
Broadoak Hotel
Main Prize: £500 from a total prize fund of £1,600
Adjudicator: Dr Roger Webster
Contact: Mr J Smith (0161 3392174)

Carrbrook:
Contest: 4.30pm - 10.00pm
Carr Rise
Main Prize: £600 from a total prize fund of £1,515
Adjudicator: John Davies
Contact: Pete Sims (07931593133)

Denton:
Contest: 4.30pm - 10.45pm
Main Prize: £250 from a total prize fund of £1,115
Adjudicator: Mr Mike Lyons
Contact: Mrs Joan Emery (0161 2925319)

Droylsden:
Contest: 4.30pm -11.00pm
The Bush Inn
Main Prize: £500 from a total prize fund of £2,250
Adjudicator: Mr R Breen
Contact: George Fairclough (0161 3702811)

Dukinfield:
Contest: 4.30pm - 11.00pm
Tame Valley Hotel
Main Prize: £400 from a total prize fund of £1,500
Adjudicator: Mr Dave Chapman
Contact: Brian Hill (0161 3390072)

Heyrod:
Contest: 4.30pm -10.30pm
John Street
Main Prize: £600 from a total prize fund of £1,685
Adjudicator: Mr A McLaughlin
Contact: Miss Lynn Ward

Hurst Village:
Contest: 4.30pm - 11.00pm
Ashton United FC
Main Prize: £300 from a total prize fund of £1,100
Adjudicator: Mr Gareth Pritchard
Contact: Eric Stafford (0161 3300683)

Stalybridge:
Contest: 4.30pm - 10.30pm
Stalybridge Labour Club
Main Prize: £550 from a total prize fund of £1,655
Adjudicator: Derek Broadbent
Contact: Phil Watton (0161 3555818)

Stalybridge Celtic:
Contest: 4.30pm - 10.30pm
Stalybridge Celtic FC
Main Prize: £350 from a total prize fund of £855
Adjudicator: Major Peter Parkes
Contact: Gordon Greenwood (07770 433336)

Upper Mossley:
Contest: 4.30pm - 10.00pm
Mountain Street
Main Prize: £500 from a total prize fund of £1,485
Adjudicator: Mr M Tweedle
Contact: Margaret Gaskell (01457 832752)

Find the venue:
To enable bands to plan their routes and find the contest venues, visit the following link www.tameside.gov.uk/brassband/whitfriday

Further details:
Further details for the Tameside Contests are available from 0161 342 4144
---
Saddleworth and Oldham District:

Area Open Champions: £2,500, 2nd: £1,000, 3rd: £750, Youth: £250
Local Area Champion: £750, 2nd: £600, 3rd: £400

Saddleworth & Oldham Contests are supported in 2010 by Oldham Council and Navigation Brass.

Delph:
Contest: 4.15pm - 10.30pm
Main Prize: £1,000 from a total prize fund of £3,825
Adjudicator: Mr Keith Hollinshead
Contact: Mr R. Rodgers (01457 874354)

Denshaw:
Contest: 4.15pm - 10.45pm
Main Prize: £750 from a total prize fund of £2,690
Adjudicator: A. Holdsworth
Contact: A. Baxter (07920763979)

Diggle:
www.digglebandcontest.co.uk
Contest: 4.15pm - 10.15pm
Main Prize: £650 from a total prize fund of £2,185
Adjudicator: Duncan Beckley
Contact: B. Holden (01457 876177)

Dobcross:
Contest: 4.00pm - 10.00pm
Main Prize: £750 from a total prize fund of £2,885
Adjudicator: David Horsfield
Contact: K. Haynes (01457 877267)

Friezland:
3rd, 4th & Youth Sections only
Contest: 4.30pm - 10.30pm
Main Prize: £150 from a total prize fund of £475
Adjudicator: T. Newbigging
Contact: L. Jones (01457 870081)

Greenacres:
Contest: 4.30pm - 10.30pm
Main Prize: £750 from a total prize fund of £2,405
Adjudicator: Mr B. Rostron
Contact: A. Clayton (0161 678 7255)

Greenfield:
Contest: 5.00pm - 10.00pm
Main Prize: £1,000 from a total prize fund of £3,880
Adjudicator: Mr Ray Farr
Contact: J. Buckley (01457 874794)

Grotton:
Contest: 4.30pm - 10.00pm
Main Prize: £600 from a total prize fund of £2,015
Adjudicator: Mr Roy Roe
Contact: G. Beverley (07932 747590)

Lydgate:
Contest: 4.30pm -10.30pm
Main Prize: £775 from a total prize fund of £2,120
Adjudicator: Mr Derek Southcott
Contact: L. Bearpak (01457 872566)

Lees and Springhead:
Contest: 4.30pm - 10.00pm
Main Prize: £600 from a total prize fund of £2,285
Adjudicator: Mr Alan Fernie
Contact: W. Cullen (0161 6267625)

Scouthead and Austerlands:
Contest: 4.30pm -11.00pm
Main Prize: £750 from a total prize fund of £3,600
Adjudicator: C Brian Buckley
Contact: D. Needham (0161 6520341)

Uppermill:
Contest: 4.00pm - 10.30pm
Main Prize: £1,000 from a total prize fund of £2,195
Adjudicator: David Marshall
Contact: T. Hopkinson (01457 876010)

Further details:
Further details on Whit Friday can be found on www.whitfriday.brassbands.saddleworth.org