2010 Whit Friday - retrospective
3-Jun-2010
Malcolm Wood looks back at a Whit Friday tinged with tragedy and asks whether or not an unique event is in danger of losing its traditional appeal because of anti social behaviour.
---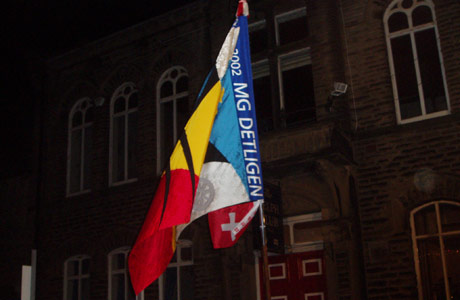 Flying the Whit Friday flag? MG Detligen show the way forward

Above all else, the hearts of anyone involved with Whit Friday this year will have sank at the tragic news of the death of a parent after he and his son were involved in an accident at Greenfield village.

The celebrations of winning bands and intoxicated revellers will have been put in true context by the news. This was an event tinged with real sadness.

Not immune

After consultation with the police and with diversions in place, the Greenfield contest carried on until the last band had played. It was a very difficult decision to have had to be made, but with the venue experiencing its biggest crowds for many years, asking people to leave immediately could have caused further problems.

However, everyone knew the remainder of the contesting night had become meaningless.

Unfortunately, not for the first time, Whit Friday found out that it isn't immune from the type of behaviour witnessed in many a town centre on a late Friday evening.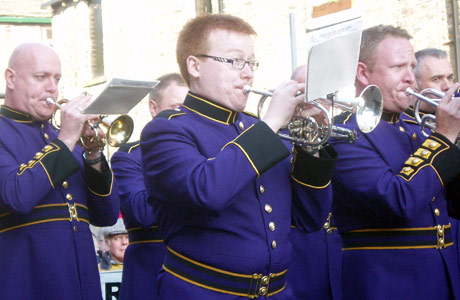 Traditional Whit Friday pleasures: Brighouse in their contesting best

Offensive

Despite increased organisation and restrictions, the free flow of alcohol is starting to fuel the moronic, loutish behaviour of a minority of troublemakers that has at first been attributed as 'high spirited', then is reported as troublesome, and now is seen far too often as downright offensive.

The opportunity of listening to brass bands in some of the Saddleworth villages in particular (Uppermill is the main attraction for the troublemakers and key focus for the Police) has become nothing short of a depressing chore. The tradition of Whit Friday may well be unique to the Saddleworth and Tameside areas, but it is now one that is increasingly tarnished by a patina of yobbish anti social loutishness.

Fed up

The good folk of the villages are fed up with it, the organisers of the contests are fed up with it, the bands are fed up with it, and the true supporters who come here year after year to enjoy themselves are fed up with it too. Everyone it seems except the idiots themselves.

And with money tight, it is hard to see what can be done about it.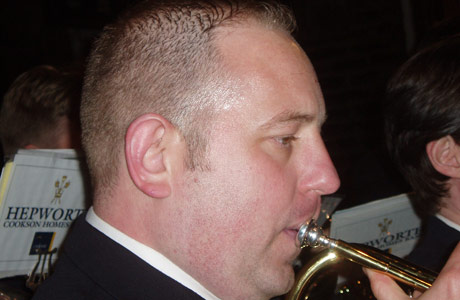 Leading the line for Hepworth: Alan Hobbins of Hepworth (Cookson Homes)

Excellent organisers

The excellent organisers are trying their hardest to make sure their contests are run well, but the problems (despite the need for more volunteers) are not associated with the contests themselves – its in the streets, around the pubs and clubs, the roadsides and street corners.

Police instructed the pubs in Saddleworth to have bouncers on the doors and close at 11.00pm, but still there were arrests. The next step could well be an imposed restriction on the finishing times of the contests themselves.

Thankfully, Tameside has less of a problem mainly due to the logistics of the venues, but even here reports suggest an increase in troublesome behaviour.

The death of a bystander may well be the trigger point for a review of the events by both local authorities and the Police that may see the unique character of Whit Friday change forever.

That would be a tragedy in itself, as there was a great deal to enjoy once again on a day started at 8.00am (with the wonderful Processions of Witness) in glorious sunshine and ended not long after midnight. On days like these, something that started way back in 1884 can never be allowed to be ended by the actions of a brainless minority.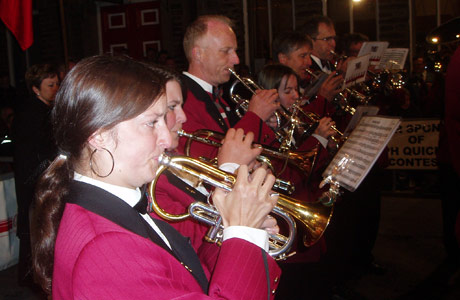 Swiss roles for Saanaan

Overseas challenge

As has become a welcome norm a number of overseas challengers and visitors embraced the Whit Friday tradition this year in both Tameside and Saddleworth.

Robert Schotte, the former Belgian EBBA representative was spotted with a contingent of supporters at Uppermill in the morning, whilst the EU flag was flying with bands from Norway, Germany, Switzerland and Denmark – all of whom thoroughly enjoyed their experience, and some notable success.

The Danes of Lyngby Taarbaek and Norwegians of Stavanger warmed up for their appearance at the Masters on the Sunday, by finishing 11th and 7th in the overall Saddleworth prize list.

The cream

A total of 135 bands were out and about in the Saddleworth district, and in addition to the overseas challengers there was a large contingent of Championship bands putting their necks on the line against bands from the lower sections, and those famous 'scratch' outfits.

Although Black Dyke opted out this year, Brighouse & Rastrick, Fairey, Foden's, Hammonds, Leyland, Marsden and Rothwell were intent on improving their bank balances.

Results on Whit Friday can always throw up a surprise, although the undisputed 'King of Tameside', Garry Cutt (and he once again retained his crown despite a well documented change of banding address) hit the nail on the head when he made the point that the night is a great leveller, but if you play consistently well, you get the rewards.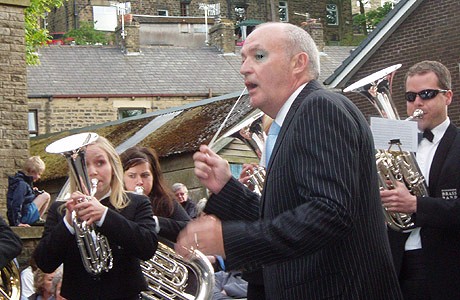 A familar face with an unfamiliar band: Allan Withington with Stavanger

Hepworth's bragging rights

With a new Saddleworth champion guaranteed, it was Hepworth (Cookson Homes) under Brian Grant who took the spoils for the first time since 2006, after a series of impressive performances on George Allen's 'The Wizard' which saw them finish no lower than fourth out of the nine venues they played at.

Withh Alan Hobbins on top man (and a couple of familiar deps including Mark Bowater, Anna Hughes-Williams and Andy Padget in the ranks) they enjoyed a hat-trick of victories at Denshaw, Greenacres and Lees & Springhead, whilst bolstering their coffers further with a quartet of runners-up places at Delph, Dobcross, Greenfield and Lydgate.

Further success came at Scouthead & Austerlands and Uppermill, so by the end of the night, the band treasurer was licking his lips in anticipation of over £7,500 boosting the credit side of the band's latest bank statement.

Brighouse go close

Brighouse & Rastrick under Alan Morrison ran Hepworth close for the title.

The Yorkshire Area Champion performed 'Ravenswood' and took four first prizes, but in the final breakdown, a fifth and sixth place at Greenacres and Delph proved costly in the search for the top prize.

That said with the lads from West Riding bagging plenty of individual prizes and went home with over £5,000 for their night's work.

Rothwell third

As expected, the consistent Rothwell Temperance (and how perverse that moniker is on a night like this) continued their good form picking up £3,600 in prize money after 'The Wizard' brought them plenty of success, with noteworthy victories at Diggle and Dobcross.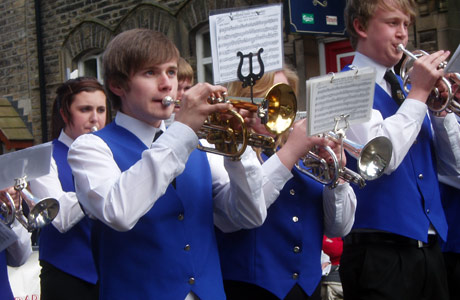 Youth playes its role on Whit Friday with Rochdale

Marsden's treble

The local honours in Saddleworth went to Marsden directed by Glyn Williams who performed 'Knight Templar' across ten venues. They certainly enjoyed the midnight hour at Delph, where they took the first prize of £1,000.

Meanwhile, Oldham (Lees) and John Collins had a fine night picking up the runners-up spot and they'll remember for a very long time the night they beat Brighouse twice – at Delph and Greenacres.

Andrew White's Co-operative Milnrow continued its good form too, by taking third, whilst the Youth prize went to Dobcross in what was another tight battle for the title.

Fairey tale

In Tameside, it was another night of intense drama as Foden's bid for a ninth successive title was ended by arch rivals, Fairey (Geneva) – conducted by none other than Garry Cutt.

Tied at the top of the overall standings, only the result at Carrbrook remained to be declared – and the destination of the overall Tameside Championship title.

It was a case of calls to anyone who may know, but around 9.00am on Saturday morning, the news came through that Fairey had won. A new champion band (although Garry Cutt has retained his individual title more times than Phil Taylor) was crowned.

In addition to Carrbrook, the Stockport outfit took the honours at Denton, Dukinfield, Stalybridge Celtic and Upper Mossley to add to their second places at Droylsden, Heyrod and Hurst Cross.

Not content with that, they also raided Saddleworth and took the spoils at Denshaw and Scouthead. With the Tameside first prize of £2,500, Fairey went home with £6,750 in the bank.

President Cutt

If Fairey's success was sweet enough, then Garry Cutt's triumph was coated in sugar.

Garry had of course previously conducted Foden's to five successive titles and so he knew just what was needed on the 'The President' for it to pay dividends for Fairey. It gave him an unprecedented (or should that be unpresidented) double-hat trick of titles.

Bridesmaid

Foden's and Alan Lawton couldn't have done anymore to retain their Tameside crown.

Their successes on 'The President' came at Audenshaw, Broadoak, Hurst Cross and Stalybridge and with other prize money achieved across their thirteen contests including those in Saddleworth, their treasurer banked £4,325.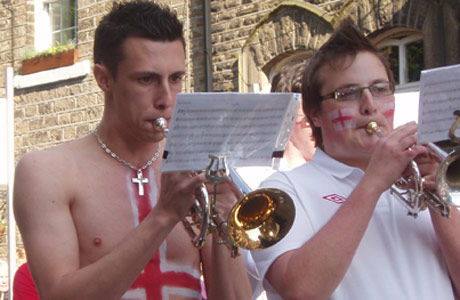 England's green and pleasent land...

Leyland third

Leyland and Richard Evans revived memories of the days when he always led the band whenever they went on the Whit Friday circuit, as the Lancastrians played the march, 'The Wizard' to pick up the winners prize at Droylsden to finish third in the order of merit.

The local favourite, Ashton-under-Lyne (Total Rope Solutions) had a cracking night competing at all of the Tameside venues. Martyn Evans and his band were in fine form (also performing 'The Wizard') and in addition to taking the scalps of Fairey and Leyland along the way, they made it a hat-trick of local titles and banked over £2,600.

A consistent night

Away from the top level prize winners, it proved to be a consistent night for a number of bands.

Hammond Saltaire picked up its fair share of prizes, as did Boarshurst, Farnworth & Walkden, Haslingden & Helmshore, Rochdale Borough Youth, Smithills and Macclesfield Youth.

In addition to Garry Cutt's record breaking achievement, the venues of Audenshaw and Diggle, both in their second year, improved on the numbers of bands attending whilst Denton, Droylsden and Dukinfield all set new records.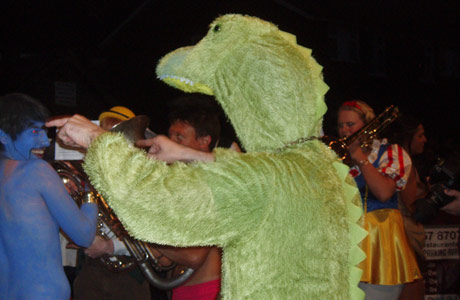 It seemed like a great idea at the time...

Bizarre

Finally, as has also become an entertaining (or depressing norm depending on your tastes) there was the usual some bizarre dress codes from a number of scratch bands.

St Etienne Brass (Huddersfield University) backed England's World Cup challenge by going all patriotic, whilst Welshman Cai Isfryn dressed as a dragon with Disney Brass – the scratch band from the RNCM in Manchester.

Proof perhaps that what seemed like a good idea at the time over a pint in the University bar, may not prove to be as wise a choice come the night.

Malcolm Wood