Sustaining the future of Welsh banding - Staggering decline addressed in Wales
14-May-2010
C Brian Buckley reports from a summit meeting in Wales, as the causes of banding decline in the Principality are discussed.
---
Growing concern that long established brass bands in Wales are struggling to survive due to an ever increasing lack of young recruits, was the catalyst that prompted ten leading personalities in Welsh brass banding circles to meet together in Cardiff.

Causes

The meeting took place in the offices of Ty Cerdd, located in the prestigious surroundings of the Wales Millennium Centre, Cardiff, to formulate an Action Plan to examine the fundamental cause(s) of a serious situation that has resulted in a 36% fall in the number of bands competing in the Annual Welsh Regional Championships during the past decade.

Even more marked is the staggering "60% decline" in the number of bands competing in Section 4 of this event; particularly when it is strongly rumoured that the number of young people currently receiving brass and percussion tuition in schools in Wales has been increasing during the past few years!!!

Movers and shakers

The meeting was chaired by Pedr Roberts (Chair of the Welsh Regional Championships) and facilitated by Keith Griffin, Director of Ty Cerdd - Music Centre, Wales.

Ty Cerdd supports over 400 music-making societies, including all brass bands throughout Wales, and which founded and runs the National Youth Brass Band of Wales, who for many years, has been widely recognized as one of the premier National Youth Brass Bands in the world.

Sat around the table were many of the Movers and Shakers of the component parts of the Welsh brass band fraternity: local Brass Band Associations, Contest Promoters, LEA - Music Support Services, ABBA and experienced professional conductors and advisors; absent colleagues had already pledged their full supporting compromise.

Active support

It was clear that all delegates were keen to highlight their active support to drive this timely initiative forward at a progressive pace.

It was hoped that the outcome would realistically achieve the essential goal of encouraging more of the young people, currently relishing the benefits of brass and percussion teaching in local schools in Wales, to make a durable, positive link with the community band in their locality.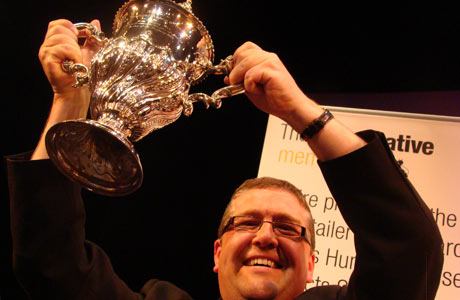 More Welsh successes: Gwyn Evans leads the way in North Wales

Gwent Youth mirror

The highly successful Greater Gwent Youth Band (GGYB) has recently celebrated its 50th Anniversary. The prowess of this band is also being mirrored in North West Wales!

Throughout its colourful history the GGYB has demonstrated continuing success in perpetuating the strong bonds that have existed between them and local community bands.

The structure of this linkage is being constantly renewed and refreshed, but the strong framework of this remarkable success story can clearly be applied elsewhere in Wales to the mutual benefit of community bands and music support services, but most significantly to the young players themselves.

Successes

These successes simply emphasize the importance of encouraging emerging players to broaden their experience and enjoyment of music by becoming attached to community bands prior to their departure into higher education, either locally or elsewhere in the UK.

This is an essential part of the current focus upon the sustainability of communities and life long learning pathways.

Serious actions

Each delegate left the meeting tasked with a series of actions to be completed and reported upon at the next meeting (already in the diary), so that an appropriate strategy and timescale for completion can be agreed and fulfilled

This exciting initiative was launched on Saturday 8th May 2010, under the Banner of the Welsh Brass Bands Forum.

C. Brian Buckley