2010 Great Northern Spring Brass Arts Festival - Retrospective
13-May-2010
4BR looks back at the inaugural Great Northern Spring Brass Arts Festival to find out if it lived up to its very long name...
---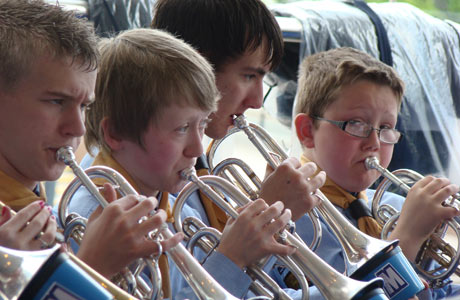 Scouting tips? The 2nd Rossendale Scout Group provided early entertainment

Although the halcyon days of the entrepreneurial brass band promoter John Henry Iles are now consigned to the history books, Philip Biggs is doing a pretty good job of his own amid the financial difficulties of the second decade of the 21st century.

He does of course have more fingers in brass band pies than a hungry bass section in a motorway service station, but you can't fault him for putting his neck on the line at a time when pennies are being counted in just about every banding household in the land.

Eye catching title

His latest venture took place on Sunday at Bridgewater Hall in Manchester with the first staging of the Great Northern Spring Brass Arts Festival – a follow on from the equally eye catchingly titled 'September Great Northern Brass Arts Festival.'

The link to John Henry Iles may well be tenuous, but the salesman in Mr Biggs can't help make sure that no one is left in any doubt that the connection between this event and the glory of the Belle Vue years isn't forgotten.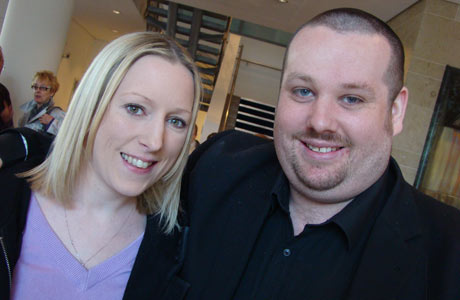 Les & Pete: Lesley Howie and Dr Peter Meechan team up after their Handel premiere

Aspic pickled heritage still sells, even if the £5.00 programme was in need of a severe bit of proof reading (since when did the National Championships begin in 1945?).

Heritage sells

And as was shown on the weekend, Mr Biggs knows his market pretty well too, with an encouraging turn out of cognoscenti, supporters and casual listeners enjoying the six featured bands as well as the informal music making from the 2nd Rossendale Scouts Group Band and Scherzo Brass ensemble.

The headline acts were sure to bring in a decent crowd, with the recently crowned triple European champion Cory, sharing the evening Gala Concert stage with Brass in Concert winners Foden's.

In addition, the afternoon performances in the main hall saw Russell Gray at the helm of Leyland and Professor David King with Brighouse & Rastrick, whilst Alan Morrison fronted Wingates and Samantha Harrison led the talented sprites of Elland Silver Youth Band.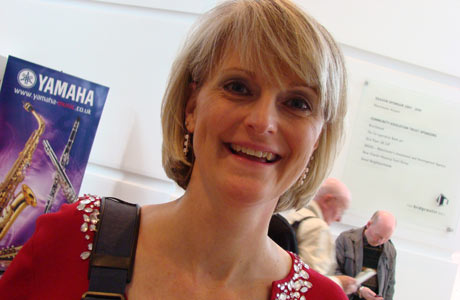 American trumpeter Amy Gilreath enjoys her taste of British brass bands

The featured soloists were a talented bunch too, with David Childs and Owen Farr leading the way with Cory, and Foden's showcasing Glyn Williams, Mark Bousie, John Barber and Mark Landon.

Brighouse accompanied Katrina Marzella, Simone Rebello and vocalist Lydia Hoen Tjore, Leyland backed trumpeter Amy Gilreath from the USA as well as their own Kristy Rowe, Elland showcased rising cornet star Philip Varley and Wingates provided the accompaniment to Lesley Howie.

American delight

With John Maines as a welcoming host, Scherzo Brass provided the light entertainment between performances on the first floor concourse and with the Rossendale Scouts injecting a touch of early morning enthusiasm, a long day proved to be an enjoyable one.

4BR spoke to Amy Gilreath, and she was particularly delighted to have been part of the event. It was her first time performing as a soloist with a British brass band, although she has been a member of the star studded Brass Band of Battle Creek.

"The sound they make is fantastic," she said. "Coming here is a real treat for me. To hear the bands play and to be part of such a Festival has opened my eyes to brass banding more than ever. I've had a wonderful time with Leyland and I hope to be able to play more with bands in the future – especially over here in Britain if I get the chance."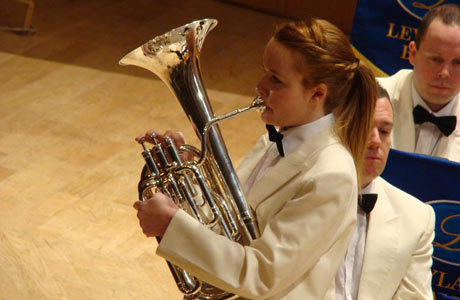 The impressive Kristy Rowe was featured by an equally impressive Leyland Band

Unlike the Brucknerhaus Hall in Linz last weekend, where the sound of two impressive bars of Bruckner's 'Fifth Symphony' heralds the impending start to a concert, Manchester provided something a touch more prosaic with a disembodied tannoy voice that wouldn't have been out of place telling shoppers at Tesco that it was last call on half priced pork pies in aisle six.

Fine venue

Still, once inside the imposing concert hall doors the auditorium gave you a timely reminder of what a fine venue it is – and one that the brass band movement could well think about reappraising, some 14 years after it was last used to host a major contest.

There is no doubt that it is a big old barn to fill (it can seat 2,400 people) and that the acoustic can be boomy if it isn't pretty full with paying customers, but the sight lines are remarkable, and with the acoustic 'void' tempered by the in house staff, it is still an impressive place to come and listen to brass band music making.

Curly edged

The argument was used that its wasn't 'suitable' because of the lack of trader space and parking facilities, but it is no worse than Symphony Hall and certainly a darn site better than the Albert Hall.

Even the price of a cup of tea and a curly edged sandwich doesn't send the pound into freefall on the foreign exchange markets either.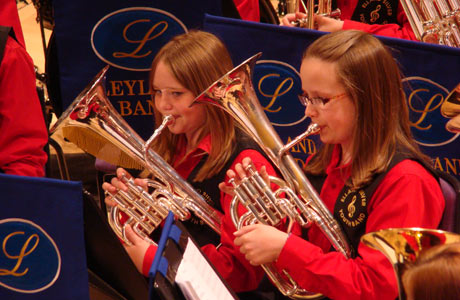 Youth vibrancy from Elland Silver Youth under Samantha Harrison

The playing was the usual mix of the great, good, decent, average and sloppy, but the soloists in particular were all on very good form and it was encouraging to hear no less than four premieres (saying something is a 'world' premiere is rather presumptuous) and a pretty eclectic choice of music.

Eclectic repertoire

We therefore were entertained by the serious stuff of 'A Tale as Yet Untold' and 'Psyche', to the more challenging idioms of 'Wired' and 'Lock Horns, Rage On', and the old lollipops of 'Stars and Stripes Forever' and 'Heroic March from Epic Symphony'.

If you stayed for the day, you can't say you didn't get your money's worth.

Iwan Fox
---

Reviews of the Great Northern Spring Brass Arts Festival:

Cory Band & Foden's Band Gala Concert review:
www.4barsrest.com/reviews/concerts/con644.asp

Brighouse & Rastrick Band review:
www.4barsrest.com/reviews/concerts/con643.asp

Leyland Band & Elland Silver Band review:
www.4barsrest.com/reviews/concerts/con642.asp

Wingates Band review:
www.4barsrest.com/reviews/concerts/con641.asp