2010 Spring Festival - Postcard from Blackpool
20-May-2010
You need a little bit of luck to succeed at the Spring Festival - some you make and some you don't.
---

Heading to the British Open for Tredegar

More images can be seen at:
http://www.pbase.com/troonly/2010_grand_shield

As ever at Blackpool, everything is underpinned by a little bit of luck – some you make and some you don't.

Just ask Tredegar.

Copper coin taste

Last year they left the stage of the Winter Garden Opera House beaming with delight, only to find that despite principal cornet player Dewi Griffiths winning the 'Best Instrumentalist' Award, they still came fourth.

This year, they must have experienced the same horrible copper coin taste in the mouth as the top four places were being announced, despite the star cornet player once again winning the individual prize.

Delight and relief

That all important bit of luck though was on their side; and as compere Bob Kerwick announced their name (after his usual little dramatic pause) the celebrations – a mixture of delight and relief - began in earnest. After a five year stay in Grand Shield purgatory, they were back at the British Open.

Ian Porthouse admitted that his band had 'won ugly' (although to be fair, they were still many people's pick after a detailed, classy rendition of 'Rococo Varaitions').

He also very honestly acknowledged that he felt they had left the door open on a performance that didn't quite live up to his demanding expectations – or those of a band that had won all three contests they had entered so far this season.

Serendipity

Those expectations however are of a very good band on very confident form, so despite the odd clips (and no band came away unscathed) the overall quality of balance and tonality, detail and dynamic variance still shone through.

They now head to Kettering and the 'Masters' as one of the favourites for that title, but also knowing that at least one of their nine contesting lives has been used up for the year.

You get the feeling that they won't want to rely on serendipity there.

Good fortune

Others band left the Winter Gardens also reflecting on the capricious nature of propitious good fortune – or the lack of it: You can guess which pair from Tongwynlais and Pemberton or Flowers and Reg Vardy would have been cursing their luck on Saturday night.

The Grand Shield hasn't earned its reputation of being the most difficult contest to win in the banding world for nothing – and it's almost impossible to win through from it without a touch of propitious luck.

Slice of luck

In the Senior Cup, Woodfalls would have wondered whether they were ever going to get an overdue slice of providence too.

A week before the contest MD Gareth Pritchard had been faced with possibly losing his solo trombone player after he smashed his knee to pieces. Not too bad you may think in the great scheme of things (it wasn't his lip), but not exactly fortuitous when Scott Stewart insisted on playing the demanding solo in 'Year of the Dragon' standing up.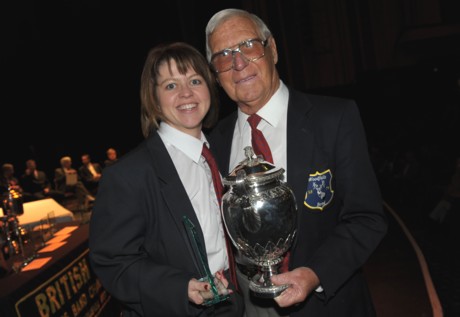 Plenty to smile about for Woodfalls

You need to be a damn confident player to play the iconic solo at the best of times, but to so hobbling like Michael Ballack on his Wembley appearance the same day, was loading the odds of the contesting dice at touch.

Thankfully, everything went to plan, and Scott was able to get properly 'legless' in the bar later the same night. If it hadn't, he would have still be hopping home down the M6 as you read this.

Good planning

Meanwhile, in the Senior Trophy, the Beaumaris from North Wales was celebrating their success thanks to a little bit of good fortune too.

They were able to sign the recently crowned European Solo Champion, Glen Van Looy on solo euphonium in time for their appearance on 'Le Roi d'Y's' .

How's that for good planning – or a slice of good fortune?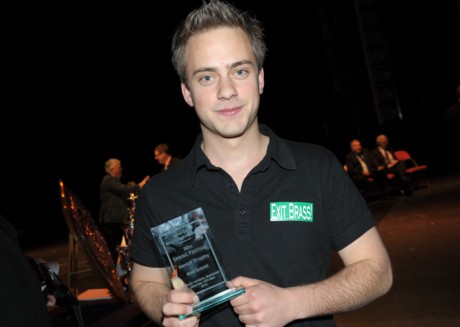 Glen Van Lanfair PG...

A few years ago, Welsh rugby got into all sorts of problems with the 'Grannygate' saga, when New Zealand rugby players found out that they were in fact third generation Welsh émigrés, whose grandmothers used to work as a pit pony in the South Wales coalfields.

To be fair to Glen (now re-christened Glen Van Llanfairpwllgwyngyllgogerychwyrndrobwllllantysiliogogogoch Looy to improve his Welsh credentials) he jumped at the chance to play at Blackpool with the band, and despite the obvious language difficulties he sounded more Welsh than most from those dark, recessed areas.

And he wasn't the first, and he won't be the last overseas player to be signed up by competing bands for this contest either. Luck would have it though that the set work was a piece that did shine the spotlight on him – and he didn't let his colleagues down either – winning the 'Best Instrumentalist' prize.

Own luck

Sometimes bands make their own contest luck, and perhaps Tredegar, Woodfalls and Beaumaris were a bit luckier than most in making their own this year.

Rivals may curse them this time around, but not one of them will complain too much if serendipity shines on them in the same way in 12 months time.

Iwan Fox