2010 Spring Festival - Grand Shield: retrospective
20-May-2010
The Welsh take control of the Grand Shield as Tredegar and Tongwynlais triumph on Rococo Variations.
---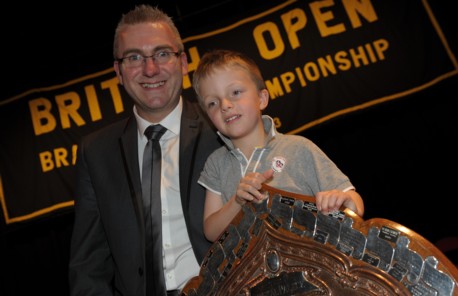 Well done Dad: Harry Porthouse enjoys himself with his father and a big old shield

More images of all competing bands can be seen at:
http://www.pbase.com/troonly/2010_grand_shield
To quote an aged contesting cliché: What a difference a year can make.

Turn the Grand Shield clock back twelve months and it was a jubilant Tredegar that walked off the stage of the Opera House in the wake of a majestic performance of 'Contest Music'.

Fast foward

It was jubilation that swiftly turned to devastation however as they suffered the fate of being consigned to fourth place, and the prospect of another year away from the vastly differing surroundings of Birmingham's luxurious Symphony Hall.

Fast forward to 2010, taking in a little matter of regional victory over European Champions Cory along the way, and in complete contrast, they left stage right abjectly disappointed despite a classy, musically astute performance of Edward Gregson's 'Rococo Variations'.

As a consequence it could be considered the ultimate gesture of irony that the band's despair proved ill placed, as at the end of a long day it was Tredegar that got the vote of Stephen Roberts and William Relton to be declared Grand Shield victors.

Win ugly

It was a victory that prompted the post results comment from Ian Porthouse that "sometimes you just have to win ugly" - but the reality of how the contest unfolded was very much removed from the MD's misplaced modesty.

As had been discovered at the Open in 2008, 'Rococo Variations', Gregson's first foray into the brass band contesting arena for nearly two decades, is one of those rare recent works that whilst providing a stern technical test also succeeds in retaining its mature musical integrity.

A number of the bands and MD's on the day found the variation structure difficult to capture in convincing fashion as numerous performances fell prey to a feeling of musical dislocation, often coupled with issues of tuning and slips that mounted dangerously, particularly in the slow variations.

The outcome was that no one came out of the experience unscathed, a fact that resulted in opinion on the prospective qualifiers varying wildly around the hall in the run up to the results.

Dream draw

For Tredegar though, the day had got off to a good start with a dream draw of nine.

The band's playing had an immediate stamp of stylistic authority with a stately sense of the baroque in the theme that combined both grace and pathos.

It was the precursor to a performance that although not without its individual slips and fleeting moments of hesitation, was marked by a strong sense of musical cohesion and some magical moments in the slower variations where unlike so many, the soloists created space and time for themselves in impressive fashion.

Rewarded risks

Wide ranging dynamics took amply rewarded risks in the quieter music and were matched at the opposite end of the sonic scale by superb full band sounds, whilst principal cornet Dewi Griffiths was rewarded for his fine efforts with the soloist prize for the second year in succession.

Flawless the performance was not, but in the context of the other eighteen that surrounded it, it was always on target for a place at the British Open.

Despite the band's disappointment, the result might just have gone some way to address the gut wrenching despair of the 3rd & 4th places that took Tredegar so near to Birmingham, and yet so far away, in the last two years.

Remarkable story

With Beaumaris already victors in the Senior Trophy, the announcement that Tongwynlais would be heading to the Open made for what in many ways was the most remarkable story of the day.

Reversing a lowly finish of 16th last year, the result for Philip Harper and his band not only capped a great day for the Welsh, but also put the icing on the cake of a remarkable streak of success for the Pontin champions prior to Philip's departure to take the reins at Leyland next month.

Promotion from the First Section to be followed by qualification for both the National Finals and the Open in the same year speaks for itself.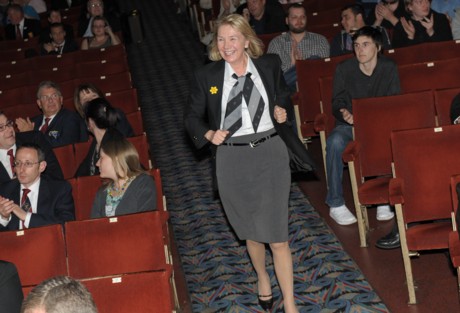 Run Jenny run! Tongwynlais race towards the British Open

Until Tredegar it was Tongwynlais that gave the outstanding performance of the early part of the draw, making a real mark from number three and displaying character and execution that proved to be amongst the best of the day.

It was clear that preparation was a key factor - the music hanging together with a satisfying sense of shape but not without excitement with the 'Scherzo' flying along with genuine bravura.

There were occasional lapses in focus in the slower variations but this was a performance that oozed confidence.

They will no doubt be grateful that they will be losing access to its musical blood supply when Philip Harper's allegiances encompass both Wales and Lancashire in the future.

Poison chalice

The poison chalice of 3rd place would usually be a bitter disappointment to a band, but for Mark Bentham and Pemberton Old DW, the narrow miss on Open qualification was an impressive achievement, even though it might have come as a surprise to many in the audience.

Technically it was very precise, growing from a flowing opening theme and a 'Toccata' of spirit and drive. It was also put Gregson into overdrive; muscular, meaty and high octane.

There was no denying that Mark Bentham took the music by the scruff of the neck in a reading that was unlike any other on the day.

It was a 'love it or hate it' situation for many listening, but it clearly struck a chord with Steve Roberts and William Relton in the box.

Good mention

Jeremy Wise and Redbridge had been mentioned by a good few in the Opera House as possible winners following the band's performance from a late draw.

Although 4th was not the desired result for the London and Southern Counties Champions, it brought to an end something of a jinxed Grand Shield run that had only once seen it once squeeze into the top ten in as many years.

The playing was at times impressive stuff indeed - exciting, dynamic and stylish. There was also just a touch of subtlety missing in the 'Waltz' however, whilst the 'Moto Perpetuo' flew along at the occasional expense of absolute precision.

The result might just mean that the band can approach next year's contest with renewed optimism – they came close here.

Bracing

In 5th, BTM were perhaps the closest to Pemberton Old in approach; big, bold and at its best, bracingly invigorating.

There was tight ensemble evident and although we had the band just outside the top six, had there been just a touch more dynamic and stylistic contrast to combat the sheer muscularity of the playing, they could have found itself pushing for the top three.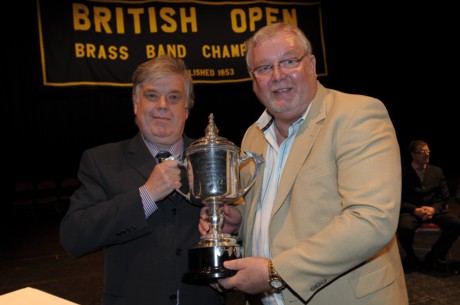 Just missing out: Pemberton Old gain third place

Surprise

Gary Cutt already knows what it takes to win on 'Rococo Variations', although after Flowers gained 6th place he may well be wondering just how he experienced that in the first place.

Along with Reg Vardy's 10th, Flowers was the greatest surprise amongst the results (we had them at the top of a very close pile).

From a classy opening, this was one of the most stylishly constructed renditions with tempos judged to perfection, edge of the seat excitement in the 'Moto Perpetuo' and a majestic, crowd pleasing conclusion.

For all its positives however, it wasn't without its noticeable lapses, and in the end they were to cost dearly.

Similar

In 7th & 8th, Bactiguard Wire Brass and Wingates gave remarkably similar performances: both with passages of quality, yet lacking urgency in the faster variations and not quite capturing the atmosphere in the 'Lament'.

For Wingates it was a tired sounding band that passed the finishing post but Paul Andrews and Alan Morrison carefully thought out both performances that never quite realised their potential.

Duncan Beckley gave another thoughtfully prepared account with Newstead, but numerous uneasy moments put pay to a chance of a higher finish than 9th whilst Reg Vardy, directed by Nick Childs recovered from a somewhat uncomfortable start to deliver an engrossing account – which unfortunately for them still could only manage 10th.

By the 'Toccata' it bristled with rhythmic detail, followed by a 'Siciliana' marked by a finely judged lilt and impressive dynamics. A majestic ending seemed to put the band very much in the frame, but for the men in the box, that early damage made sure it failed to hold its own.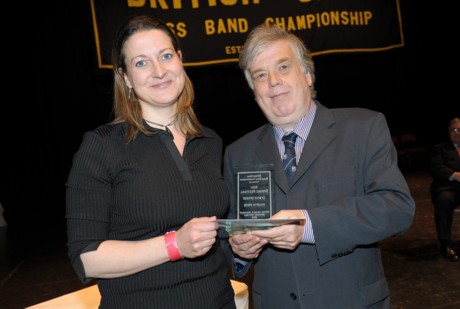 Getting closer for Redbridge in fourth place this year

Cautious

Hammonds Saltaire and Morgan Griffiths put behind them their Bradford disappointment, but couldn't quite raise their game to the highest level heard on the day (tuning issues played a major part) to finish 11th, whilst in 12th, Jaguar (Coventry) and Dave Lea gave a well shaped account, which although having a good deal to commend, tended to the cautious in its choice of tempi, ultimately hampering its excitement factor.

Behind them, Thoresby Colliery and Freckleton both faltered at the first hurdle with unsettled openings that subsequently sent the dominoes toppling in the 'Toccata'.

Although both performances recovered their poise, two tired bands completed performances that were always a little way behind the required pace.

Grand Shield newcomers Kingdom Brass under Andy Duncan, battled valiantly with Gregson's score, but nearly came off the rails completely in the 'Waltz' in an error strewn performance to finish 16th, just enough to see the band back in the Grand Shield next year.

Irony

It was with a touch of irony therefore that it was Andy who had directed 17th placed Mount Charles to an impressive third last year, narrowly missing out on an Open spot.

On this occasion though, Philip McCann directed a somewhat lack lustre and untidy performance that ended in a reversal of fortunes for all the wrong reasons, although they will not drop down to the Senior Cup due to Burry Port's pre contest withdrawal.

Relegation though for Skelmanthorpe, Sovereign and Marsden Silver, as all three struggled to deliver a consistent, error free performance.

All three will also know that they didn't quite do themselves justice either. For Sovereign, it was a very different band to that played so well at the Midland Area.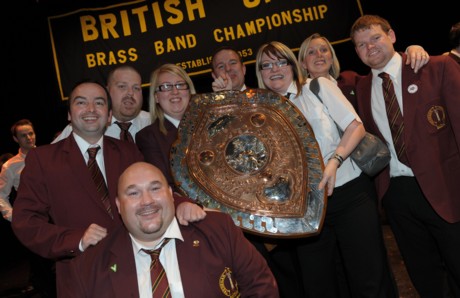 Smiles of delight and relief for Tredegar's players

Debutants

For Grand Shield debutantes Skelmanthorpe and Marsden Silver, the all too brief experience of life in the upper tier will have been a sobering one.

Marsden and Glyn Williams can feel a tad hard done by that the number one draw hurt their chances more than possibly it should have, whilst Skelmanthorpe will have known just where they now stand in the greater scheme of top section things after a performance that stretched a young band to its limits.

Come Saturday night then, Blackpool resounded to the robust and ever so slightly intoxicated strains of Welsh song as two bands from the principality found themselves in the British Open.

After standing on top of the contesting pile at the Grand Shield, the prospect of 'Standing on the Shoulders of Giants' at Symphony Hall now beckons.

Christopher Thomas