2010 Spring Festival - Senior Trophy: retrospective
20-May-2010
The floodgates opened in the Spanish Hall on Saturday, but it was Beaumaris who was left high and dry in winning the Senior Trophy in fine style.
---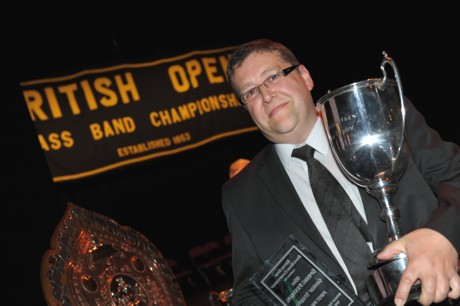 High and dry and King of Y's: Gwyn Evans with the Senior Trophy

In what turned out to be a contest that certainly sorted the wheat from the chaff, a performance of real quality from Beaumaris under the direction of Gwyn Evans took the Senior Trophy to Wales for the first time in its 78 year history.

Clear winners

They were the clear cut winners on a day when very nearly two thirds of the competing bands failed to overcome the technical as well as musical problems posed by 'Le Roi d'Y's'.

Spring Festival organizer Martin Mortimer may well be right when he says that if there was the room at the Winter Gardens, then they would be able to put on a fourth qualifying contest, such is the demand from prospective bands.

However, if this contest were an accurate indicator of the quality that is to be heard of potential British Open bands under pressure, then that would be a disaster. There was a host of pretty average, and at times, down right poor performances on a piece that should be standard fare for true championship section outfits.

Play the piece

Endeavour and enthusiasm are to be applauded of course, but we are talking about bands that are notionally just three steps away from Symphony Hall. At least a quarter simply couldn't play the piece.

Thankfully, that wasn't the case with the bands that occupied the top six or seven places come the announcement of the results – and whose quality was so obvious that it made Dr Robert Childs and Richard Marshall's task a fairly straightforward one in picking both the winners and the three qualifying bands.

Beaumaris, Zone One, Blackburn & Darwen and Friary Guildford were a class (or three in the case of the winners) apart.

Behind them came a small clutch of decent, well managed efforts (notably Wrexham and Northop) and that captured the sense of impending foreboding in the opening section, the lyrical beauty in the main solo lines and the excitement of the battle scene finale, but just had too many annoyingly noticeable slips in execution.

Tsunami

The actual opera ends with the floodgates opening and half the city submerged in the ensuing tsunami, but for many bands, their chances of success were sunk as deep as lagan on the sea floor by poor tuning, insecure solo lines and percussion that at times sounded as if a plumber was belting the locks to the floodgates of the city with a lump hammer.

MDs should know that the Spanish Hall doesn't provide a generous acoustic to those hell bent on doing a Spinal Tap and turning the volume dial up to 11. Those who didn't, certainly do now.

Unlucky

A couple of bands could count themselves a touch unlucky their efforts didn't gain reward (Wakefield Metropolitan in particular), but you found it hard to disagree with the findings of the judges on this occasion.

What descriptive words they wrote in respect to some performances would have tested the skills of Charles Dickens.

Operatic style

The winning performance by Beaumaris conducted with real appreciation of operatic style by Gwyn Evans was one that would have graced the British Open itself.

Full of dark atmosphere to open, their lyrical soloists (especially Glen Van Looy on solo euphonium, who won the Best Instrumentalist award) were not just secure, but refined in their execution, whilst the choice of purposeful tempos was allied to balanced dynamics.

By the time they hit their stride in the finale, full of controlled excitement and with balance between the theme and the repetitive triplets (so many performances were blighted by cornets sections rattling out the triple tonguing like demented Gatling guns) they were, just like the main protagonists in the opera itself - home and dry.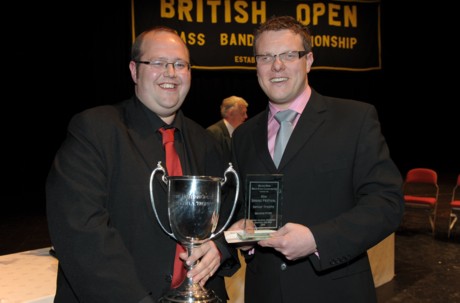 In the prize winning zone: Londoner's Zone One gain promotion

Excellent

The band that ran them the closest was Zone One from London – a band made up of some wonderful constituent parts, and moulded together by an excellent MD in Richard Ward.

Perhaps they would have come even closer to the winners if they had been able just to put an even shinier rehearsal gloss to the finished rendition. Even with the odd moment of unease and the occasional bit of poor internal balance, they sounded a classy outfit, and well deserving of their runner up place and promotion.

Robust and colourful

The same applied to Blackburn & Darwen and Friary Guildford who join them in the Senior Cup next year.

Both produced robust, colourful, exciting accounts backed up by solid ensemble, secure soloists and MDs who knew when to keep the lid on the dynamic in the Spanish Hall.

Each had their edgy moments, but the excellent direction meant a tight rein was kept on the extremes of dynamic and tempi, and as a result the warmth of their well balanced ensemble sounds poured through. They were fine value for their promotions.

Detailed

The final top six places went to two well directed accounts from North Wales bands (and what a good contest it was for them).

Wrexham Brass confirmed the encouraging progress they are now making under Wayne Ruston's careful direction to claim 5th place with a well constructed performance, whilst Northop, under Thomas Wyss, provided a lighter musical counterpoint in coming 6th with a rendition full of more lyrical qualities.



Heading upwards for Balckburn & Darwen in third place

Flotsam and jetsam

Behind these (and with just a couple of exceptions) came the flotsam and jetsam of flood damaged performances.

Wakefield Metropolitan's lyrical account in coming 13th, under Norman Law was a performance that was blighted by a high error count but for many caught just the right sense of musical imagination, whilst Felling could have surely been a contender if it wasn't for the aggressive intent that permeated the solid execution to end them in 8th.

Lydbrook's persuasive approach was fatally undermined by a high error count, whilst the same could be said of Point of Ayr, whose performance was also intelligently laid out by the MD.

Both MDs made the most of their resources, and opted for the musical rather than the mere technical to try and make an impression on the box - but the lack of security was always going to lose valuable points – more so in Lydbrook's case, as they ended in 16th.

Aldbourne will know that their chances of coming higher than 7th fell by the wayside after a highly promising start in an error strewn middle section (and a fine close came to late), whilst Johnstone and Wantage (9th & 12th) produced mixed bags that had their quality moments, but surrounded by far too much unevenness.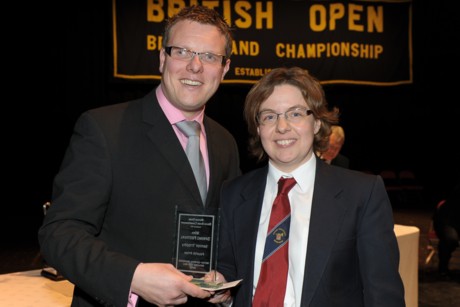 All smiles for fourth placed Friary Guildford

Harsh

The rest (despite the results in some cases) were hard, harsh and beset with technical problems.

Bournemouth came 10th, with a performance that at times perforated the eardrums, whilst Lindley ended in 14th with a rendition that bobbed up and down in quality like a trawler on the high seas.

Easington, Hebden Bridge, Enderby, Yorkshire Co-operative and Knottingley will not need reminding that they struggled – at times close to breaking point, despite periods when the performances knitted together.

To be fair to Knottingley, as a Second Section band this was a piece that was at this time in their development beyond them, despite their brave efforts, whilst the other four are in reality decent First Section bands. This was a hard reality check.

On this occasion they will have had no complaints with their final positions.

Dave Tinker