2010 Spring Festival - Blackpool awaits
12-May-2010
There are some stark banding realities to be played out on the Golden Mile this weekend.
---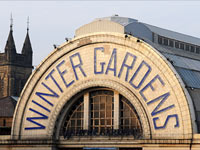 The stark realities of top section banding will be played out in the halls of the Winter Garden this Saturday.

60 bands make the trip to Blackpool, every one of them desperate to get away from the place: Only two will succeed.

Grace and favour

There used to be a time when getting to the British Open was a lot easier, but also a lot less democratic than this. The transparency of qualification has long since rid the Open of its dark 'grace and favour' underbelly, so bands now know that if they wish to make it to Symphony Hall, they have to do it the hard way.

And the starkest banding reality of all, is that it doesn't come harder than this: These are three of the most difficult contests to win (let along qualify from) in the banding world.

Added to that are the doubts still surrounding the future of the Winter Gardens, despite its recent sale. The Spring Festival organisers may well be forced to look at the viability of running three major contests at the one venue in the coming years.

New home?

If the proposed redevelopment is started quickly then the Spring Festival could be looking for a new home – and one that could be away from the Golden Mile.

Many may well rejoice at that, but where else can the hard working organisers find a venue that can accommodate so many bands on the one day?

Despite the faded glory, chipped tiles and peeling wallpaper, the Winter Gardens still does its job pretty well, thanks in no small part to the backroom volunteers and British Open organisers who have already faced the stark financial realities of promoting a contest here: The Winter Gardens don't come cheap.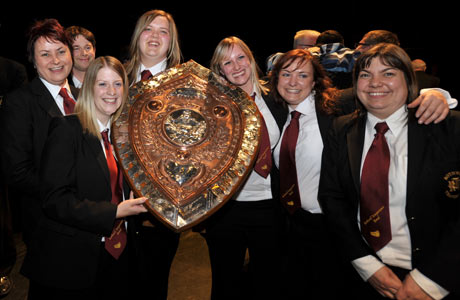 Which bands will be joining Rothwell in Birmingham this year?

High teeth

However, it says a great deal that despite the drawbacks of Blackpool as a town to spend a weekend visiting for pleasure, Martin Mortimer and his team still have a waiting list any local landlady would give her high teeth for.

This year's Spring Festival will kick off at 10.00am in the Opera House, with the 20 bands battling for those two priceless qualification places to the British Open on Edward Gregson's ornate 'Rococo Variations'.

As has been said on many occasions: Never at any other contest do you see such joy from a band in coming runner up, such despair at coming third.

With an eye to ensuring that all three contests finish at roughly the same time, the 20 bands in the Senior Cup will start their battle for promotion on Philip Sparke's 'The Year of the Dragon', in the Pavilion Theatre at 10.30am.

Meanwhile, the 20 competitors in the Senior Trophy will tackle 'Le Roi d'Y's' at 11.00am in the appropriately bizarre surroundings of the Spanish Hall.

Guessing game

Bands will already have been playing the guessing game in regard to the destination not only of the prizes on offer, but also on who will be in the adjudication boxes.

The organisers have once again given youth its head with the welcome selection of David Childs and Richard Marshall as part of the six man adjudication team, although it is assumed they will be paired with one of the respected 'elder statesmen' of David Read MBE, William Relton, Stephen Roberts and Dr Robert Childs.

Stark realities

Once again, Blackpool will provide us with drama and excitement, delight and celebration, hard luck stories and disappointment, controversy and debate. There will be winners, losers, qualification, relegation and plenty of late night beery arguments.

All the stark realities of brass band contesting rolled into one.

Iwan Fox