2010 European Brass Band Championships - B Section retrospective
8-May-2010
There was home country delight in the B Section, but the same problems remain for an entertaining, but essentially flawed contest.
---

European winners: Austria Brass Band of the University of Graz

Despite the delight of the audience at the announcement of Austria Brass Band of the University of Music and Performing Arts, Graz, being declared winners of the B Section, the feeling persists that the second tier European competition is still a contest in search of a purpose to justify its existence.

The Austrians were excellent value for their victory (although you wonder if they would have preferred to get their hands on a cash prize rather than picking up a cornet for their efforts) and in truth they wouldn't have been out of place in the A Section over the two days.

River Danube

Their margin of victory seemed diplomatically restricted to just the two points. In truth it was as wide as the River Danube flowing through Linz.

The admirable concept of the contest is to encourage countries to take part in the championships that do not as yet have a developed brass banding infrastructure in their homeland.

However, that seems a rather redundant idea when despite the lack of quantity, the quality of the second best band in the fledgling Austrian banding movement is as good as this.

EBBA remains hamstrung by its desire to encourage democracy, when in effect it needs to show a bit of old fashioned dictatorial leadership.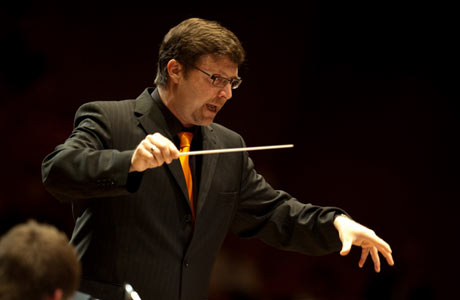 Second place goes to 3BE Concert Brass

Options

Options remains varied; from a youth competition based on national entries from member countries, to realigning the entire A & B Section set up to reflect quality rather than quantity.

One is for certain, however enjoyable, it cannot carry on like this.

Austria performed just the one additional piece to the set work, 'Up My Alley' by Albin Zaininger, which proved to be a condensed dolly mixture goody bag (it was only around 5 minutes long) of almost every conceivable effect under the brass band sun.

It was all bells and whistles, eclectic genres and motifs, and was a bit of fun. The Austrians played it as such, bringing out detail and style by the bucketful.

They followed it be a truly commanding performance of 'Trittico' (which was the European test piece in 1989), which was played with a degree of musical and technical authority that would have more than held its own at high championship level in the UK.

They won by a country mile.

Varied standard

Behind them the standard varied – with reigning champion 3BA Concert Brass showing that they had certainly improved in the past twelve months, despite the Icarus inducing choice of 'Extreme Makeover' to supplement the set work and their opening item, 'Summon the Dragon'.

Those two items were played very well indeed, but the de Meij test piece saw them come a cropper, and they plunged a pretty long way – not quite to their doom- but well into the volcanic ash cloud of hubristic over confidence.

Much the same

It was much the same story for third placed Brass Band Oberschwaben Allgau.

Paul Lovatt-Cooper's 'Horizons' was a neat opening choice, and the closing set work was neatly delivered, but in between came a crash bang wallop rendition of 'Music for Battle Creek' that had plenty of decent bang and wallop, but far too much crash too. To say it was over ambitious was not over stating the obvious.



Third place for the Germans of Allgau

Basic flaws

The remaining three bands showed more than anything why this competition remains so basically flawed.

Brass Band Wipptal is a work in progress and would benefit greatly from competing here on a regular basis.

Their 'concert' programme was a heady cocktail of bravura and bluff (sometimes in equal measure, sometimes not) so that they produced an exciting mix and match approach that included an upbeat opening 'Intrada' from 'Suite Montreux' complimented by a reflective 'Canterbury Chorale' (and not many bands played anything remotely quiet on the day).

The set work was a bit of a blur, whilst the closing 'Fight for Liberty' was a real humdinger – all Garibaldi biscuits and brio. The Italians are taking to brass banding in a very individual, but highly enjoyable way it seems.

Great to see and hear

That left the Swedish Youth Brass Band conducted admirably by Berit Palmquist, who were full of vibrant energy and commitment in the set work, 'Festivity' and their closing item, 'Masque' by Kenneth Hesketh.

It was great to see and hear, but left the question, why they were competing here? A 'National' band at a contest for individual representative ensembles seemed incongruous to say the least.

Finally the Finns of Toolo Brass, who returned this year after a period away to perform an uneven programme that featured over ambitious choices of the first two movements of 'Year of the Dragon' and all three of 'Rhapsody in Brass' to supplement the set work.

In the end the prize winners were clear cut and deserved.

Overhaul

The contest though could well do with a long overdue overhaul, even if EBBA just allow their Music Commission to give advice to prospective competitors, so that they do not try to mimic the 'own choice ' test piece element of the Elite bands in their programmes.

Perhaps then, the celebrations of being crowned champions will have a bit more of a lasting meaning.

Iwan Fox