2010 European Brass Band Championships - Championship Section: Preview and Prediction
25-Apr-2010
As 10 top bands head for Linz, it seems the European experience is still evolving - but some old favourites still hold sway...
---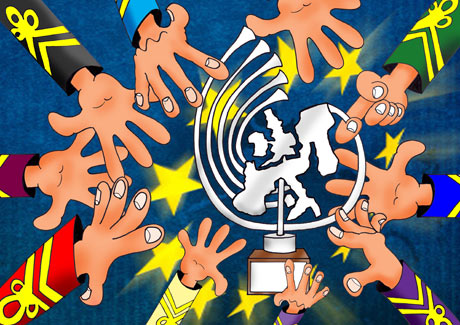 Hands off: Cory hope to make it a Linz hat trick

Being a part of the great European adventure is never boring: At times fantastically inspiring, at others, mind bogglingly infuriating. It is never, ever, anything less than intriguing.

Where else in the world can the aspirations for common understanding lead to so much argument? Just look at the mess the whole continent got itself in over two such diverse problems as an erupting volcano and the potential collapse of the Greek economy.

Amid the chaos

Yet amid all the chaos, things still get done and European co-operation invariably leads to the hosting of great events such as the European Brass Band Championships.

Even here though, things never quite remain simple for too long.

This year there are some potentially explosive Euro sub plots to the top section contest. It is not just in Iceland where there have been some changes to the landscape it seems.

UK relationship

For instance, not for the first time, the UK's banding relationship with the rest of Europe is under scrutiny.

A bit like the forthcoming elections, the English are finding it increasingly difficult for its main parties to commit to the European ideal.

A lot of 'smaller' representatives may want to have their voices heard at the forthcoming Preston by-election, but a number of the heavyweight candidates have become Euro sceptics – so much so that some high profile bands have vowed never to be a part of it again until the contest returns closer to its original roots.

Smarting

If 2009 English champion Black Dyke wins in Linz on the weekend and secures its place in Montreux next year, what future for the Guild Hall event in a few weeks time?

Dyke themselves are smarting a bit after being beaten at the Yorkshire Regional Championships, whilst their MD would like to add a bit of significant silverware to his CV as he completes a decade at the helm of the Queensbury outfit.

No stone will be left unturned in their pursuit of their 12th European title.

Scots and Welsh

The Scots and Welsh meanwhile also have their problems.

No less than five Celtic bands opted out this year –Co-op Funeralcare, Kirkintilloch, Whitburn from over Hadrian's Wall, Tredegar and Northop from the other side of Offa's Dyke. Each cited the financial implications that come with qualification as the main reason for declining the opportunity to represent their countries.

All this and next year the contest is in Switzerland – not exactly renowned for its cheap and cheerful welcome on the pocket.

This year Bon Accord fly the Scottish Saltaire flag (qualification comes on the back of an obscure form of democratic proportional representation – as they came 4th at the 2009 Scottish Championships). The Scots have raised over £500 each to make it to the contest – a quite fantastic achievement – and they will want to show that they are not here just to make up the numbers.

The perennial Millennium fire breathing Welsh Dragon is reigning champion Cory, seeking a hat-trick of titles, but also knowing that if they fail in the task they may have to wait until 2012 to start again. This time last year they were unbeatable, now they could lose their second major in as many months.

They are still a quite amazing contesting band however, with a desire to succeed that is second to none. You don't become World, European and British Open Champion for nothing. Write them off at your peril. Any band that thinks it will beat them will have to chisel their hands off the iconic Christopher Milton Stevens Trophy.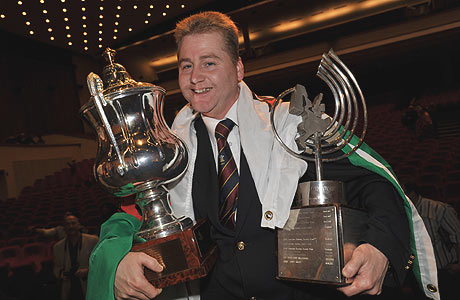 Which bands will get their hands on the silverware this year?

Euro changes

There have been significant changes in the rest of European banding too, with signs that the old European heads of state, who have become familiar (if not overtly successful) faces at the contest being gradually replaced.

Danish representative Concord Brass Band returns to the contest for the first time since 1979, whilst the French send Brass Band Nord Pas-de Calais to make their top section debuts and Valaisia Brass Band head over the Canton border for a first appearance for Switzerland.

The Danes will be conducted by former Brighouse & Rastrick euphonium star Michael Howley, and reports from the camp that he has got them playing exceptionally well. They could be a dark horse.

It is always unwise to write off the French of course, and with Russell Gray at the helm, Nord Pas-de Calais will be out to show that they can make a mark on a contest they last graced in winning the B Section in 2002.

Swiss change

There was a real change in the order of things in Switzerland last year when Valaisia won their national title, but the band has quickly become a major force in the Cantons, and could well become one here too. The Swiss have a proud record of late at this contest (top six finishes in the last two years), and it could well continue on the weekend.

After a year away both Brass Band Buizingen of Belgium and De Waldsang of the Netherlands reasserted their domestic dominance, perhaps signalling that there is now a greater strength in depth in these banding countries than ever before.

Both bands can flatter to deceive at times, but both are also more than capable of delivering performances of a very high quality too. The latter may well see one or both in the prizes.

King returns

Further north, the vibrant Norwegian banding scene sees their heavyweight contender, Eikanger Bjorsvik return once more, as they look to turn back the clock 21 years to reclaim the European crown (and it may be 23 years if they don't do it after failing to qualify for Montreux at their own National Championships earlier in the year).

With David King at the helm confidence will be high, as on their day they can be nigh on unbeatable. Will that day be Saturday though?

Home favourites

So what about home favourites, Brass Band Oberosterreich?

They have had a bit of a prickly old relationship with this contest over the last few years, so what will the future hold if they come up short on their home patch? Expectations from brass music lovers are very high that this could be the year they make an historic breakthrough, yet ultra conservative brass band traditionalists still see them as the vandals at the gates of Rome (or Linz as the case may be).

Triumphant

It has all the makings of a highly intriguing, as well as enjoyable weekend of high class contesting, so who should emerge triumphant?

It's a hard one to call, with at least five bands in with a realistic chance of taking the title.

The set work is a cracker (and very difficult) and should sort out the best from the rest on the Friday, whilst there is the usual mix of eclectic own choices (including the now obligatory world premieres) that will invariably bring the house down on Saturday.

As always however, much depends on what tickles the fancy of the adjudicators, with Torstein Aagaard-Nilsen, Maurice Hamers and John Wallace in the box for the set work (Maurice and John were together in the open at the recent Norwegian Championships, whilst Torstein and Maurice were together at this contest in 2006)

The own choice selections will come under the scrutiny of Edgar Seipenbusch, Peter Bassano and Jean-Francois Bobillier – all making their Euro debuts.

As for a winner?

This could be the closest contest for some considerable time, but Black Dyke may just have the edge this time over Cory, Oberosterreich and Eikanger – although the title could well end up in any of these band's laps.

Buizingen and Valaisia should make up the top six with De Waldsang as our dark horse.

4BR Prediction:

1. Black Dyke
2. Cory
3. Brass Band Oberrosterreich
4. Eikanger Bjorsvik
5. Brass Band Buizingen
6. Valaisia Brass Band

Dark Horse: Brass Band De Waldsang