2010 European Brass Band Championships - B Section: Preview and Predictions
25-Apr-2010
There is a second tier contest taking place in Linz this weekend that could prove to be right up someone's alley if they win...
---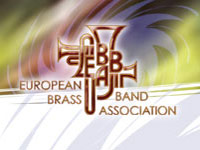 The European B Section may well be the EBBA version of the Europa League but at this year it has plenty of local interest.

EBBA's long held belief that the B Section competition at the European Championships has been a worthwhile long term undertaking remains debatable, although it is difficult to question the merit of its intent.

More than numbers

Four bands in Stavanger grew to six in Belgium, but EBBA believes the benefits of the B Section are to be found more than in mere numbers.

They will point to the fact that this year the Championship Section contains bands from both Austria and France – two countries that EBBA welcomed into the contesting fold over a decade ago through this contest.

Those benefits may well take time in flourishing, but in these two cases the banding culture in the countries has now taken root.

Emerging nations

This year the 'emerging nations' sees two bands from Germany and one each from the host nation, Sweden, Finland and Italy.

It is encouraging that the three bands that filled the podium places last year return once more – a sure sign that they feel the contest has real lasting value.

EBBA will also be pleased that former champions Brass Band Oberschwaben-Allgau returns to make its sixth appearance at the contest – and its first since 2005, whilst Toolo Brass from Finland makes a welcome reappearance for the first time since 2000.

The only debutants this year are the Swedish Youth Brass Band under the direction of Berit Palmquist.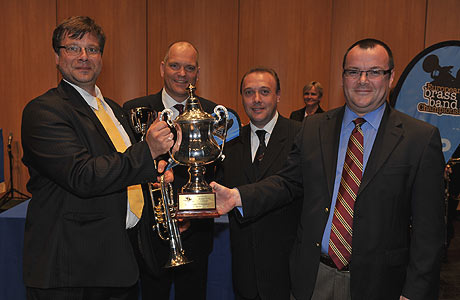 3ba Brass take the B Section title in Ostend

Carry On Linzing

The set work this year goes by the intriguing title, 'Up My Alley', which before you get all 'Carry On Linzing' (or mincing even), is not a euphemism for anything other than the composer Albin Zaininger's attempt to interpret the colloquial phrase 'just my cup of tea'.

Mr Zaininger is a serious composer of serious works, and although he has written just the one brass band composition called 'Kathyr', this five minute work should provide an enjoyable test of character for the competing bands.

Cup of tea

It should be most listeners 'cup of tea' too, as it is very transparent in construction, cramming a deal into its length – from a brief energetic opening to moments of potential glory from all the main leading voices – including the Bb bass.

It s a colourful, rhythmically pulsating work, that not surprisingly given that the composer is a very distinguished percussionist, has a great deal of work for the shed builders at the back of the band.

As for a winner?

Always hard to predict, but last year's winners were fine value for their victory, and if they can play like that again, then they should be hard to beat.

Last year's podium finishers of Wipptal and the Austrian Brass Band of the University of Music and Performing Arts, Graz should be in the mix whilst it will be interesting to hear whether the returning bands of Toolo and Oberschwaben have improved in standard since they last appeared here.

4BR Prediction:
1. 3ba –Brass
2. Austrian Brass Band of the University of Music and Performing Arts, Graz
3. Brass Band Wipptal
---
3ba-brass - The Bavarian Brass Band Academy
Conductor: Franz Matysiak
Germany

European appearances:
2009: Winners (F. Matysiak)
2008: 2nd (F. Matysiak)

The Bavarian Brass Band Academy was founded April 2005 and has played a central role in the organization of the German Brass Band Championship, which they won in 2008 and which they will defend in May.

There are five bands under the academy's supervision, and professional and amateur musicians come from all over Bavaria as well as from Mannheim, Cologne, and Basel in Switzerland to be taught by leading brass teachers such as Roger Webster, Dankwart Schmid, Urs Bucher, Pattrick Oettiger, Michael Antrobus and Maurice Hamers.

Franz Matysiak has been the Artistic Director of the academy and of the concert band since its inception. He has led the band to victory at the German Championships in 2007, 2008 and 2009 and has worked closely with many leading brass musicians in the further development of the band.

The band won the B Section at the European Championship in 2009 after making its debut in Stavanger in 2008.
---
Brass Band Wipptal
Conductor: Martin Gruber
Italy

European appearances:
2009: 2nd (M. Gruber)

Brass Band Wipptal was founded in the Spring of 2005 by former pupils of the music school in Sterzing.

Within a short period of time many current brass players from Sterzing and its surrounding area of Wipptal south of Brenner were attracted to the ensemble leading to a current membership of 34 players.

Through the contact and the collaboration with conductor Hannes Buchegger of Brass Band Oberösterreich there has been a strong commitment to brass band music making and a desire for long term improvement, which they hope will be shown at the European contest in Ostend on the weekend.

Since summer 2007 Martin Gruber, a former cornet player of the band, has been the band's conductor.

The band made its debut at the European Championships in Ostend, coming runner up.
---
Austrian Brass Band of the Universality of Music and Performing Arts, Graz
Conductor: Professor Uwe Koeller
Austria

European appearances:
2009: 3rd (Prof U. Koeller)

The Austrian Brass Band was founded in 2001 at the University of Music and Performing Arts in Graz.

The founder and current Musical Director is Professor Uwe Koeller, a former Principal Trumpet of the "Deutsche Opera" in Berlin, and member of the Brass Ensemble "German Brass". He is now Professor for trumpet at the University of Music and performing Arts Graz.

The Austrian Brass Band is the only Brass Band in Austria which is a part of a University, and its members are all students at the University of Music and performing Arts in Graz itself.

The band made its debut at the European B Section contest in 2009, coming 3rd.
---
Brass Band Oberschwaben-Allgau
Conductor: Peter Schmid
Germany

European appearances:
2005: 3rd (J. Ekkelboom)
1999: 3rd (D. Gilson)
1998: 2nd (D. Gilson)
1997: 3rd (D. Gilson)
1995: Winners (G. Kurat)

Brass Band Oberschwaben-Allgau was founded in 1992 by their chairman Michael T Otto and performed its first public concert in 1993.

As first German representative, the BBOA successfully took part in the European Championships in 1995 where they won the B Section under their director Gerd Kurat. They did not defend their title the following year in Bergen.

They returned in 1997 in London where they came 3rd under the direction of David Gilson and in Kerkrade in 1998 they came 2nd.

In 2005 they returned under the direction of conductor Johnny Ekkelboom and was placed 3rd.
---
Toolo Brass
Conductor: Olavi Pitkanen
Finland

European appearances:
2000: 2nd (T. Bildo)
1998: 3rd (T. Bildo)
1996: 2nd (T. Bildo)
1994: 3rd (T. Bildo)

Toolo Brass is regarded as Finland's leading British style brass band and has twice won the Finnish Championship. They have also taken part in the European B Section on four occasions, the last in Birmingham in 2000, where they came 2nd..

Established in 1980, they actively promote the traditional brass band culture in Finland, and gained first place in the 2006 Finnish Brass Band competition.
---
Swedish Youth Brass Band
Conductor: Berit Palmquist
Sweden

European appearances:
Debut

The Swedish Youth Brass Band was formed in 2006, and is organized by the Band Federation within the Mission Covenant Church of Sweden.

The band consists of about 30 musicians from all over Sweden, who gather three or four times a year for rehearsals and concerts.

The Musical Director is Mrs. Berit Palmquist. In 2007 the Band made its first trip abroad, taking part in Grenland Brass Festival, Norway.

In 2009 SYBB was invited as guests to perform at the gala concert of the Northern Ireland Brass Band League Spring Festival in Strabane, Northern Ireland.