2010 National Youth Championships - Premier Section retrospective
21-Apr-2010
There was a touch of Welsh class in the Premier Section, where MD Gwyn Evans may have to be locked away in future if anyone is to stop Gwynedd & Mon County from winning year after year.
---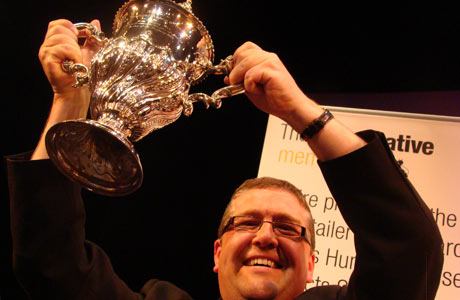 We've won the Cup: Gwyn Evans celebrates victory

More pictures at: www.4barsrest.com/articles/2010/1137f.asp
After the marathon of the Intermediate Section, the finale of the Championships came with the Blue Riband event and four team relay of the Premier Section, which provided a worthy climax to a long day of music making.

Here the format was for bands with players all 20 years or under, to perform a 25 minute programme of a 'serious and demanding nature' that included the set work, Wilby's 'Partita: Postcards from Home'.

The four bands involved certainly served up a feast with performances that impressed the adjudicators Major Peter Parkes and Sheona White so much, that they handed three of the quartet Gold Awards, with the other gaining Silver.

Tough nut

Philip Wilby's test piece proved to be a tough nut, but it will be a major surprise if any of the bands in the Third Section at Pontins in October (where it has also been chosen as a set work) manage to portray it as well as the eventual winners Gwynedd & Mon County Youth. They were simply outstanding.

Waxing lyrically

Major Peter Parkes waxed lyrical about the standard of the winning band, and the contribution made by their conductor, Gwyn Evans in particular.

His advice 'to lock the MD in a cupboard until next year to stop any band poaching him away' may not be taken literally one hopes, but when he also added that he felt Gwyn 'perfectly understood every moment of the music in the score' in a performance of the test piece that 'worked as perfectly as it did here', you can forgive the Welsh band for getting the rope and gaffa tape out in preparation.

Saving the best till last

Gwynedd & Mon County Youth rounded off the contest with a performance of rare excellence, worthy of more than Gold Award if one were possible. The band's soprano player Graeme Bushell was in cracking form throughout (as was his assistant next to him) and deservedly took the 'Best Instrumentalist' Award.

However, this really was a team effort that won the day for the Welsh outfit.

Darrol Barry's 'Salford Sinfonietta' was full of poise, detail and musicality and performed with a sense of musical confidence that reeked of quality preparation and understanding from every player around the stand.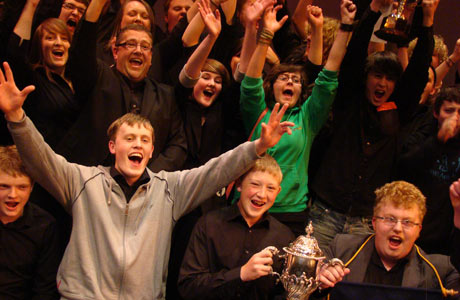 Welsh celebrations for Gwynedd

As for the set work?

The opening 'Towers and Chimneys' movement was precise, whilst 'Churches' (Lord of the Dance) skipped along, full of vibrant life. The 'Pastoral' was beautifully portrayed, including a confident euphonium in the opening bars, whilst the closing section rounded off the whole programme with a controlled sense of style.

They were clear winners.

Scots second

In second place came West Lothian Schools under Nigel Boddice MBE, who also gained a Gold Award for their fine playing. The Scottish outfit is slowly maturing back to its best once more and opened their account with a solid, if slightly colourless performance of the set work.

The same could also be said of Paul Lovatt-Cooper's 'Vitae Aeturnum' where the admirable solidity in the ensemble and solo lines just lacked that sheen of excellence we have come to expect from them over the years. It's not too far away though.

Fountain shines

Northamptonshire County Youth and Brad Turnbull performed three pieces in their Gold Award programme, which started with an impressive account of Torstein Aagaard-Nilsen's 'Circius'.

The title relates to a father's plea that his son will respect the forces of nature and never will to try to overcome them. With the volcanic troubles of late, it seemed a rather apt choice.

Principal cornet James Fountain (who holds the same seat with Virtuosi GUS and the National Youth Brass Band of Great Britain) then produced a lyrical rendition of 'A Brown Bird Singing', which may just have benefited from a slightly less obtrusive accompaniment.

To close, a performance of the test piece which was well prepared and confidently played, although there was the odd moment or two when the ensemble seemed at odds with itself.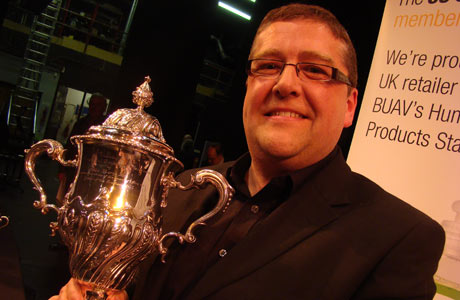 Formal pose for the winning MD

Horizons for Saints

St Helens Youth Band and Mark Bousie have just returned from a trip to Ohio in the USA and the young band dug deep to produce a programme that took a Silver Award.

The adrenaline was certainly pumping as they set off with a committed account of Paul Lovatt-Cooper's 'Horizons', before a change of mood in Van der Roost's 'Canterbury Chorale' where the MD coerced his troops into delivering an excellent account full of controlled ensemble playing.

They band just found stamina waning in a purposeful account of the set work, but overall Mark Bousie showed that he is once again moulding an impressive outfit under his indefatigable command.

Quality rather than quantity

With Sellers Youth pulling out of the contest, there was a degree of disappointment that only four bands made it to the starting tape this year. However, with the ethos of the Premier Section one of quality rather than mere quantity, the enjoyment came with the fine standard of playing on show from all four bands – and the winners in particular.

Watch out for this band in the coming years – especially if they can keep their MD under lock and key.

Malcolm Wood