2010 National Youth Championships - Advanced Section retrospective
21-Apr-2010
The remarkable Carnoustie won the Advanced Section in some considerable style - but the rest of the field found the musical challenge of the day a bit beyond them.
---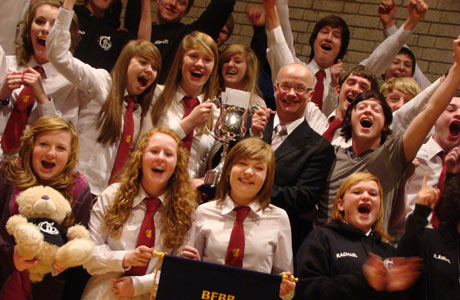 Scots celebration for the remarkable Carnoustie & District

More pictures at: www.4barsrest.com/articles/2010/1137e.asp

If there was a contesting disappointment on the day, it came with the overall standard of playing shown in the Advanced Section, where a stern set work in 'Laudate Dominum' proved beyond the capabilities of very nearly all the competing bands.

Exception

The exception was the winner, Carnoustie & District under the excellent direction of Michael Robertson, who once again showed just what an impressive band they are by taking the title with a notable degree of comfort.

The Scots learnt a valuable lesson here last year when they rather misjudged their programme content, but on this occasion they decided to show their overall qualities by supplementing the set work with a sparkling 'Olympic Fanfare' followed by a reflective 'Clare Benediction' and a top notch soloist with principal cornet player Eoin Tonner on 'Slaviche Fantasy'.

By the time they came to the robust, but balanced final chords of the Gregson work, they must have known they had delivered a marker that was going to be difficult to beat. And so it proved, gaining an obligatory Gold Award, the Boosey & Hawkes Trophy and the £350 first prize to take back home with them. Young Mr Tonner deservedly took the 'Best Instrumentalist' prize.

Startingly talented

Carnoustie is a band made up of some startlingly talented individual performers moulded with a great deal of skill and understanding by an impressive MD.

Theirs was 20 minutes of high class playing; detailed and precise, balanced and warmly toned, with those ear catching principal players. Ioin Tonner performed with real swagger, and the rest of his colleagues were not too far behind, whilst the MD quietly, but effectively, kept a tight lid on tempi, brought out inner ensemble detail and only occasionally let his young charges off the dynamic leash.

The celebrations were thoroughly well deserved.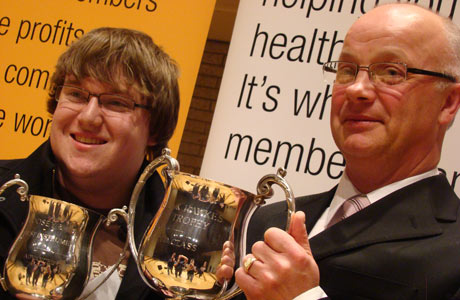 Two very talented musicians: MD Michael Robertson and cornet star Ioin Tonner

A little way behind

A little way behind them came Youth Brass 2000, although they should be highly pleased with their efforts under Chris Jeans.

Solid and confident throughout, they only really faltered in the set work, where they sounded very tired by its close. Sarah Lenton performed wonderfully well in the 2nd movement of the 'Partita' whilst the opening 'Prelude for an Occasion' was robust if a little scrappy around the edges.

It was a performance worthy of a Gold Award – but not quite of the 24-carat variety of the eventual champions on the day.

9 carat Gold

A 9-carat Gold Award was taken by Greater Gwent in third place, with a performance set that didn't quite have enough variety as they supplemented the set test with the William Mathias 'Vivat Regina' suite – a work cut somewhat from the same type of compositional cloth.

The result was a serious, but bland sounding duo of performances that although generally solidly played, lacked a stylistic sheen.

A fourth Gold Award from adjudicator's Derek Broadbent and Mark Wilkinson was claimed by Bolton Youth, with an uneven performance set that at times was very good, but all too often had extended periods of ensemble and individual fragility.

The opening 'Castell Caerphilly' march was scrappy, although the following 'Nicea' (pronounced 'Nikky' by an uncharacteristically tongue tied Bob Kerwick on the day) was well played. The test piece though was rather below par.

Silver winners

Behind the Gold quartet came a foursome of Silver Award winners, who delivered encouraging, if very uneven performances.

Tees Valley Youth struggled on the set work but showed great character in the opening 'Fanfare and Flourishes', whilst Hannah Robson on cornet delivered a confident performance of 'Whirlwind'.

Hampshire County Youth meanwhile opted for an additional bit of Gregson with his vibrant 'Prelude for an Occasion', before well-balanced warmth was heard in 'Sunrise over Blue Ridge', which featured an excellent horn and flugel.

The set work though was pretty average stuff, as like many of their rivals, they found the technical aspects of the work pitched at their limits and the musical style rather alien to them too.

Poke in the eye

So too with Bare Trees Community under John Collins, who had to suffer the indignity of Bob Kerwick forgetting his name and poking him in the eye before he managed to make it to the stage.

Their best playing was heard to fine effect on the opening 'Caravan' (with excellent trombone lead) and a cracking cornet solo from Bethany Moore on 'Russalka's Song to the Moon', which was played with a nonchalance of a player three times her age and experience (although both the MD and Natalie may need lessons on how to milk the well deserved applause!)

Ian Porthouse and Gloucestershire Youth meanwhile never quite recovered to show their true form after a disappointing opening 'Coronation Parade'. The following 'The Smile' was very neatly played, but a rather scruffy set work sounded as if they just needed a touch more quality preparation time.

Bronze awards

The final two bands both gained Bronze awards, with Stockport Schools Senior directed by Phil Pavey delivering a brave performance of 'Music for a Festival' to go with the set work.

There were times when it did sound very scrappy, but the enthusiasm of the players to give their all was noticeable all the way to the last robustly played chord.

Admirable effort

That just left the admirable effort from Dawson's Berkshire Maestros Youth conducted by John Watts (who still looks from the back like a cross between Rick Parfitt and Rick Wakeman).

His sensible conducting of his small band saw them produce a decent showing on the set work followed by two movements from 'Cry of the Celts' which featured a composed young tenor horn player (playing on a French horn mouthpiece). A slightly strange choice of 'Birdland' (minus MD, but with electric bass guitar) to close, which without the conductor's drive lost impetus, left them finishing on a bit of a disappointing note (which was also split).

The Advanced Class is open to bands 'seeking a greater musical challenge' – and that was certainly the case on the day, as it was a challenge that just the one band truly overcame.

Carnoustie go from strength to strength, but perhaps the organisers had better take a closer look at the musical expectation levels they hope the bands can achieve in time for next year.

Iwan Fox