2010 National Youth Championships - Intermediate Section retrospective
21-Apr-2010
The fantastic Elland Band make it a 'Double' at the RNCM on Sunday - and their adventures in brass are just starting...
---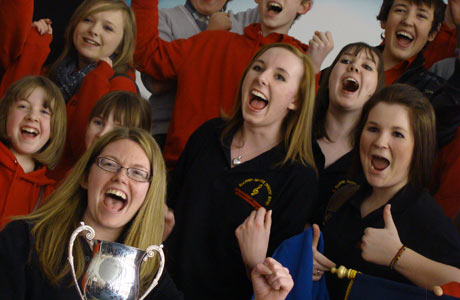 Elland adventure: Sam Harrison leads the cheers for the winners

More pictures at: www.4barsrest.com/articles/2010/1137f.asp

The Intermediate Section may have been the first contest to get underway on Sunday, but it was also the longest, lasting close to eight hours with no less than 15 challengers vying for glory.

It was also played in a friendly, relaxed atmosphere with an encouraging numbers of participants in to listen to their fellow challengers (oh, how you wish it could be like that any adult contests). By it's conclusion, the RNCM Theatre was full to bursting.

Rapturous applause

Making the all important decisions were Malcolm Brownbill and Dr Peter Meechan. The two judges are ardent Liverpool Football Club fans (Malcolm used to have the odd cup of tea with Bill Shankly when he was a copper on the beat around Anfield), so both will have appreciated just how hard it is to win a major title.

Honest views

Before the announcement of the results Dr Meechan stepped forward to give his straight talking views on the day's proceedings – and honest, no nonsense views they were too.

His pre contest 'disillusionment' with the current state of the banding movement was offset by what he called an 'unbelievable day of music making'. However, some 'distinctly average' conducting from a number of MDs disappointed him.

Although some of the conductors egos will have been a little bruised after his remarks, it was a telling, blunt appraisal.

Encouraging

Whether those conductors will have been overly impressed with some of the comments (and a few were not when speaking to 4BR afterwards) is open to debate, but on a day when praise for the performers came thick and fast from the adjudicator's pens (and 5 bands did get Gold Awards) it was a reminder that not everything on display was as good as some may have thought.

Farr's test

The competitors had to perform Ray Farr's 'Adventures in Brass' as part of their 20-minute programme. The composer was present throughout the day and he will have heard that some bands faired better than others on a piece that asked searching questions of youthful technique and musicality.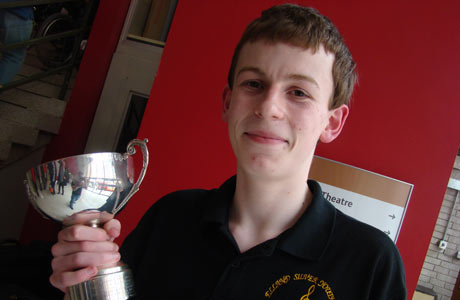 Top cornet: Philip Varley and his 'Best Instrumentalist Award'

Elland's double

Elland Silver Youth under Samantha Harrison is some band at present and the Action Medical Research Youth Entertainment champion completed a 2010 'Double' by taking the National title in commanding fashion by setting the performance bar at a level nobody could match.

The opening Shostakovich 'March' was tight and precise whilst Ballatine's 'I Know Thou Art Mine' was calmly composed with excellent dynamics. In between came a cornet solo from Philip Varley that reeked of class.

The clarity of sound, phrasing and overall delivery of 'The Nightingale' was superb and it came as no surprise that the talented young man won his third 'Best Instrumentalist' prize at the event just a few weeks before he turns 18.

After a confident rendition of the set work all that was left for Elland to do was wait and see if they'd done enough to take another major title. When the results were announced the celebrations were joyous – and thoroughly well deserved.

Rochdale runners up

Taking the runners up spot (and Gold Award) was Rochdale Borough Youth led by Eric Landon.

The Lancastrian's started off with a 'Broadway' pick and mix before one of the largest trombone sections you'll ever see at a contest gave a virtuoso display of '76 Trombones'.

Not too many bands on the day opted for controlled, reflective music but there was much to enjoy in Chopin's 'So Deep is the Night', whilst the test piece was secure and Ravel's 'Bolero' to close was neatly performed.

PLC inspires Wardle into third

Rochdale's near neighbours Wardle High Intermediate under Lee Rigg, played with a real degree of confidence during a programme that was partly reprised from the Action Research Contest in Blackpool.

Paul Lovatt-Cooper's (or 'Sir' as he teaches in the school) 'Horizons' proved to be a purposeful opener whilst 'The Dark Side of the Moon' to close tested the stamina.

In between came a performance of the set work that didn't quite come off, but they made up for it with an excellent run through 'The Middy', whilst Ashley Higgins on euphonium was in fine form during Glennie's 'Little Prayer'. Third place was an indication that Lee Rigg continues to bring the best out of a band growing in impressive maturity.

Nearly, but not quite

The other Gold Awards went to Lions Youth and Poynton Youth.

Nigel Birch and his young Lions were in fine form at Butlins in January and they carried that on here with a confident display. 'Adventures in Brass' was delivered with a sense of understanding from the middle and matched by the brio of the players, whilst Lovatt-Cooper's 'Dreamcatchers' featured excellent solo and ensemble work throughout.

Poynton Youth and Andy Hirst meanwhile utilised some of their Action Research repertoire ('Jeannie with the Light Brown Hair' and 'American Trilogy') and it paid dividends.

'The Earl of Oxford's March' got them off to a fine start, whilst they also produced plenty of quality in the test piece and the more reflective 'Amazing Grace'.

The Silver awards

A trio of challengers took home Silver Awards for some fine efforts.

Enderby from Leicestershire reprised music that served them well at Butlins and Blackpool, but having returned from a recent overseas tour, they did sound a touch tired towards the end of their demanding set.

Macclesfield Youth and Louise Renshaw will surely have gone home delighted after their performance.

The hard work paid off during a programme that contained the high tempo march 'The Waltonian' and a couple of quiet pieces in the 'Waltz' from Shostakovich's 'Jazz Suite' and the hymn tune, 'Silver Hill', all topped off with a committed account of the test piece.

Twelve months ago the band earned a Merit Award, so the extra bit of Silver was a real indication that they are heading in the right direction.

Tewitt Youth hopefully made the journey back to North Yorkshire content with their display, with the opening 'Olympic Spirit' typifying a performance that was full of spirit and endeavour.

Emily Larwood gave a fine account of Peter Graham's 'Whirlwind', and although not everything gelled into place with the other chosen items, they looked a happy bunch having given their all on the closing test piece.

The Bronze quartet

Four bands claimed Bronze Awards, of which two were debutants.

Nicky Daw, who led her troops with real enthusiasm, conducted Worcestershire Youth. The test piece was well handled, whilst the band's principal trombone, Michelle Morgan produced a fine rendition of 'Misty Eyes', although Peter Graham's 'Dimensions' stretched them somewhat.

Egglescliffe School were making their first appearance at the Championships since 2004, and they had the unenviable task of starting the contest at 9.15am – although it proved to be well worthwhile after they claimed the Iles Cup presented by the Worshipful Company of Musicians as the band showing 'Most Potential' on the day.

The North Easterners gave it their all during three movements of Peter Graham's 'A Haslemere Suite', the test piece and the rousing 'Toccata in D Minor' to close – and they celebrated in fine fashion after they received their trophy.

Fine account

Great Western Youth were formed four years ago and the debutants gave a fine account of themselves under Paul Collis-Smith. A confident rendition of 'Slaidburn' was followed by the taxing set piece before they featured three tip top soloists on baritone and flugel horn in 'Concerto D'Aranjeuz'.

By the time they'd brought 'Pinball Wizard' to a close they looked like they'd enjoyed every minute of the experience.

The same can be said for Lydbrook Youth, led by a very dapperly dressed Robert Morgan MBE, who brought the contest to a close.

The opening 'Walkabout' was vibrantly played, whilst Ben Stratford, who recently joined the National Youth Brass Band demonstrated his musical potential on 'Grandfather's Clock'. Their final pieces of 'Highland Cathedral' and 'Adventures in Brass', just got a little tired, but it was a highly encouraging debut nonetheless.

Plenty of Merit

That just left the three bands that gained Merit Awards.

Cumnock Academy Brass from Scotland made the long journey South for the first time this year. Whilst they struggled a little with the set work, they produced plenty of enthusiasm and good playing under the direction of Craig Anderson, especially with the 'Zurich March' and the closing 'Loch Lomand' complete with obligatory bagpiper.

Fred Longworth High School meanwhile won the Junior Section two years and they showed their growing potential by opting for four pieces which included Andrew Crampton performing 'As Long As He Needs Me' from 'Oliver' with a stylish aplomb.

Finally, MK Brass under the direction of David Rose, who will have gained a great deal from this experience. The band really gave it their all (and were the smallest band in terms of numbers of the contest) in every piece, ranging from 'The Old Gumbie Cat', to a nice Salvation Army interlude, a confident tenor horn soloist and a brave old effort on the test piece.

Awards

At the end of a long, but enjoyable contest, all that was left was for the speeches from Robert Morgan, the Co-op, The Worshipful Company of Musicians and Dr Meechan, before the excellent compere, Dave Heywood announced Elland as winners and the Yorkshire celebrations began to ring out around the RNCM.

Malcolm Wood