2010 National Youth Championships - Junior Section retrospective
21-Apr-2010
There may have only been three competitors, but there was plenty to enjoy in the Junior Section - especially with the winners.
---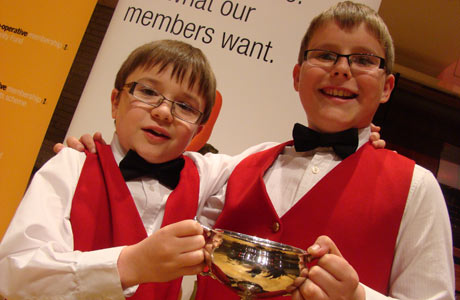 Joe and Dan: Joseph Davis and Daniel Hardman celebrate Astley's victory

More pictures at: www.4barsrest.com/articles/2010/1137g.asp
Strutting their stuff

The only real disappointment of the Junior Section that followed immediately after the training bands had strutted their stuff in the RNCM Concert Hall, was that there were only three of them to enjoy.

The class is open to 'established' ensembles comprising beginners and junior players all aged 16 or under, and their 15 minute programmes had to included at least one item specifically composed for brass band.

In its way the section provides the ideal competitive entry level for young bands (merit awards are given), but because the rules at present rather mimic those found in the Training Section, it means the similarities are perhaps too pronounced.

The BFBB will also have to look at whether or not they will be able to make a 'Most Improved Band' Award next year too (none was made this year) as that seems to no longer have any measurable criteria.

As in the Training Section, the eventual winners were also the first band to play.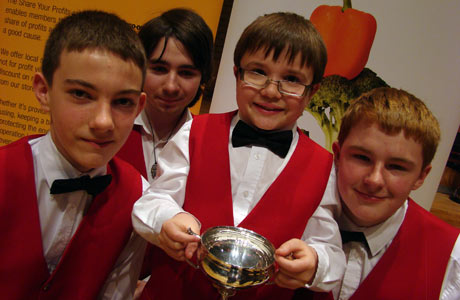 The fab four: Astley's young tyros enjoy the winning feeling

Busy day

Astley Youth took to the stage under the admirable baton of Helen Minshall (who as usual had a busy day as she also took Bolton Youth in the Advanced Section). Formed in 1994, the band hails from the Greater Manchester area and has been a beacon of musical excellence ever since.

Here they delivered a well drilled set that started with a tub thumper march, 'True & Trusty', followed by an excellent performance of 'Solitaire' by 13 year old Thomas Jordan on soprano.

A neat change of style with 'The Long Day Closes' and Peter Meechan's up-tempo 'Curtain Call' to close, deservedly gave them a Gold Award, the Boosey & Hawkes Trophy and the £350 first prize.

Couldn't be beaten

As celebrations go, they couldn't be beaten either, with the fantastic dot of a tenor horn player, Joseph Davies (aged 8, but going on 18) leading the way, as he was held high on the shoulders of his compatriots.

It is rumoured he didn't let go of the cup until he went to bed on Sunday night.

Just behind

Just behind them claiming a Silver Award came Chalford Youth conducted by Steve Tubb. The 24 strong band from the west country did themselves proud, with a well chosen programme that started with a fine rendition of 'Celebration of Youth', and which was followed by an excellent 'Pie Jesu' soprano and flugel duet and ended with the upbeat 'Fascinating Drums'.

Max Ireland picked up the 'Best Instrumentalist' Award for his fine soprano contribution throughout the band's programme. He is a young player to watch out for in the future for certain.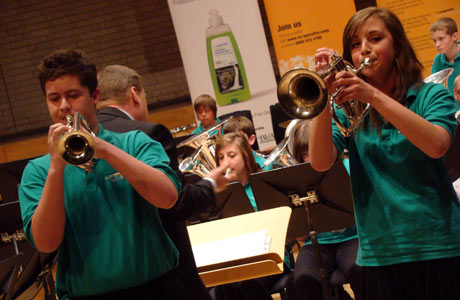 Delightful duo: Chalford's winning instrumentalist Max Ireland is joined at the front

Great kit work

There was also plenty of good playing to enjoy with Bronze Awardees Stockport Schools Intermediate (one of three bands from the organisation taking part on the day in different sections), under the direction of James Holt.

They started as Chalford ended – with a wow factor performance of 'Fascinating Drums' that featured a quite remarkable bit of kit playing from 13-year-old George Grundy.

Ubercool

This lad can play – and with an ubercool hairdo and handsome smile, you feel he may well be destined for a career that will include late night parties, beautiful girls and million dollar Ferrari cars. The boy's a natural rock star drummer.

The following 'Blaze Away' march was played with a healthy swagger, whilst the neat change of style with the last two movements from Malcolm Arnold's 'Little Suite for Brass' were performed with stylish purpose.

Almost as soon as it has started it was all over, with Simone and Mark once again providing excellent analysis of what they had both seen and heard – emphasising the positives, but making sure that there was constructive criticism too.

Then came those brilliant Astley Youth celebrations.

Iwan Fox