2010 National Youth Championships - Training Band Section retrospective
21-Apr-2010
There was a great start to the day in Manchester, even if the parents may have needed an extra hour or two in bed..
---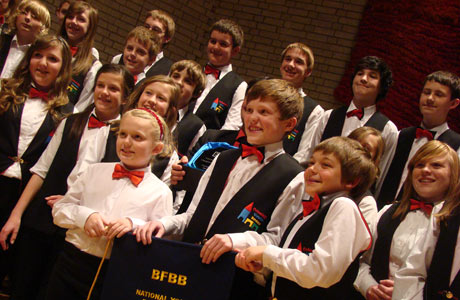 The fantastic Coleshill crew become 'Band of the Day'

More pictures can be found at: www.4barsrest.com/articles/2010/1137h.asp

Manchester's Royal Northern College of Music started to buzz with the unmistakable sound of excitable youth last Sunday, at an hour when most adults would love to have been able to enjoy an extra hour or two in bed.

And it didn't stop until the effects of too much artificially coloured celebratory soft drink had worn off later the same night either. It had been another great day of music making, but you suspected that by 8.30pm a few of the baggy eyed adults were longing for home, or the benefits of a surreptitious shot of Ritalin to calm down a few of their indefatigable young charges.

None of them would have missed it for the world though.

Right place, wrong time

It all started on the stroke of 9.20am (not 9.00am as in the programme) as the hard working BFBB volunteers (with a special mention to Gary Walzack and Arnold Tattersfield who did a huge amount of pre contest organisation) made sure everything was in the right place for the first band to take to the stage in the RNCM Concert Hall.

The seven ensembles in the Training Section set the ball rolling with a wonderful display of musical enthusiasm; from Coleshill Youth's nautically themed opening 15 minute set right through to last note of Lions Youth's, 'Amarillo' finisher.

Highly encouraging

The overall standard of playing was highly encouraging, with the conductor's earning brownie points for their sensible musical selections that not once asked too much of their players.

It was also great to see their visible signs of encouragement too: nods and winks, smiles and chuckles, thumbs up, pats on heads and perhaps even the odd promise of a hard earned lemonade and a packet of crisps from the bar after they played.

The little smashers of course loved it – marching onto the stage with military precision only to find that the RNCM does not cater too well with seats for those students below the height of four foot. Amazingly, their dangling legs swung from the chairs like metronomes, invariably in perfect rhythmic time to the music.

Relaxed steps

The BFBB will have been encouraged by the response to this new section in just its second year, which aims to encourage starter ensembles to take their first relaxed step on the contesting ladder.

Open to players under the age of 16, there were no merit awards and just the one 'winner' – or 'Band of the Day', which happened to be the very first band to play, Coleshill Youth.

Although the BFBB states that 'established bands' should not enter this section there may be a need to tweak the criteria a bit further for next year, as a number (two bands had over 40 players in the ranks) seemed to be pretty well established to a few rather perplexed parents 4BR sat next to.

Perhaps a younger age limit, of say 12 years and under, would give what is essentially a 'starter' section a more defined criteria. Next year all these bands should take part in the Junior Section, but one or two with real nippers in the ranks could really benefit from another outing here.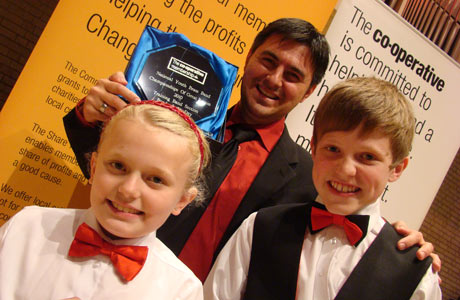 Winning smiles: Leah Smith and collegues celebrate their win

Ever smiling

The winners produced a cracking 15 minutes of music making under the excellent direction of the ever smiling Stephen Fagg.

The North Warwickshire ensemble got started after parents and teachers found that the local peripatetic service was not up to scratch, with children having to pay for lessons that were poorly structured and lacked commitment.

The story of a youngster who spent four years learning to play just four notes on the cornet was the last straw, so the likes of primary teacher Sally Ward and mum Tina Speakman, made sure they linked up with the progressive Coleshill organisation, led by the inspirational Stephen Fagg.

A few months later they were full to the brim with enthusiastic youngsters, delighted parents and had a band ready to go contesting.

Black Dyke sunk

Led onto the stage by the tiny figure of Leah Smith aged 9 on percussion it was something of a condensed version of their Butlins programme.

With vocal introductions from players, Stephen led his band on a nautical musical trip that included 'Beyond the Sea' to 'Yellow Submarine', 'Conquest of Paradise' and a lovely little tongue in cheek moment for the brass band aficionados when they played the navy hymn 'Eternal Father Strong to Save' in memory of the sunken SS Black Dyke!

It was a thoroughly well deserved victory and the celebrations that followed were a delight as Stephen tried in vain to calm his crew down as they had they photos taken on the stage with the trophy.

Proud

Although there were no placings or merit awards, the rest of the bands had plenty to be proud about.

The 20 members of Warren Wood Primary School (all aged between 7 and 11) were excellently led by Peter Christian. There were well picked items such as 'Happy Wanderer' and 'Reach for the Stars' and a special mention must go to the Rebecca Yates and Kate Seargent for their fine performance of 'Kidology'.

Liz Hudson kept a tight rein on Macclesfield Youth as they produced some cracking multi cultural playing – from a neat arrangement of the South African National Anthem to a delicate waltz and even a bit of 'Cha, Cha, Cha', all helped along by a great duo called Matt (8) and Will (7) on percussion.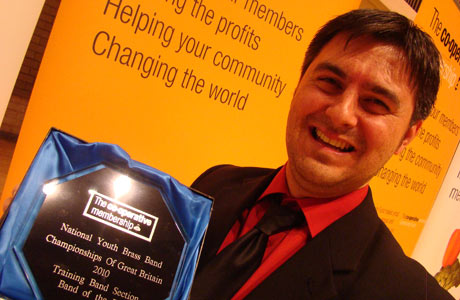 Inspirational leader: Stephen Fagg with the Taining Band Trophy

Extra help

Stockport Schools had a bit of extra help (the rules allow for four adults to boost the ranks) as Rachel Pavey led them through a well played programme that included 'Summon the Heroes' to 'Over the Rainbow' and 'Pirates of the Caribbean', as well as a great cornet duet from Ben Corbridge (11) and William Jeys (10) on 'Share My Yolk' (the little rascals enjoying every moment in the spotlight)

The massed ranks of Bolton Intermediate (nearly 50 players) also had a bit of extra help, with Black Dyke's Matt Routley on tuba (who must have looked like Hagrid from Harry Potter in size to some of those nippers around him).

Understandably the band produced a great old sound in a set that included items from the Beatles, Billy Joel, Andrew Lloyd Webber and even Gracie Fields. Who said kids are not getting a comprehensive education, with 11-year-old Michael Cavanagh the fine soloist on the Rochdale warbler's 'Sally'.

Swagger march

Poynton meanwhile produced an equally eclectic set with everything from Vivaldi to 'Raiders of the Lost Ark' and a little swagger march too: MD Joyce Hall must have picked up lessons from Richard Evans.

That just left the massed ranks of Lions Junior/ Beginners, with over 40 players under the command of Ian Raisbeck, who wrote or arranged all of the music the band played. It was a cracking effort too – from the opening 'The Rock', through to that 'Amarillo' finisher via a lovely little quartet feature on 'Eventide'.

Great start

It rounded off a great start to the day, and it came as no surprise that both adjudicators Simone Rebello and Mark Peacock enjoyed it too. Both gave excellent speeches – full of just the right degree of enthusiasm and praise, little pointers and analysis.

All that was left was the screech of delight as Coleshill Youth raced up to the stage to enjoy their moment of glory.

Iwan Fox