4BR Dinner Guests - John Roberts gives us his ultimate dinner guest list
9-Apr-2010
Conductor John Roberts tells 4BR just who he would have around his dinner table for a good night out and chin wag. It's an interesting mix..
---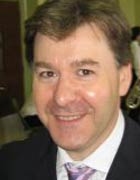 Given the opportunity, the wish list, the ability to mess about with the Space-Time Continuam like Doctor Who, and the skill to cook like Heston Blumenthal, who would you like to invite around to your place to enjoy a meal and chin wag with?

4BR started it all off a few days before Christmas 2007 with our 10 dinner guests, so we thought we had better ask a few more brass band personalities who would be on their all time dinner list too...
Conductor

This time it's the well known conductor John Roberts, who has packed a great deal into his banding career over the years as a player and conductor, and is currently leading a revitalised Skelmanthorpe Band, who he will conduct at the English National Championships in Preston later this year.

John told 4BR: "I could have asked loads of friends along for a great night, but knowing that 4BR likes to do something different I've picked some of the most interesting 'non banding' people I can think off - all with a link, be it tenuous, to the brass band movement."

He added: "I'm sorry my partner Rachel will be on her own, but I know she will more than hold her own against some of my guests! I'm also sure the conversation won't be all about brass bands either - which must a good thing - and some of the topics wil get opinions flying!"

"I'm not too sure who will do the cooking and the washing up though..."
---
1. Rachel Taylor

Girlfriend, partner, soul mate, confidante, supporter and critic without whom I'd probably not survive. Has the words; 'Skelmanthorpe Band' etched on her soul - no bad thing!

And on top of that she's an excellent pianist too.

2. Jimmy McGovern

I would congratulate him on the success of 'King Cotton', which he wrote in collaboration with Rachel's old college mate Ian Brownbill. I'd ask him if there was any remote possibility of reviving 'Cracker' - my favourite cop show of the 1990s.

McGovern's dialogue was brilliant:

Fitz (Robbie Coltrane): Where would you like to go on holiday?
His girlfriend DS Penhaligon: As far away from a Policeman as possible
Fitz: You mean Moss Side for instance?

3. & 4. Ray Galton & Alan Simpson

50 years ago the iconic scriptwriters used to get over 20million viewers and listeners to 'Hancock's Half Hour'. Even banding gets a mention.

In the 'Radio Ham' , Hancock listing his exotic contacts all over the world delivers the line:

Who was I talking to last week? - Ah yes. Rodrigo Dominguez, Rio de Janeiro. I promised to let him know who won the Daily Herald Brass Band Competition

We could debate whether Ricky Gervais is over-rated (he is)

5. Mark Kermode

I've listened to his film reviews on Radio 5 live every Friday afternoon for the last 9 years.

He let slip last year that he's a closet brass band fan and loves the film 'Brassed Off' (although he confused Grimethorpe with Brighouse...) I'd argue that 'The Parallax View', 'All the President's Men' and 'Network' were the best 3 films of the golden age of cinema (1970s).

He would passionately disagree.

I would then want to know why he didn't get Jonathan Ross's job on 'Film 2011' instead of Claudia 'wotshername'.

6. Martin Kelner

The Guardian columnist, former Radio Aire DJ and Radio 5 live contributor used to live behind the Parish Church at Rothwell and once wrote that he enjoyed listening to the band in there practising.

I enjoy his column and especially his contribution to 'Fighting Talk' on Saturday mornings. We could moan together about the plight of Leeds United.

7. Aaron Sorkin

OK - this is a very cheeky entry, but the opening sequence of 'A Few Good Men' (which he wrote based on his play) has a band playing 'Semper Fidelis' and then doing some very flashy display stuff with their rifles.

I'd like to ask him about the "You can't handle the truth!" scene with Jack Nicholson.

And then there's the 'West Wing'...and why was 'Studio 60' on the 'Sunset strip' cancelled?

Scandalous!

8. Gilbert Vinter

It's 1968 shortly after the British Open and Dyke are playing 'John O'Gaunt' at the end of the first half of a concert. I'm on the front row aged 9 sat next to my Mum.

I was completely mesmerised by the band and 'John O'Gaunt' in particular. From that night on I knew I was going to be stuck on banding for the rest of my life.

There are loads of questions I'd like to ask Vinter - I might tentatively ask why his openings are almost always better than his endings (see 'Spectrum', 'Variations on a Ninth' and the aforementioned test piece)

9. Michael Foot

I knew he was keen on bands but not the extent that was recently reported on his death.

I'd like to know more - and then we could talk politics!

10. Tony Blair

The former PM was (don't know if he still is) President of Fishburn Band for some years.

I'd probably sit him as far away from Michael Foot as possible, and there are still a few questions I'd like to ask him!
---
Previous dinner guest lists:
Previous guests have included the 4BR selection; Chris Wormald; David Read; Pete Meechan; Alan Jenkins; Derek Broadbent; Philip Harper; Peter Roberts; Frank Renton; James Shepherd; Dr Roy Newsome; Paul Lovatt-Cooper; Bramwell Tovey; Kevin Crockford; Morvern Gilchrist and Lesley Howie; Richard Evans; Simone Rebello; Ian Porthouse; David Daws; Alan Morrison; Alan Wycherley, Mark Bousie, Steven Haynes, Simon Dobson and Ian Buckley.