4BR Interview - Gavin Higgins
30-Mar-2010
4BR's Chris Thomas talks to one of the UK's leading young composers - Gavin Higgins.
---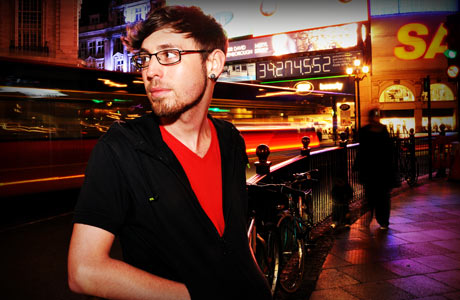 Forward looking composer: 4BR talks to Gavin Higgins

At twenty seven years of age, Gavin Higgins is one of the brightest stars amongst a flourishing generation of talented young composers currently writing for brass band.

Coming from a banding background and playing the tenor horn in his youth, brass bands are engrained in his musical make up although his wide ranging influences and imaginative, eclectic creative mind have already seen his reputation spread into the world of orchestral and chamber music as well as dance.

His first acknowledged piece for brass band, the atmospheric miniature 'Ivory Ghosts', attracted attention when it featured on the CD Brass Band Aid and was subsequently played by Brighouse at the Festival of Brass. Since then 'A Forest Symphony' and more recently 'Fanfares and Lovesongs' have galvanised his reputation as a composer with a promising future ahead of him.

4BR's Chris Thomas chatted with Gavin shortly before the premiere of his new orchestral work 'Dancing on the Edge of Hell', to be played and broadcast by the BBC Symphony Orchestra.
---
Chris Thomas: Could we begin by you telling us of your earliest musical experiences?

Gavin Higgins: I grew up in the Forest of Dean surrounded by a family of brass banders. Nearly everyone in my family played in the local band (including my dad, who marched down the road pretending to play trombone once). I don't really remember learning to play though.

It's just something I have always done. Alongside that I grew up listening to 90's dance music and Brit-pop; not always the most musically nourishing stuff around but I think those early experiences still have an impact on the way I write now.
---
Chris Thomas: When did you begin to compose and were your earliest pieces written for brass band?

Gavin Higgins: I didn't start composing properly until I began studies at the Royal Northern College of Music although I had completed a number of (rather sketchy) arrangements for my local brass band. Music had always been a big part of my life but it wasn't until I gained a place at Chetham's School of Music that I began to take it seriously.

The first piece of 'music' I wrote was a solo trumpet piece called 'Alarms', which featured on the BBC Young Musician of the Year competition although I feel it's only in the last few years that I have written things of any real musical worth.
---
Chris Thomas: Despite your involvement with brass bands it was the French Horn that you studied at college together with composition?

Gavin Higgins: Yes, I studied at Chethams School of Music for two years before moving onto the RNCM and was asked to change to French horn. At the time I found this change very hard. I had reached a certain level of proficiency on tenor horn and was suddenly having to learn C major scales again.

I was also surrounded by some of the best young musicians in the country which didn't help my confidence. Of course over time I improved and in hindsight it was one of the most valuable decisions I made. I had the opportunity to experience a whole new range of repertoire and learn the works of interesting composers as well as coming into contact with some of the UK's finest musicians.

I was the first person to gain a place on the joint first study course at the RNCM and to this day (I am reliably told by my ex tutor) the only person to have actually completed it; I don't know if that makes me mad or tenacious! It certainly wasn't easy.
---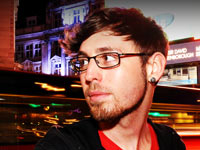 Christopher Thomas: During your post-graduate studies at the Royal College of Music your teacher was Kenneth Hesketh, another composer with a number of brass band pieces to his name. Are you able to explain what you learnt from him and how he helped to shape you as a composer?

Gavin Higgins: Having Ken as a teacher was great. He really pushed me to think outside the box and forced me into situations that I felt uncomfortable with, which sounds harsh but is incredibly liberating. I have reservations about composers who seem to churn out the same piece time and again and I like to push myself musically and technically, something Ken was more than happy to indulge.

In my first lesson he asked what group of instruments I would least want to write for and I answered 'piano duo'. A month later I had written a piece for piano duo. I found working outside of my comfort zone a challenge but I firmly believe that if you can make a piece you don't want to write work; it can only make you better.

Growing up surrounded by the homogenous sound of bands I used to have a slight phobia of mixed instrumentation groups but now I relish writing for these types of ensembles.

You have to treat everything differently whilst trying to maintain a distinctive voice, a challenge I enjoy taking on – if it scares you then you should probably do it!
---
Chris Thomas: There have been many examples of composers that have gained stereotypical reputations as "brass band composers". The range of your output in terms of your growing catalogue of chamber and orchestral music would seem to indicate that you have tried very consciously not to fall prey to this?

Gavin Higgins: Yes I suppose I have. I feel passionately about brass bands but I also want to compose music to the best of my abilities and this means writing a lot of music. In the greater musical world there is more opportunity for a young composer to experiment, both musically and artistically, without the pressure of traditions and regulations, something I have found can be a hindrance in the brass band world.

At this stage I have no interest in categorising myself, I am just striving to write good music. I want to be considered a composer in my own right.
---
Chris Thomas: I'd like to ask you about the diversity of your music. There is quite a gulf between a work such as 'Ivory Ghosts' or 'Tango' and a piece like 'Rage Dances for Ensemble'. On a stylistic level, do you consciously approach the brass band differently than you would an orchestra for example?

Gavin Higgins: Almost everything I have written for brass band has been rather prescribed, even to the point where my harmonic language has come under fire. A composer's harmonic language is his voice and the idea of someone attacking that part of me doesn't inspire me to compose. So this 'gulf' isn't completely intentional, although some of my pieces are quite clearly tongue-in-cheek.

In a piece like 'Tango', Brett Baker wanted something very 'showy' and as a result the piece is really quite audacious. That being said I still believe if the musical subject is light the music shouldn't be any the worse for it. I spend as much time and care on my lighter works as I do on bigger projects.

It's important for a composer to maintain integrity.

I think on a purely technical level you have to approach the orchestral medium differently to a brass band. For instance adding one more trumpet to an orchestra could change everything (as I am learning). The addition of one more cornet in a band and you probably wouldn't notice the difference.

Stylistically and musically however it totally depends on the piece and the situation. I have found that with most of my chamber/orchestral pieces I have been granted a great deal of artistic freedom, usually only being told instrumentation and duration. I suppose with that in mind I would approach the piece differently.

If I had the chance to write a serious piece for band and was allowed an equal amount of artistic freedom I doubt the work would be too far off what I write for classical musicians. The question of course is whether or not the brass band world would respond to this.
---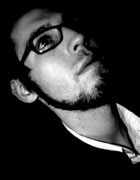 Chris Thomas: Your music, although arguably less so your brass band pieces, can also sometimes visit some pretty dark places with titles such as 'Sex Shop Variations' and 'Prince Charming Pays for Sex'…..one of the movements from your 'Urban Fairy Tales'. Although 'A Forest Symphony' has its darker moments, have you tried to be less provocative with your brass band music?

Gavin Higgins: I don't deliberately try to be provocative in what I write. I simply tackle subject matters that inspire me. For example, my piano piece 'Urban Fairy Tales' is a set of character pieces based on updated fairy tale characters. The Grimm's tales have always interested me and I believe they are still relevant today, especially if you consider our celebrity, X-Factor obsessed culture.

I imagined what they would get up to if the characters of my childhood were living in inner city London in 2009. So Prince Charming may well pay for sex, Sleeping Beauty would probably wake up with a hangover and Cinderella could be tempted to dabble in recreational drug taking.

I have never had a bad reaction to these pieces; in fact audiences understand the ironic nature of the music and seem rather charmed by the way I have humbled these 'celebrity' story book characters. I am convinced that a piece of a similar nature would receive the same reaction from an audience of brass banders, after all the piece is basically an episode of 'Eastenders'.

Unfortunately I think there are some in the movement who seriously underestimate our listeners and as a result rely on 'safer' options when choosing composers and works for contests and concerts.
---
Chris Thomas: Perhaps shaking the brass band movement up with something a touch daring would help to propel it into the twenty first century?!

Gavin Higgins: This is a nice idea on paper but in reality I fear certain people involved in the movement are far too stuck in the past to really embrace the new (although I hope I am wrong on this!) There seems to be an obsession with 'bums on seats' and a fear that any move forward could somehow have a knock on effect on the number of people who go to watch concerts/contests.

As far as I can tell it's all about presentation. I once wrote a clarinet piece for BBC Young Musician of the Year winner Mark Simpson entitled 'Three Broken Love Songs'; a dark journey through a failed relationship.

The first movement is called 'Two Bottles of Wine Later' and depicts a drunken sexual encounter. I stood up at the beginning and talked a little about the piece and after the performance a group of older ladies came up to me smiling and told me with much relish, 'that first movement took us right back to our youth!'

The subject was dark, the harmonic language was far more complex than my brass music and yet these old ladies had a thoroughly good time listening to it. Audiences can take anything you throw at them as long as you present the material in the clearest and most professional way.

This current trend of dumbing down music is incredibly detrimental not only to talented composers who want to create quality music but also to the integrity of the brass band movement.
---
Chris Thomas: In 'Freaks!' the inspiration for the music is the grotesque and even seedy world of the circus freak show. Your musical response takes in the circus itself, shades of Gershwin, a touch of vaudeville and even something close to 'Hava Nagila' that mutates into Bourgeois….quite a mix?!

Gavin Higgins: Yes, that piece was fun to write, once again ludicrous and over the top but the subject matter is actually quite dark. The inspiration came from one of the first 'talkies' by silent film director, Todd Browning – the film in fact ruined his career partly due to the plot but more so to the fact that he used real side show freaks in the cast.

Although these days we would consider the film melodramatic and a bit camp the underlying dark current leaves a bitter taste in the mouth. In keeping with the film the music is over the top and rather eclectic.

I called upon various musical styles to create a colourful and slightly unsettling sound world.
---
Chris Thomas: Listening to 'A Forest Symphony', it strikes me that it is written by a composer that clearly knows his brass band repertoire, whilst refracting that knowledge through a progressive and questing creative voice. Who do you feel you have been most influenced by creatively?

Gavin Higgins: Well I certainly listen to lots of different music and have obviously ingested a lot of brass band music along the way. One of the first pieces of music that had a big impact on me was 'The Rite of Spring', which I first encountered as a child in the Disney film, 'Fantasia'.

Some years later I managed to see a staged production of the ballet and was totally inspired. It was not long after this that I decided I wanted to take composition seriously.

It would be very hard for me to pin point specific composers who have influenced my own musical style as I listen to many different things.

One brass band piece I adore is 'Cloudcatcher Fells' but equally I spend a lot of time listening to bands such as Daft Punk, Goldfrapp and the Guillemots as well as composers such as Turnage and Bartok - my ipod is almost always on shuffle!
---
Chris Thomas: In contrast to 'A Forest Symphony' with its sometimes dissonant layering of parts, your latest brass band piece 'Fanfares and Love Songs', written for the National Children's Brass Band is different in style and atmosphere again?

Gavin Higgins: Yes, 'Fanfares and Love Songs' is certainly lighter in style than I had originally imagined. I don't believe in dumbing down music for youngsters. With the right direction they will always rise to the challenge.
---
Chris Thomas: Thinking of your creative processes, how does a piece usually begin for you? Is your initial inspiration for a piece usually a musical idea or will it often start with an extra-musical thought?

Gavin Higgins: This would normally depend on the piece and what's stimulating my imagination at the time. I would normally look for extra-musical ideas as starting points, usually something like an image or a place, something I can visualise.

I am currently writing a piece about an abandoned theatre so the visual associations are very important. The idea for my last piece came initially from reading 'Inferno' from 'The Divine Comedy' and later became more specific when I found a picture relating to some of my ideas.

I rarely start pieces from a purely abstract musical point of view.
---
Chris Thomas: Do you then tend to write at the piano or at your desk?

Gavin Higgins: I usually come up with ideas just walking around, travelling on the tube etc. but the graft part comes at the keyboard. I sometimes spend hours just playing chords until I am totally satisfied with the harmony.
---
Chris Thomas: 2010 has already been a busy and no doubt exciting year for you with the forthcoming first performance of your intriguingly titled orchestral work for the BBC Symphony Orchestra, 'Dancing at the Edge of Hell'. What can we expect to hear from the piece?

Gavin Higgins: 'Dancing at the Edge of Hell' is my first real piece for orchestra. I have worked as an orchestrator on a number of film scores and ballets but writing your own orchestral music is quite different. The commercial sound world I am used to working in is at odds to the driving, dark sounds I wanted to create in this new piece, although there is still a bit of Hollywood in there!

I have always held a fascination with theatres and in particular the rather romantic and eerie qualities associated with those that have been abandoned. The idea of performances lingering like ghosts fuelled my imagination and so I decided to write a 'mock ballet' set at the end of time.

Whilst looking for information on old theatres I came across the image of a fiery crater in the middle of a desert and knew this would be the perfect setting for my piece; desolate, barren and dramatic. Recollections of the illegal raves of the 90's in the 'Forest of Dean' and the famous 'Burning Man' festival in Nevada's Black Rock Desert sparked off the inspiration for the piece.

'The Gates of Hell' as locals affectionately call it, is a massive hole in the middle of the Turkmenistan desert. Although the exact cause of this crater is still rather ambiguous, the hole is not so much an outcome of nature but rather an industrial accident.

The story goes that in 1971 a Soviet drilling rig accidentally punctured a large natural gas cavern, causing the ground to collapse and the drilling rig to fall in.

Noxious gas began to leak from the hole and in a bid to prevent an environmental disaster the Soviets set the hole alight, presumably in an effort to burn off the gas. The flames have been burning now for nearly 40 years and show no signs of stopping.

The work is set in an abandoned theatre at the end of time. A ballet company are about to perform their interpretation of an End-Of-Days festival, a party that takes place at the Gates Of Hell in Turkmenistan – a final apocalyptic rave before the end of the world.

Though the piece is not programmatic, images of crumbling theatres and fiery craters are at the core of the work.
---
Chris Thomas: And you have also recently become the first ever Music Fellow to the Rambert Dance Company. What does that position hold for you in the near future?

Gavin Higgins: The Rambert are an incredible company. They are so willing to try new things and always in the most professional way. The dancers never complain about moves and the musical and artistic directors are refreshingly open minded.

In fact every idea I have suggested has been welcomed with open arms, it's just a question of how we make these things work, not if.

At the moment I am just enjoying touring with the company but we are already in discussions about working with some of the Rambert choreographers and dancers on some new pieces. Hopefully these relationships will last past the end of my job description, but right now I am thoroughly enjoying working with one of the world's most exciting dance companies.
---
Chris Thomas: With 'A Forest Symphony' and 'Fanfares and Lovesongs' behind you, would you now relish the opportunity to write a challenging brass band work on a major scale?

Gavin Higgins: I would love to write a large serious work for band but it seems the only chance to do this is at Championship Section contesting level and therein lays the problem.

There appears to be a strict 'check list' format expected from composers and from an artistic point of view that bothers me. This has resulted in a pool of test pieces that are all basically the same with no real sense of invention or originality.

I love working within parameters as it helps to give me a sense of structure and direction, but I believe a line has to be drawn when it interferes with a composer's musical integrity. This (rather annoying) expectation that all test pieces have to finish on a final loud major chord piece is ludicrous – no one in the brass band world would argue that 'Resurgam' is rubbish because it finishes softly.

A piece can still be a challenge and a test without a composer being forced to apply cheap firework and party tricks. I refer back to 'Cloudcatcher Fells', a wonderful piece full of originality. A piece ticks all the boxes but retains its subtleties, lyricism and invention.

There also appears to be a lack of faith in younger composers writing music for brass band. For the first time in years there are a number of young people who want to write for the medium and I don't believe there are enough opportunities for this interest to flourish outside of the contest arena, with the exception of the RNCM Festival of Brass.

Of course funding is always going to be a problem (especially now the arts funding in the UK is drying up and looks set to get worse) and you can't expect anything for free.

But it seems a waste of these resources to continue commissioning the same pieces from the same composers year after year.

At some point audiences are going to grow weary of this trend and maybe then I or one of my fellow young composers would be considered to write a piece.
---
Chris Thomas: Finally, are you optimistic about the future of brass bands and what are your thoughts on the repertoire debate that is very much ongoing at present?

Gavin Higgins: I do worry about the future of the movement, especially if something doesn't give soon. It's not moving forward and it's not even standing still. We are actually going backwards and a large part of this comes down to selected repertoire.

Many of my colleagues and friends from outside of the banding world still believe that bands play marches and hymns. The idea of writing for the medium is seen almost as a joke. I always fight the brass band corner and refer to some of the great composers and pieces that exist in the repertoire but I do see their point.

If we consider recent test piece choices and commissions, there does seem to be a real dumbing down in all aspects, creatively and bureaucratically, which is absurd considering that the quality of bands and players is improving at an alarming rate.

The repetitive stereotypical contest piece we hear again and again (cornet solo that lands on a high E, pianissimo for 10 beats, a Euphonium solo that covers the entire range of the instrument in 2 seconds, 'big tune' in the middle (no matter how inappropriate), cadenzas for every instrument in the band, triumphant ending where the 'big tune' makes an unexpected return) is now an expectation not a compositional choice. I myself nearly fell prey to this unoriginal format in a recent work.

I understand that there have to be certain things in a test piece that 'test' the band, but surely not at the expense of musical integrity? We as players and listeners should not be prepared to accept anything less than great music, so why do we?

There seems to be so little originality and ingenuity on show at the moment, which is frustrating because I could list at least five young composers working in the medium who have this and more! Pieces that resemble knock off film scores with predictable signposts do not cut the biscuit with me.

If the pop world caved in to this kind of apathy we would only hear the likes of Gareth Gates and Peter Andre blaring out of our radios, a fantasy I don't care to indulge.

As I see it this all comes down to two things; an underestimation of our audience and a fear of the new. There is a notion that banding audiences would not come to contests and concerts if there is something 'new' and challenging on the programme, something I find mildly offensive.

I for one don't enjoy being told what I will or won't like. Of course listening to something that explores unfamiliar territory or a piece that takes us into a new harmonic/rhythmic world is going to be a challenge but this is no reason to bend to these populist trends.

There are of course obvious ways of breaking down these 'musical' barriers. For example, talking to the audience about the piece. There is nothing wrong with giving the audience an insight into the working of the piece, things they should listen out for, themes that resonate throughout.

I guarantee they will have a much deeper understanding of the work and will probably enjoy it, or at least feel secure enough to discuss it further.

Change is inevitable and is more often than not a good thing. A shake up usually breathes new life into something old and I think the banding world could do with the blinds being drawn back wide and the sheets being ripped of the bed.

If we want the rest of the world to take us seriously we have to start taking ourselves seriously and that means performing quality new music and supporting younger composers. The movement should be ecstatic that there are so many young people wanting to write for band.

I believe that the brass band world is an important part of the UK's musical culture but I do wonder if it is forever doomed to church fetes and the floral dance – hopefully not.

Chris Thomas: Thanks for talking to us.