2010 North of England Regional Championship - First Section: retrospective
25-Mar-2010
Richard Evans was in his element on Saturday leading Barton Town to glory on a reminder of a bygone era.
---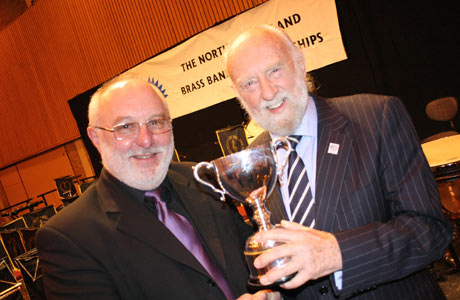 Holst's 'A Moorside Suite' has tested First Section bands to their limits in recent weeks, and for Kevin Wadsworth, it is music that is close to his heart.

Having listened to the seven performances, Kevin stepped out of the box to tell a fascinating personal story.

He first pointed out though that following the Yorkshire Area contest he was aware that his thoughts on the piece were now well known (following the recorded interview on 4BR).

What wasn't as well known however was that those clearly defined views were developed not just because he knew the work very well as a performer and conductor, but also as a result of a quite remarkable piece of memorabilia.

50 years service

Following a celebration dinner in the late 1960s, Black Dyke had acknowledged its most senior member, Ernest Keaton, who had notched up 50 years of service with the band.

After recalling his own small part in Black Dyke's 1928 National win, Ernest later presented Kevin with the priceless memento of that victory – a small silver medal that was awarded to each player who, under the great William Halliwell, gave Black Dyke only their second National success.

The piece played that day was 'A Moorside Suite'.

Kevin took the medal out of his pocket and showed the audience a tiny fragment of banding history that linked the pursuit of 2010 National qualification to that of a bygone, but not forgotten age.

No wonder he holds Holst's great work in such admiration – because it's still bloody hard to play.

The nail on the head

It also goes some way to explaining why he knows that even 80 years after Ernest Keaton played the piece, it still retains such a hold on the imagination.

Having judged at two areas, Kevin wondered if bands had heeded his words and taken note of the simplistic style needed in the first movement.

Although he playfully acknowledged that the 'Nocturne' was, 'a nightmare for anyone with masochistic tendencies', he also made the telling point that it should not have been so difficult if bands had played hymn tunes regularly to gain experience of the quality required to make it sound lyrically controlled.

Getting the pace of the 'March' was just as important – something too many bands and their MDs found difficult to judge.

Sympathy for six of them

When it came to the winners though, Ernest Keaton would have been proud, although he would surely have had sympathy for the remaining six bands that were beaten by a memorable performance from Barton Town.

Maestro Evans

The pre contest favourites had been drawn number 1, and so the hall was fairly full as Richard Evans took to the stage.

Expectations were high following Barton's rapid rise through the sections under his command in the past few years. And they were not to be disappointed, after Richard directed a free flowing rendition that was faithful to the absolute spirit of the score.

It was a performance that was worthy of a National title; shaped with authentic appreciation of style and manner, delicate yet robust, paced to perfection in each of the three contrasting movements.

The 'Scherzo' was light and detailed, whilst the 'Nocturne' sent a tingle down the spine, and the 'March' was played with a measured sense of Edwardian pomp. It came as no surprise that the band picked up individual awards for basses and trombone, although on this occasion it would be unfair just to spotlight those individuals above others. This was an ensemble performance of the highest merit.

Richard later told 4BR that it was up there with some of his finest contest performances and he wasn't exaggerating. On this form Barton will be one of the red hot favourites at Harrogate.

Lyrical

Wansbeck's Ashington Colliery will join them there after delivering an authoritative reading that had more than enough about it to secure the runners-up position. Although it did have the occasional mishap and unforced error, Steve Malcolm's lyrical approach was very much from the same vein Richard Evans had sought, so it came as little surprise that it found favour with Kevin in the box.



Heading to Harrogate for Wansbeck's sop player
Picture: Steve Jack

Shepherd's flock into third

Shepherd Group and Richard Wilton produced a hard working rendition to claim the final podium place. Although lacking that extra touch of polished finesse of the qualifiers it was still a performance of merit, with some notable individual and ensemble contributions, including winning the 'Best Percussion' award.

If Harrogate had any thoughts about playing in their own back yard in September, they knew that on the day that wouldn't come to fruition. It was a slightly hesitant performance that had extended periods when the music flowed and was secure, but was also interrupted by unforced errors to end in 4th place.

Degrees of difficulty

For the remaining three challengers though, 'A Moorside Suite' bared its 80 year old teeth, and whilst none were mauled to death, they left the Dolphin Centre with a few nasty marks in tender areas.

Flookburgh's well thought reading from John Iveson never gelled despite the good musical intentions, whilst Murton Colliery and Denis Noble will know that far too many individual insecurities cost them a chance of painting anything more than a very sketchy musical picture.

So too Durham Miners Association who struggled to overcome both the technical and musical obstacles that were laid out before them.

The legend's day

The day though belonged to Richard Evans. His enthusiasm and hunger for contesting remains undiminished, especially when he gets the opportunity to revel in a work such as this. Ernest Keaton would have loved to have played under him on this day we are sure.

Malcolm Wood