2010 North of England Regional Championship - Second Section: retrospective
25-Mar-2010
The Dolphin Centre was certainly Cockerton's Kingdom on Saturday morning.
---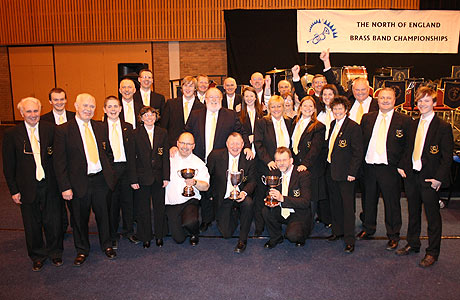 Cocks of the North! Cockerton celebrate their victory
Picture: Steve Jack

The North of England Regional contest was giving a lively start on Saturday morning when seven bands lined up to tackle Philip Harper's test piece, 'Kingdom of Dragons'.

There was some fine playing as well as some indifferent performances, a touch of the unexpected and some excellent adjudication comments, all helped by efficient stage management undertaken in an enjoyable atmosphere with a real sense of camaraderie.

If only all contests were like this.

Kevin tells it how it is

Kevin Wadsworth has been busy over the past couple of weekends adjudicating in various regions. Here, he was full of praise for the Music Panel and their choice of music before going on to give a thorough assessment of Philip Harper's work.

As we have come to expect, Kevin played a dead straight bat with his informative analysis of the piece and what he had heard in the box: Clear, precise and to the point. Nobody left not knowing what he wanted and why.

Three stood out

In a seven band field, it was the top three prize winners that stood out and those bands rounded off the contest – Cockerton Silver Prize, Catterick Brass and South Milford. With regards to the latter, they could consider themselves, as Kevin so eloquently put it, 'damned unlucky today' that they missed out on a Harrogate trip.

That musical picture

Kevin's analysis of the test piece highlighted the need to find the character in each of the descriptive movements; from the majesty of the opening, through to the mechanised rhythms of the second section, the tranquillity of the pastoral third and the busy fugue that finished the fourth.

There had to be a balance between control and commitment, excitement and pace, and flow and tranquillity. All harder things to do than you may at first think.

The top three bands did them all to varying degrees of success, whilst those that came out of the prizes found it a bit of a harder ask.

Cockerton ticked all of the boxes, and their success was even the more memorable as they got the nod for having the best bass section and soprano too, although on this occasion the soprano in question came courtesy of Northumbrian Water who'd played before them.

Laurence Pearl certainly earned his dep fee (usually a pint in these parts) beause he produced a cracking show with Cockerton to give what could be described as 'a pearler of a performance'.

Cockerton's performance wasn't far behind either, with a real sense of musical purpose about it, all with that essential control, excitement and flow. It was a fine show well worth its victory.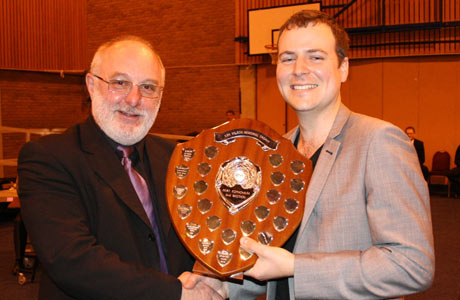 Wheeler of fortune: Brenden Wheeler picks up his Harrogate prize
Picture: Steve Jack

Wheeler inspires Catterick

North Yorkshire outfit Catterick Brass will make the short journey to Harrogate in September after an excellent display that certainly benefited from having Brenden Wheeler on euphonium.

The army musician made light work of the his part that has stretched others (no surprise he took the euphonium prize) and his presence inspired his colleagues to deliver a fine qualifying performance full of balance, control and warmth.

Damned unlucky

The 'damned unlucky' South Milford Brass missed out on that finals berth through not fault of their own.

Playing last, theirs was a performance that had all the virtues of quality that Kevin was looking for, but was just beaten by two better bands. Well directed, the soloists played neatly, the ensemble was cohesive and balanced, and the overall character of each of the varied movements was well portrayed.

In just about any other area we have been to this year it would have got through without a problem. They can count themselves unlucky.

Four varied accounts

That left the remaining four bands, all of whom gave of their best, but were in reality playing in a mini contest of their own.

Dearham drew number one and opened up with a National Anthem that didn't seem quite right on the ear for some reason. Thereafter they took time to settle, but when it did they produced a robust account that just lost its way in places, especially in an over ambitious fugue.

Northumbrian Water meanwhile produced a very uneven interpretation, although there was some fine individual contributions (Laurence Pearl on soprano of course) but can have few complaints that they couldn't draw more character from the score to come any higher than 5th.

For Houghton Brass and Billingham Silver, two hard working performances that found difficulty in overcoming the technical challenges in each of the movements. There were moments when things did click with both, but overall they were fighting against the odds at times.

Malcolm Wood