2010 North of England Regional Championship - Third Section: retrospective
25-Mar-2010
Not even a fire alarm going off could stop Ferryhill's performance winning off the number one draw.
---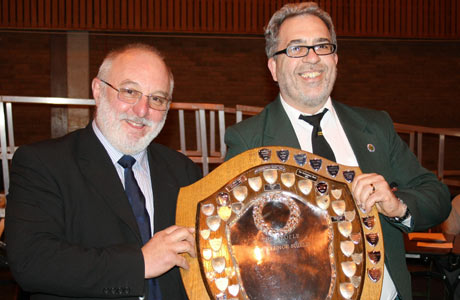 Healthy smiles for Ferryhill as they head to Harrogate
Picture: Steve Jack

Health and Safety has a lot to answer for. Whoever set the fire alarm off here will perhaps reflect on a job well done, but it did rather put a damper on the start of the Third Section contest.

Fortunately, the sun was shining, so nobody got wet, and the first band due on stage, Ferryhill, was standing in their uniforms raring to go on 'Labour & Love'.

After that brief delay, an intriguing contest unfolded.

Double quick time

Strangely, it seemed over in double quick time, and everybody's thoughts soon centred on wondering what Kevin Wadsworth would make of it all. He didn't disappoint, and his analysis of the work and what he had looked for in all nine performances left no one in any doubt of where they stood come the results.

Kevin also wondered if Percy Fletcher knew what sort of challenge he was setting for bands when he wrote the music almost 100 years ago, and what he would make of the modern brass bands efforts in playing it. Puzzled seemed to be the answer he was looking for.

British Airways cabin staff

Furthermore, Kevin also made the point that he had hoped that players and conductors had read the background to the piece, making the point that the style is reminiscent of the old silent movies of the era.

His detailed insight continued with a more modern reference to the rebellious trombones at letter K - calling them the 'British Airways cabin staff of brass bands at the moment'. Kevin applauded those that acquitted themselves very well and added that if he'd had been the Willie Walsh of music, '…they'd have won their case, very well'.

The overall standard did vary, with some excellent playing at the top end of the results table, whilst towards the bottom, it was harder work and there was a number of casualties.

Relaxed winner

That fire alarm appeared to take away any tension Ferryhill may have felt because they looked so relaxed on stage, subsequently delivering a performance that would take some beating.

Susan Norris brought an operatic style to her interpretation that was full of bravura soloists and robust ensemble, and which brought the music thrillingly to life. It was a fine team effort that resulted in a fine team victory.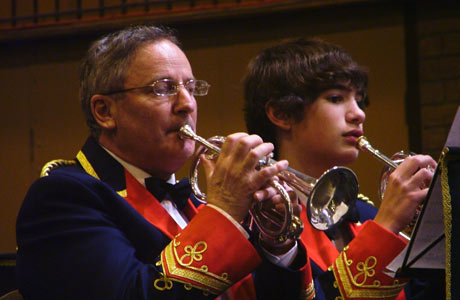 Yorkie bars: York Railway lay their musical track to Harrogate
Picture: Steve Jack

York back on track

York Railway Institute led by Gordon Eddison was the penultimate band to play and produced a performance full of style and lyricism. The band's percussion section were rewarded for their efforts and having come down from the Second Section, qualification for Harrogate was a commendable achievement for a performance that sounded vibrant and full of promise.

Ripon in third

Ripon City took third place courtesy of a rendition that was nicely styled and executed, but had a few too many little nasty edges, whilst North Skelton took a while to get into their stride, but when they did, produced a colourful rendition full of drama and character.

Both bands weren't far off a place at Harrogate, but a lack of consistency saw them miss out.

Consistency

Further down the pecking order consistency became the key.

Kirkby Lonsdale and Dunston both seemed to get a little excited with the dynamics when a touch more restraint would have been beneficial, whilst Marske Brass, Bearpark & Esh Colliery and Durham Constabulary all gave valiant whole-hearted performances which just about overcame the technical difficulties of the score, but left little room to explore the musical characteristics.

All of these were performances of merit though, but just needed a little more quality and that all important consistency.

For two bands though, the hard labour of recent weeks had paid off and Ferryhill and York Railway Institute can look forward to Harrogate with considerable degrees of confidence.

Malcolm Wood