2010 Welsh Regional Championship - First Section: retrospective
25-Mar-2010
There were the usual problems on the moors in Wales, but two bands showed a mastery of Holst to get to Harrogate.
---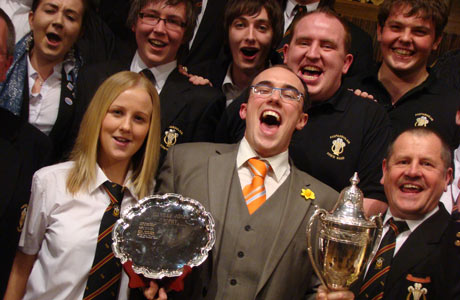 Celebrations from the Bont: Pontardulais head to Harrogate

As with every other region around the country this year, 'A Moorside Suite' created all sorts of problems for the Welsh contenders for Harrogate on Saturday afternoon.

Not one

Not one of the seven bands came away unscathed by Gustav Holst's work; some with a few noticeable bumps and scraps, others holding on more for dear life at times.

Welsh bands do tend to play with more ingrained lyrical qualities than most, but that was never going to be enough to master this work, which also asked searching questions of basic technique as well as innate musicianship.

The two qualifiers, Pontardulais and Wrexham were well worth their places at Harrogate from Colin Hardy, whilst Markham & District could count themselves a little unfortunate that on the day they didn't quite appeal in the box as they did with many listeners in the hall.

Clear cut

Colin provided the audience with a fairly clear cut analysis of what he was looking for before the announcement of the results, and whilst he praised the efforts of each of the bands he ensured that they knew where they stood in terms of his understanding of the pace required for the 'Scherzo', 'Nocturne' and 'March ' tempos.

Percussionists and soloists all were noted too, but it was style and temp that were the keys – keys that some bands placed very much into the wrong musical locks on the day.

Fast rising

Not so the winners, Pontardulais. The band from 'The Bont' are a fast rising star in Welsh banding with a conductor in Paul Jenkins who brings a cool headed intellect to his readings.

Their 'Moorside' was therefore rooted in good basic technique, warmly hued ensemble and security in the main lead lines.

Whilst it didn't quite have the persuasive lyrical qualities that Wrexham Brass certainly showed before them, that solidity, especially in the well paced 'March' to close tipped victory in their favour and rewarded an intelligent bit of musicianship from the man in the middle

The contrast between the two qualifiers was surprisingly stark at times, with the winners opening 'Scherzo' having a slightly heavier edge to its pulse, and the 'Nocturne' opting for a less lyrical sense of style. Both 'March' movements were played with admirable understated pomposity.

Fine reading

Wrexham will take a great deal of encouragement from this result, courtesy of a fine reading of the score from the MD, and which took some well placed risks that sought to highlight the undoubted strengths of his band.

With fine contributions from the solo cornet (who played with a lovely vibrato), soprano and euphonium, especially in the 'Nocturne', Wrexham's lighter ensemble texture brought a sense of Edwardian style to the playing with tasteful restraint to the dynamics.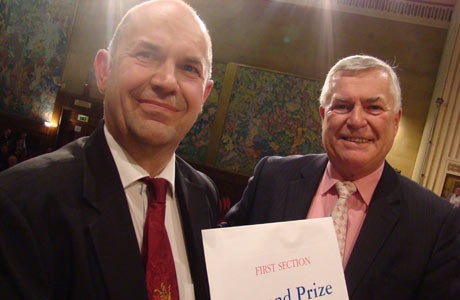 Lyrical Wrexham gain thier finals place

Another day

On another day Markham & District may have won the contest.

Nigel Seaman's reading was full of taste and refinement – from a jaunty 'Scherzo' opening to a flowing 'Nocturne' (played with a warm viscous quality) and purposeful march, and which was aided by a lovely bit of cornet playing from 'Best Instrumentalist' Lewis West.

It can count it self unfortunate that it didn't quite get the nod in what was a very close 'three into two' fight for Harrogate.

Own contest

The remaining four bands produced a contest of their own – a notable length or two behind the top three however.

City of Cardiff (Melingriffth) produced a technically fairly secure rendition, but a rather bold appreciation of dynamics and a forceful style in the 'March' in particular let them down, and they could have no complaint in ending 4th.

So too Abergavenny Borough who certainly benefited from a lyrical reading of the score by Steve Sykes (and one that appeared to be a tasteful copy of his more successful effort in Scotland the week before).

It fell short on this occasion with some nasty individual moments of unease and tuning issues in the 'Nocturne' that took away the sense of tranquil serenity that had initially been created. A well paced 'March' just couldn't bring them back into contention and they had to be content with 5th.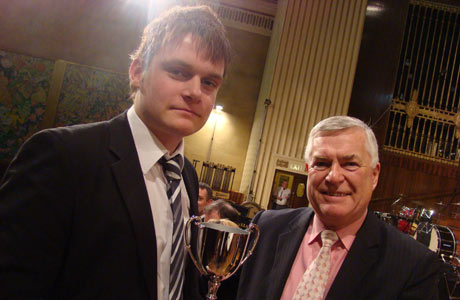 Best Soloist: Lewis West of Markham & District

Old habits

Parc & Dare's 6th place held a great deal of encouragement (although they wouldn't have appreciated the miss-spelling of their name in the programme), and despite the obvious shortcomings (due mainly to them being a short of the full compliment) David Griffiths intelligently led them though each of the movements asking only what he knew his band could produce and no more.

Speaking to a number of their older 'stalwarts' after their performance, there was a mixture of pride and stubborn old fashioned disappointment at the silly errors they made (old habits die hard) that will surely see them build on this welcome return.

For Rogerstone, a disappointing performance that didn't show off an improving band at their best.

Too many errors, both individual and ensemble and an inclination to overblow left them rather spoiling the musical picture. It seemed a performance of a band that didn't really enjoy the musical test it had to try and overcome.

Enjoyable

Overall though an enjoyable contest of two very distinct levels.

The qualifiers will head to Harrogate knowing that they will have their work cut out of they are to maintain the Principality's recent stranglehold on the National title though, although they are two good bands with the potential to do that if they can build on the invaluable musical experience gained here.

Markham meanwhile will reflect on an unlucky near miss, whilst the remaining quartet will take plenty of encouragement from their trip back in time on Holst's classic.

Iwan Fox