2010 Welsh Regional Championship - Second Section: retrospective
25-Mar-2010
Familiar ground for the competitors here, but it was two bands from outside Dragon country that booked their tickets to Harrogate.

---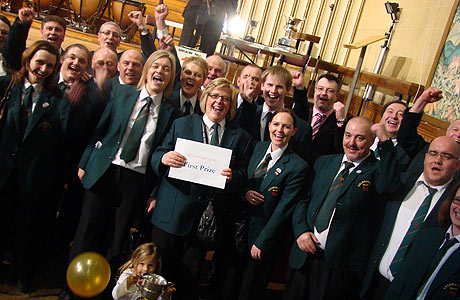 Terraced celebrations from Tylorstown

As test pieces go, the bands in the Second Section here couldn't have asked for anything better could they now?

Although there were challengers from North, West and even South of the old Monmouthshire/Gwent geographic area that inspired 'Kingdom of Dragons', all of them would have had a fair old idea to what the music was all about.

Not one

Thankfully, not one of the conductors decided that they would try to completely reinterpret Philip Harper's cleverly realised musical portraits of 'Monmouth', 'Blaenau Gwent', 'Torfaen' and 'Newport', although not for the first time, nearly all of them thought the speed of fugue inspired life in the metropolis that is Newport was more akin to New York on New Year's eve.

Neat

The winning performance came from Tylorstown, who hail from the neatly terraced mining village in the Rhondda Valley – a few miles west of 'Dragon' country, although you wouldn't have been able to tell that by the way in which conductor Gary Davies drew his musical inspiration.

Warmly toned, balanced and secure from start to finish, theirs was clear winner. The opening 'Monmouth' was majestic with just the right hint of deliberate forward motion, whilst the change of pace into the depths of the furnaces and pit faces of 'Blaenau Gwent' was achieved without it sounding as if someone had turbo charged the colliery steam train.

A lovely tranquil 'Torfaen' was played with a sense of flowing serenity, before a quick maul with the Pontypool front row led to a deliberately paced 'Newport Fugue' which featured some wonderful tenor horn work in particular.

By its controlled close the last band of the day had made Malcolm Brownbill's job an easy one and Gary was left to enjoy the celebrations with his band and supporters. They will head to Harrogate as one of the favourites on this form.

Second time

Joining them there for a second successive year will be Deiniolen directed by Gavin Saynor.

The North Walians may not know the South East Valleys of Wales as well as many of their rivals, but that didn't show as they produced a highly evocative rendition that had drama, pathos, excitement and a sense of stylistic variance throughout.

It also benefited from a fine bit of euphonium playing from Daniel Taylor, who took the 'Best Instrumentalist' prize, and whilst it just needed a touch more finesse in places, it was a performance well worth its qualification.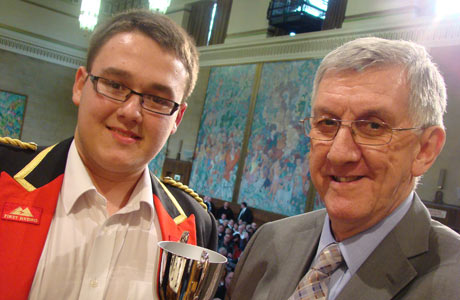 Best Soloist Daniel Taylor of Deiniolen

Unlucky

Lewis Merthyr can count themselves a touch unlucky that their lyrically drawn account didn't quite make it to Harrogate on this occasion.

Gareth Pritchard's intelligent direction brought a sense of broad warmth to each of the movements that perhaps made for a slightly rose tinted portrait of the industrial landscape of 'Blaenau Gwent', but certainly brought a wonderful sense of tranquil beauty to the 'Torfaen' interlude. Just a tired finale robbed them of a possible finals place.

Exciting

Behind them Llanrug's exciting, stylish rendition under the baton of Paul Hughes was vivid and colourful (with a cracking bit of anvil playing) and seemed set for North Yorkshire until they got a touch over excited in the 'Newport Fugue' and their chances of getting to Harrogate rather ended up in a mess at the mouth of the River Usk.

There was little to choose between the rest of the 12 band field, with Blaenavon Town picking up 5th place with a performance that started poorly but built in stature as it went along. Perhaps not surprisingly given their location at the top end of Torfaen , their trip to 'Pontypool Park' was one of the best of the day, although not for the first time for a group from the town, they got into a bit of bother in Newport.



From North Wales to North Yorkshire for Deiniolen

It was much the same for Gwaun Cae Gurwen too – two fine movements to start and then problems with intonation when seeking a touch of tranquillity in 'Torfaen' and a head long rush to the bright lights of Newport.

Meanwhile, John Doyle led Royal Buckley through a vivid interpretation that was certainly exciting, but which at times was a little too red in tooth and claw for even the most ferocious of Dragons to cope with.

The opening two movements saw them sound like a band on a finals mission, but they couldn't rid themselves of the adrenaline in the veins and an over excitable closing fugue in particular robbed them of any chance of coming higher.

Work to rule

For Cross Keys the opposite was the case for much of their exploration around their home county, with a need for more flow in the opening 'Monmouth' movement and a more mechanised pace in the 'Blaenau Gwent' section, which was played as if the miners and tin plate workers were on a bit of an old fashioned work to rule.

The well paced fugue was one of the best of the day, but for Malcolm Brownbill it must have come too late for them to make more of an impression.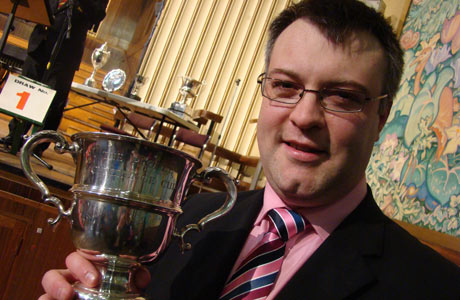 Winning smile: Tylorstown MD, Gary Davies

No complaint

The bottom four bands could have no real cause for complaint.

Briton Ferry had their moments good and bad in a performance that was well structured and paced but bedevilled by too many individual and ensemble errors, whilst Newton Silver will rue a very poor opening that took time to settle, as thereafter they grew in confidence to end with a well paced 'Newport' flourish.

For Ynyshir, an encouraging performance that new its limitations and was directed with common sense by Dean Evans, although by its close they sounded a tired band, whilst RAF St Athan, were another band that overcame a poor opening to produce two fine middle sections and then let all the hard work go to waste somewhat with an over ambitious white knuckle ride into Newport town centre.

Analysis

Malcolm Brownbill delivered an effective pre results analysis of what he wanted to hear from the bands on the day, and made the point that there was a need to draw the differing characteristics out from the clearly marked score, at clearly marked tempos, especially with the Newport 'fugue'.

Perhaps he has spent a few nights in the town in his past, because he knew only too well that those who played fast and loose were always going to find trouble.

No trouble though for the winners or the runners up, and both Tylorstown and Deiniolen will head to the more tranquil surroundings of Harrogate in September confident of doing very well indeed.

Iwan Fox