2010 Welsh Regional Championship - Third Section: retrospective
25-Mar-2010
The operatic tradition is alive and well in Wales - thanks to some brilliant youngsters from Goodwick...
---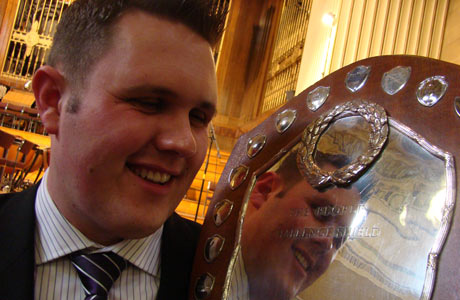 Reflecting on a cracking performance: Goodwick MD, Matthew Jenkins

Although not as well known as perhaps its heritage of choirs and bands, Wales also has a fine tradition of long established amateur operatic societies.

Up until about 30 years ago, most of the larger towns in the South Wales valleys had flourishing organisations who would put on productions ranging Lehar to Bernstein and just about everything else in between.

Good show

Many bandsmen cut their teeth over the years playing the musical accompaniment for these productions as the local organisations combined at least once a year to put on what the Welsh affectionately term, 'a good show'.

And although their numbers have reduced much more dramatically than brass bands, you can still seek one of these 'good shows' in most provincial theatres such as in Newport or here in Swansea where the standard of productions is invariably pretty high.

It came as little surprise then that given the chance to put on a bit of an operatic 'show' on 'Labour & Love' the performers here would enjoy themselves. It's in the DNA.

That said, it didn't mean we got six performances that would have made a mark on Broadway, but we did get half a dozen old tub thumpers that brought a smile to the face and plenty of enjoyment.

'Labour & Love' could have been written with the Welsh in mind: The Reg Flag has flown proudly in these parts just about from the very day Percy Fletcher wrote the piece in 1913, whilst they are a passionate lot when it comes to affairs of the heart – although sometimes it must added, to disastrous effect.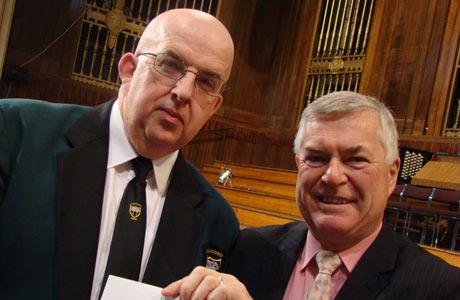 Return to Swansea and Harrogate for Llywdcoed

Slap and tickle

And like most things in the Welsh boudoir department things here were over and done with pretty quickly, with Goodwick and Llwydcoed booking their places to Harrogate courtesy of a pair of performances that were hot blooded in both the hard graft and the slap and tickle departments.

Perhaps Goodwick's youngsters are more worldly wise than the vast majority of their angelic faces suggest, because their winning rendition under the astute baton of Matthew Jenkins combined both elements to super effect.

The MD has learnt a great deal from his experience of being taught by Dr Robert Childs at the Royal Welsh College and playing under him at Cory. Not only does his neat conducting style contain aesthetic elements of his teacher, but so does his insistence on getting all the basic building blocks of a quality performance in place first and foremost too.

It allowed him the leeway to let his players showcase their talents, with a fine cornet, soprano, trombone, euphonium and horn all producing little cameos that were bang on in terms of operatic style – showy and dramatic.

Although they did just tire to end when excitement saw them overblow the last few bars, it was a cracking effort to give the band its first ever Welsh Regional title and head to Harrogate for the first time since 2004.

Impressed

Adjudicator Colin Hardy was very impressed by the standard he heard on the day. "The winners were excellent," he said. "Some of the solo playing I heard today was a delight." He wasn't wrong with the winners.

Joining them at the International Conference Centre will be Llwydcoed, who returned to the contest this year after failing to make it to the starting line up 12 months ago.

Their strong, robust account under Gary Davies had a more mature feel about it (the lads had a few more notches of experience under their belts), with a weighty bass led foundation in the ensemble and a clutch of confident soloists, none more so that 'Best Instrumentalist' winner Iestyn Davies on cornet, who played his cadenza with an artistic flourish.

Their performance off the number 1 draw set the marker that Colin Hardy felt only Goodwick pipped on the day.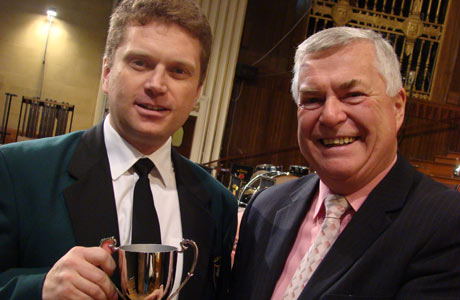 Best Soloist: Iestyn Davies of Llwycoed

Operatic

Unfortunately it was Corus (Port Talbot) who missed out after delivering an operatically inspired performance under the direction of Colin Hogg, which may just have got a little too fruity in places for Colin Hardy's taste in the box.

Some high class solo playing (from the principal cornet in particular) was offset by a heavy sound at times, which lost some of the more delicate detail in the Brangwyn Hall acoustic, but they could count themselves a little unlucky that it wasn't enough on this occasion to book them a place at the finals.

Full blooded

These three bands were some distance ahead of the rest of the small field, but there was still much to enjoy in the full blooded approach of Ogmore Valley, Oakeley Silver and Ebbw Vale.

Ogmore just had too many annoying little blips and clips that took the gloss of a neatly delivered account, whilst Oakley Silver will look back on an encouraging performance on their return to the contesting fold that held promise for the future – it wasn't far off being a very good one indeed.

The same too for Ebbw Vale, with some nasty individual moments just robbing the well thought out picture by MD Ceri Thomas that placed the emphasis on neatly shaped musical phrases to bring the old yellow edged music to life.

Making music

Although both qualifiers will know that they will have their work cut out come the finals to make an impression against stronger rivals from other regions, they go there courtesy of two performances that showed that despite the occasional technical lapses, Wales has bands with the ability to make music come to life.

And that can't be a bad thing at all.


Iwan Fox