2010 North West Regional Championship - Championship Section: retrospective
19-Mar-2010
Foden's as Mike Tyson? They certainly knocked out the opposition like him in his prime at the Winter Gardens on Sunday to claim a fifth consecutive North West title.
---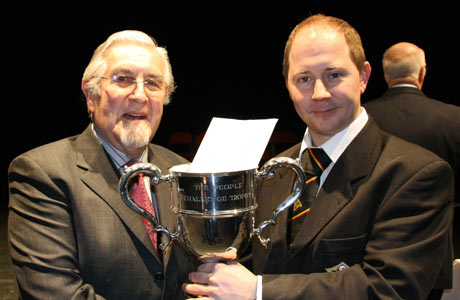 Knockout guys: Brian Buckley presentes the North West title to John Barber of Fodens
Picture: Steve Jack

Mike Tyson was in Blackpool this week to speak at a Sportsman's Dinner.

He may not be a brass band fan, but even he would have enjoyed the similarity between this competition and a few of the ones he took part in his prime. After 9 rounds this contest was as good as over.

Despite there being three contenders still to play in the 12 band field, Foden's had knocked out the opposition with a killer blow on 'English Heritage' that had left their rivals flat on their backs looking up at the stars.

Knock out

Fairey and Leyland produced genuine heavyweight performances to push the reigning champion all the way and claim their London ringside seats, but even they will have realised that the 'Sandbach Assassin' is in a different league when it comes out fighting in this kind of musical shape.

Exceptionally high

Adjudicator, C. Brian Buckley declared that the top four bands stood out from the rest of the field, (Wingates producing a fine account to round the contest off) but as he inferred, the winners were a class apart and made his final decision an easy one.

Having been in the box in Yorkshire a week earlier, Mr Buckley would have been fully aware that the winners here would have been vying for glory in Bradford without a shadow of a doubt. Now comes London.

Brian also talked about the technicalities of the piece and cited the need for them to be overcome before bands could go onto produce an authentic musical interpretation of the George Lloyd work.

He had a great deal of sympathy for the bands below the top four, all of whom gave of their best, but he must have been aware that there were a number that struggled to produce authentic championship quality performances.

The gap between the winners and Co-op Milnrow in sixth was big enough to drive Mike Tyson's stretch limousine through, whilst between them and the bottom three or four it was wide enough to still have room to fit Don King's ego in too.

Degrees of tedium?

Foden's continued dominance at Blackpool seems unremitting in its excellence.

It may make the contest a touch tedious, but Foden's consistency in London in finishing in the top four in recent years has guaranteed an extra place for fellow North West contenders.

Trying to wrestle this title away from the Cheshire outfit is such a tough job at present, and although it will happen at some point, their current level of performance here is acknowledged by even their rivals as being exceptional.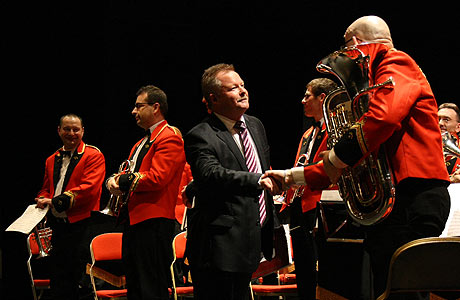 Congratulations: Garry Cutt shows his appreciation
Picture: Steve Jack

Fascinating battle

Fairey and Leyland are getting closer and closer, and both camps will take a great deal of satisfaction from their efforts on the weekend. Theirs though was a bit of an undercard scrap, with Wingates hoping that either one or both may have knocked each other out of the qualifying equation in the process.

Neither either did both display a level of consistency and high quality execution to go with well thought out battle plans from their MD trainers, that their tickets to Kensington were not in doubt.

Musical blow

Foden's class shone through from the moment the cornet section opened up with semi quaver clarity not before them on the day. The rich detail and musicality took the breath away, whilst the control and artistry of Mark Wilkinson along with the other leading soloists was a demonstration in the art of brass band musicianship few can equal. The control of the dynamic in the largo was simply magical.

Philip Chalk and Fairey pushed their rivals the closest for the title and fully deserved their runner up spot.

The reading was one of musical precision and security. The warmth of the ensemble sound was of a very high quality with the soloists having the hallmarks of high-class quality about them too.

The cadenza between Laura Hirst and Mike Eccles was stunning, and they just kept piling on the points with a fabulously controlled middle section. Nigel Fielding's contribution on soprano brought touches of class whilst Ben Thomson made the Eb tuba solo sound ridiculously easy.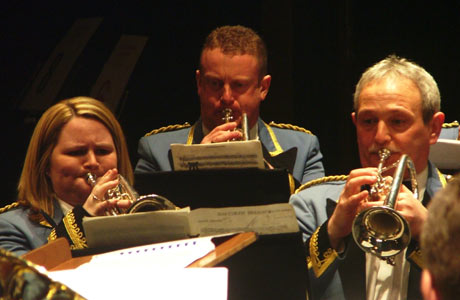 Top trio: Fairey's make the trip to London
Picture: Steve Jack

Evans delivers the early marker

Howard Evans looked a contented man after Leyland had delivered their performance, which was marked by a sense of refined control.

The vibrant sound was warm and fruity with some wonderful ensemble playing that focussed the ear on collective rather than individual strengths. The disciplined control may just have took away a touch of excitement at times, but the contributions from John Doyle and Philip Schwartz in particular were immensely impressive and as good as any on the day.

With Philip Harper taking over the role of Professional Conductor, Howard Evans' simple task was to get the band to London, and his intelligent reading and cultured leadership did just that.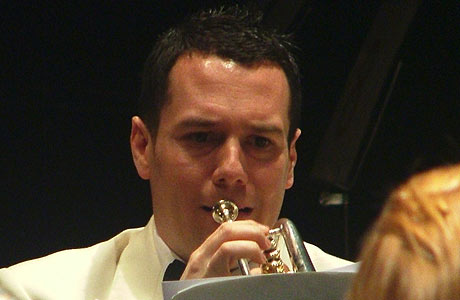 Top man: Leyland's John Doyle helps get his band to London
Picture: Steve Jack

Wingates miss out

With three qualification places available somebody was going to miss out, and whilst it did not come as a surprise, Wingates will still be disappointed that they just couldn't do enough in the opinion of Mr Buckley to squeeze past Leyland into third place.

Drawn to play last, Alan Morrison's band delivered a fine musical account. The reading was one of style and purpose and whilst it never hit the heights of the top two, the admirable self-imposed discipline meant errors were kept to a minimum.

This was Wingates back to their best for the first time in quite a while.

The final two podium places went to Ashton under Lyne and Co-op Milnrow.

Ashton's delight

Ashton has been up and down here more times than Frank Bruno, so they will have been delighted to have taken 5th place on their latest return to the Championship division.

Theirs was a performance full of passionate endeavour, cleverly crafted and coerced by MD, Martyn Evans. Nothing was overdone and the approach showcased the strengths of the band. They did tire towards the end, but this resilient performance certainly had a great dal of merit.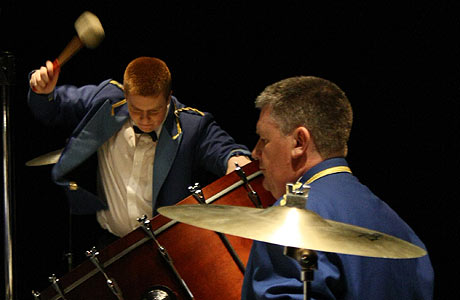 'av it! Wingates percussion team give it their all
Picture: Steve Jack

Milnrow cling on

John Ward's Co-op Milnrow will surely be happy to have gained a top six finish for the second year running. This was a workmanlike performance that was solid and unremarkable, never quite threatening to explode into life, but never in danger of whimpering to death either.

Not Pemberton's day

Pemberton and Mark Bentham will have walked off stage knowing that this was a day when things didn't go to plan. It was performance that promised much, with the usual Bentham hallmarks of good preparation self evident, but when it appeared to be on course to make a mark, things were undermined by loose ensemble, sloppy errors and thoughtlessness.

It was a frustrating performance more than anything else.

Tough going

The remaining five bands found the challenge of 'English Heritage' tougher than they may have initially thought, and as was the case over the Pennines a week early, a number were not authentic championship section challengers.

Blackburn persevere

Blackburn and Darwen's performance was one of perseverance from the first note till the last. Iain Culross's lyrical playing was in evidence in the principal cornet seat in a fine performance with his latest band (he's a corner man who has had more ringside seats than Angelo Dundee), but the ensemble demands of the work finally took their tool on an increasingly tired rendition.

It was a similar story for Co-op Crewe and Jef Sparkes. The MD knew that the piece was a stern test and intelligently kept a lid on the dynamics and tempos to try and safeguard stamina.

However, a high error count finally undermined a well thought out effort and they ended in 9th place.

Walking a tight rope

The final three bands will know that they took a bit of a beating.

Bactiguard Wire Brass and Paul Andrews have certainly demonstrated in the past year or so that they are a band with real potential to make a mark at this level, but on this occasion it went horribly wrong, with what was perhaps their most inconsistent performance we have heard from them for some considerable time.

It was a bad day at the contesting office.

Poulton-le-Fylde and Roberts Bakery struggled through on a bit of a wing and a prayer at times, and a great deal of credit must go to the MDs who at no point looked as if they were going to throw the towel in.

Both are cruiserweight performers in a heavyweight division here and would be serious contenders for honours at First Section level. They left here bloodied but bravely unbowed.

No stress

With the contest playing out time after Foden's knockout blow, all that was left was for Peter Bates to announce the results and apologise if he had upset anyone during what was a stressful day across all the five sections for himself and his dedicated team who did a fine job.

No real stress though for Foden's and Garry Cutt. They could have as many successful defences here in the years to come than Rocky Marciano if they carry on playing like this.

Malcolm Wood