2010 North West Regional Championship - First Section: retrospective
19-Mar-2010
Freckleton proved to be a bit of a myth buster as they took the First Section title from the number 1 draw on Sunday.
---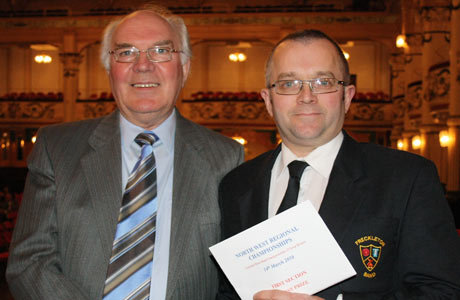 Any happier and there will be a winning smile... Freckleton's rep enjoys the winning moment
Picture: Steve Jack

The myth that being drawn number 1 is a bar to contesting success, even in a fairly small contesting field such as this, was well and truly blown apart by this fine win by Freckleton directed by Paul Dalton.

Marker

Their well shaped, musical performance of 'A Moorside Suite' gave Barry Thompson in the box a marker that no other band really came close to matching, and whilst not an error free by any means, it had an authentic stamp of quality about it that will serve them well when they reach Harrogate.

A bright opening was followed by a persuasive 'Nocturne' and a controlled 'March', to deliver a deserved win.

Fine account

Dave Holling and Silk Brass Macclesfield will join them at Harrogate after they produced a fine account of Gustav Holst's work that although not quite having the overall quality of the winners still produced a neat opening 'Scherzo', musical 'Nocturne' and controlled 'March'.

Very nearly

Third placed Bollington Brass very nearly did enough to pinch that finals place as last band of the day, but a slightly tentative approach to the 'March' robbed them of the chance of a Harrogate place when one seemed within their grasp.



Taking the Silk trail to Harrogate: Silk Brass win through in second place
Picture: Steve Jack

Consistency

As was shown at Bradford, the key to gaining a place at the finals was consistency, and whilst a host of contenders produced at least one well-constructed movement of the work, none could marry it to another two.

VBS Poynton in 4th may well feel a touch disappointed that they didn't quite catch the ear of the man in the box after their solidly portrayed performance ended with perhaps the best interpretation of the 'March' of the entire contest.

Manx Concert Brass in 5th and Longridge in 6th will know that too many unforced errors and nervousness in the 'Nocturne' in particular will have cost them any chance of a September break in North Yorkshire.

Much had been expected from Oldham (Lees) and whilst John Collins and his band tried bravely, this was a piece that stretched them to the limit. No sixth consecutive title then, but a performance that continued to showed their rich potential.

Same can be said

The same could also be said of Wardle Anderson in 8th, who on another day may just have forced their way into the top six, whilst there can be no complaints from the bottom three of Timperley, Tyldesley and Mossley all of whom will have known that they made far too many errors to have pushed any further up the results table.

Barry Thompson was generous in his remarks, but will have known that a contest that started with such promise somewhat failed to impress as much thereafter.

Those who sat and listened to all 11 bands, will have thought much the same too.

Dave Tinker