2010 West of England Regional Championship - Second Section: retrospective
18-Mar-2010
A proud Englishman with a Welsh name produced a cracking account to take the Second Section title and head to Harrogate as champion.
---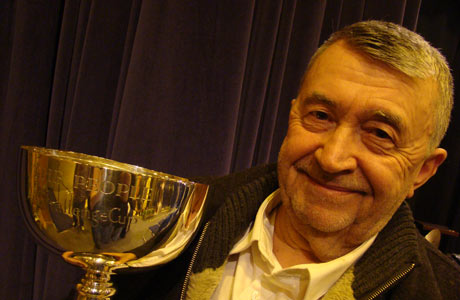 Founder's smile: Jim Scott celebrates 60 years with Filton with a title

'The Kingdom of Dragons' proved to be a popular and entertaining test for the 14 bands in the Second Section on Sunday morning.

The composer Philip Harper was in the hall to hear a number of performances, and he must have been heartened by the vibrant approach of the bands and their MDs to a work that is full of well drawn musical character (and the odd nod and wink or two to a few well chosen composers from Walton and Gregson to the bloke who wrote the 'Rocky' film theme)

Welsh hywl

The bands evidently enjoyed the challenge of bringing a bit of their own version of Welsh 'hywl' to the proceedings, with a number of performances that were as excitable as a mauling Pontypool prop forward and as solid as a Blaeanau Gwent pit prop rolled into one.

Lyrical

The more lyrical elements to be found in the opening 'Monmouth' section and the 'Torfaen Park' movements were also well managed, with a number of bands featuring classy soloists and with percussion teams in particular coming in for a special mention from the men in the box, Jappie Dijkstra and Peter Bassano.

Jappie made the point that whilst the piece could clearly motivate the bands to play well, there was still a need to keep a sense of balance and control. That was emphasised by a number just getting a little too ambitious with the tempo of the 'Newport fugue', whilst others found stamina waning in the final movement.

Peter meanwhile added that it was also important that the bands started well – emphasising the need for breath control and precision literally from the opening notes of the piece.

He also made the telling point that the work was very much about tempo relationships, highlighting a number of examples found in the score, which he believed were crucial in maintaining both momentum and excitement.

Delighted

Both though were delighted by the standard of playing on offer, and whilst they were critical at times of what the MDs had chosen to do with their interpretations, they hoped the bands would take their observations as constructive rather than destructive criticism. They should do.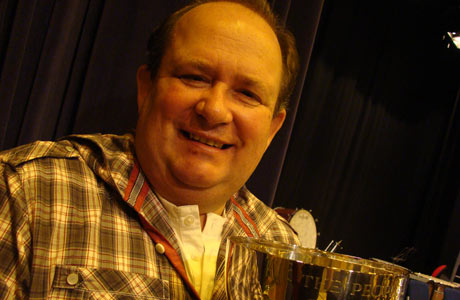 Jim Boy winner: Bryn James leads Filton to victory

Rare flourish

The eventual winners were Filton Concert Brass, conducted with a rare flourish of style and adherence to tight-leashed tempos by Bryn James.

Despite his name, Bryn doesn't have a drop of Welsh blood in him, although you wouldn't have guessed it by the way he developed a performance rich in character, style and admirable security from his band.

By the time they really started to show their quality with a balanced finale, there was little doubt they would be heading to Harrogate.

The occasion was made even more memorable as their founder, Jim Scott, who celebrated 60 years service with his band on the weekend, was able to collect the regional trophy accompanied by the sound of warm applause from a generous and appreciative audience.

Neat account

Filton was pushed all the way to the International Conference Centre by Shrewton Silver , who produced a neat account under Michael Dunford that benefited from a warm sounding ensemble, and some fine individual contributions, most notably from their flugel horn player.

Unfortunately someone had to miss out on the trip north in September, and despite their disappointment Swindon Pegasus will have been delighted by their performance that had set the early marker of the day under Mike Lock.

Although not quite having that touch of extra class of the two bands that did beat them, it was nonetheless a performance of merit and commitment, highlighted by a natty bit of ball pin hammer work by the 4th man down.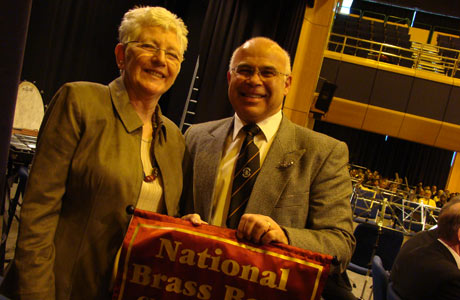 Shrewton smile: Shrewton head to Harrogate in second place

Quality on show

There was also plenty of quality on show with the bands that eventually came in the top six, with Forest of Dean's performance as striking at times as their flock wallpaper waistcoats.

Jack Smith's conducting was a cameo of tasteful restraint and control too, and just a tired ending may have cost them a place at Harrogate.

It was not to be another day of celebration for Brunel Brass here despite a solid, unpretentious account under John Winterflood that benefited from a warmly hued tonality and some splendid individual soloists. Just a very quick fugue temp may have cost them as some of the internal detail never quite caught the ear as it should.

Right direction

The same could also be said of City of Bristol, who seemed to be heading in the right direction under Ceri Thomas (a Welshman right from the heart of Kingdom country) that just faded in the final section when they looked as if they may be on course for a possible Harrogate berth.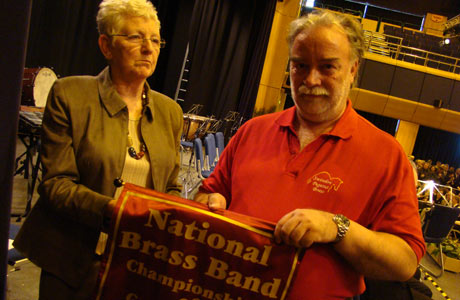 Nealy there: Swindon Pegasus come third

Short comings

Although the remaining bands delivered performances of merit, the obvious shortcomings ensured that they were not able to challenge for a top six finish or better.

Cinderford could count themselves a little unlucky though that their neatly paced, colourful performance didn't quite resonate in the box as they hoped or deserved, whilst Heyl Town will have known that a poor opening meant they were always going to play catch up thereafter.

Bristol East & Kingswood's uneven account was as colourful as their MD's shirt but not as well pressed at times, whilst St Pinnock rounded off the contest with a performance that had its moments good and bad.

Phoenix Brass (Crewekerne) were much the same in their white Kirk Stevens waistcoats – at times sparkling, at times scruffy, whilst Wotton & District just lost their control in the finale when they looked set to produce a solid effort.

Not their day

Pendennis and Gillingham will know that this wasn't a day when they really played to form with two performances that never quite managed to become cohesive enough to feature any higher than they eventually did.

For Filton and Shrewton though, performances of quality that should set them up nicely for the challenges that may lay ahead in the North Yorkshire countryside in September.

Iwan Fox