2010 West of England Regional Championship - Third Section: retrospective
18-Mar-2010
Listeners were sentenced to some hard labour and little love interest in the Third Section, but were rescued from their toil by two good quality qualifiers from Sidmouth and Bream.
---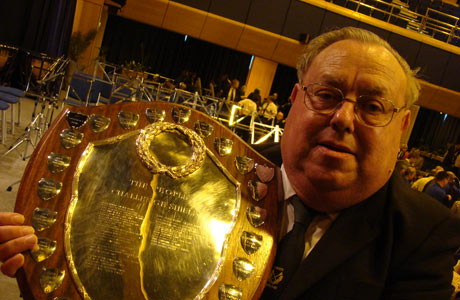 Tell Sid: Sidmouth take the Third Section title

The Torquay contesting weekend got off to a subdued start on the Saturday morning when 15 bands made hard work of 'Labour & Love' in what was a disappointing Third Section contest.

Given the standard of bands we have heard here over the past few years, perhaps it was expecting a bit too much for a host of quality performances to come echoing through the hall for Peter Bassano and David Horsfield to sit back and enjoy.

Let down

However, it was a still a major let down that this near century old potboiler claimed so many victims as it did.

Peter summed up the contest with his impeccably diplomatic address to the audience before the announcement of the results. His historical analysis was underscored by faint praise - this is not 'nuts and bolts music' he said, adding that the lack of lyrical playing meant that the operatic style of the music, inspired by the likes of Auber, Gounod and Verdi never quite materialised.

He congratulated the bands of course, but the lack of lyrical understanding meant that it was more a well-mannered thank you for their misguided efforts.

Lyrically inspired

David Horsfield also emphasised the need to seek a more lyrically inspired inspiration to play music of this sort.

The highlighted example of the cornet cadenza, which was approached as if it was an Arban exercise rather than an opportunity to deliver a piece of showcase artistry, made the point eloquently.

Clear cut

The two clear-cut qualifiers were Sidmouth Town and Bream Silver.

Adrian Harvey's sensible approach to the score meant that his band delivered a solid unpretentious account that had all the basic requirements of compact ensemble, secure soloists, good tuning and balance in place before anything else.

So too, Bream, where Huw Cole did exactly the same thing – building a performance of merit from the basics of good band playing.

Both performances were full of confident playing as the performers knew exactly what was expected from them from the word go, whilst the MDs reigned back any desire they may have had to indulge in a bit of misplaced over dramatic sugar coated pathos.

These were performances of hard grafted 'Labour' and respectful low risk taking 'Love' making – and reward for both approaches were well deserved qualification for Harrogate.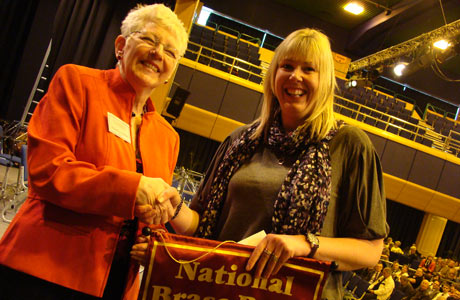 Happy smiley faces: Bream Silver head to Harrogate

Head not heart

Behind them came a host of bands that delivered performances that cried out for less from the musical heart and more from the musical head.

St Breward overcame a dodgy old start to very nearly capture both the industrious as well as the capricious nature of the title to come third, whilst Pillowell almost captured both elements too – with some neat solo playing just off balanced by sloppy ensemble tuning.

Corsham's brave effort despite a lack of numbers had periods when things were looking good, only to be undone by understandable tiredness as the piece progressed, whilst Weston Brass fell foul to the same inherent problems – good individual contributions offset by poor tuning as stamina waned.

Consistency

Thereafter it was a question of consistency – with performances either starting well and falling away, or starting poorly and getting better, or a mixture of both and more!

Bath Spa played with plenty of style and confidence (and a very artistic solo cornet) but were bedevilled by poor ensemble tuning, whilst Bugle set the contest on its way with a decent effort that lacked a touch of sparkle.

Denmead's youthful effort was full of enthusiasm and commitment, but just needed a little more control and balance, and it was much the same with Wincanton Silver who will surely have been penalised not for the admirable style, but for the tuning which at times grated the teeth.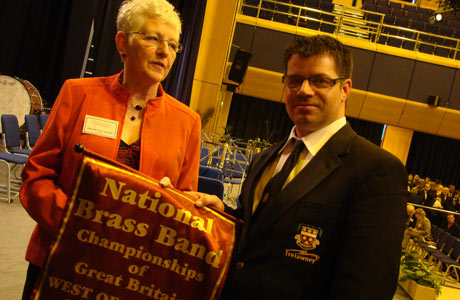 Just missing out: St Breward come in third

Bewildered

South Molton had one of those days when nothing seemed to come off (with the exception of a fine soprano player), whilst Tewkesbury will have left more than a little bewildered that they ended up in 12th after a performance that seemed to have all the basics in the right place, but suffered with a high error count.

St Styhtinans can have no complaints about ending in 13th after they couldn't quite pull the ensemble balance together (having the side drum next to the bass trom seemed a strange idea) to help some neat solo contributions.

Finally, Weymouth and Torbay found the piece not to their liking at all, and despite some brave individual contributions (a fine 3rd man and solo horn for Weymouth and equally good solo horn and solo cornet for Torbay) the poor tuning in particular will have cost them dearly.

Hard labour then for most with just the occasional love interest to keep them happy, but for Sidmouth and Bream, trips to Harrogate on the back of well constructed executive class performances with just the right hint of romantic interest.

Iwan Fox